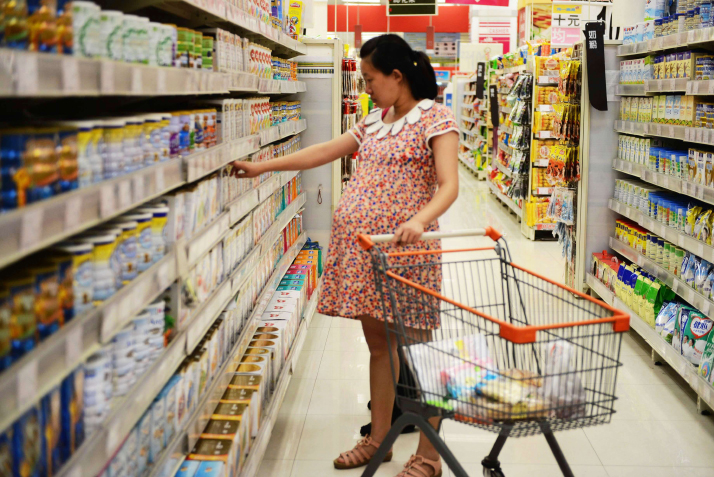 A pregnant woman selects imported milk powder in Qingdao, Shandong Province (XINHUA)
Jason Ji, a New Zealander working in Shanghai, is picky about fresh milk. He insists on drinking milk from New Zealand, even though he spends most of his time in China.
"I can tell nuances between Kiwi milk and those from other sources, because there is a unique lovely aroma from natural cream," he said.
Luckily, faster clearance and more efficient logistics have helped keep consumers like Ji happy.
Milk produced by New Zealand brand Theland can land on Shanghai supermarket shelves roughly 72 hours after production and bottling near Auckland. The process used to take five days.
For products like fresh milk, with a usual shelf life of no more than 15 days, each hour matters.
To meet the rising demand for better products, companies are streamlining supply chains.
Early this year, the Shanghai Entry-Exit Inspection and Quarantine Bureau and the government of Changning District, home to the city's biggest Japanese and Korean communities, launched a trial scheme to speed up import inspections.
Theland and another four brands, rated by municipal regulators as having reliable quality and good reputations, were put on a "fast track" trial for import quarantine and inspection.
"We only sold 2,300 one-liter bottles in September in Shanghai when we started the business, but sales in April skyrocketed to more than 60,000 bottles just three months after the new policy was implemented," said Sheng Wenhao, Board Chair of Theland New Cloud Digimart, which owns the milk brand.
In the second half of 2018, Theland expects to sell about 30,000 bottles per week, both online and in brick-and-mortar stores.
The retail price for a bottle of the milk is 69 yuan ($10.8), or 49 yuan ($7.7) with discounts.
"Though fresh New Zealand milk is more expensive than others, sales have been good," said Li Changyan, a saleswoman in a Hema Supermarket owned by Alibaba Group, a main shareholder in the Theland parent company that is currently pursuing upstream expansion of its retail business.
Dairy and other natural products are main exports of New Zealand, which was the first developed country to sign a bilateral free trade agreement with China 10 years ago. China is now New Zealand's largest export destination.
Yang Dongsheng, head of the commerce commission of Changning District, said improving the business environment is his priority.
Initiatives for trade facilitation have been praised by both Chinese and foreign companies, Yang said.
For those on the "fast track" list, on-site entry quarantine and inspection can be completed within a day.
An accredited lab from the China Certification and Inspection Group (CCIC) in New Zealand checks the safety and quality of Theland's dairy products before they are flown to China.
"The results of our inspections are shared and mutually recognized by both countries, which helps avoid redundant inspection and leads to faster clearance," said Yu Yaoxiang, deputy general manager of CCIC Shanghai. "Each milk bottle gets a QR code that informs inspectors and buyers about its life cycle."
As consumers are increasingly concerned with food safety and origins, regulators use information technology to improve traceability.
"We have a temperature alert system so that inspectors will force businesses to act quickly when problems arise," Yu added.
Huang Huien, who is a senior inspector, said for companies with proven track records, only 5 to 10 percent of products are submitted for checks, which helps reduce logistics time.
He said that efficiency will also be improved in imports of fresh beef and Atlantic lobsters.
A Theland-invested company in New Zealand said it will attend the first China International Import Expo (CIIE) in November in Shanghai to introduce more products to the Chinese market.
About 1,100 companies have already signed up for the CIIE, which will be another stage for China to show its determination to open wider to the world.
Kenneth Jarrett, President of the American Chamber of Commerce in Shanghai, said he expects most of its big member companies, especially those in the world's top 500, to participate in the CIIE for China's huge market.
This is an edited excerpt of an article originally published by Xinhua News Agency
Copyedited by Rebeca Toledo
Comments to zhouxiaoyan@bjreview.com