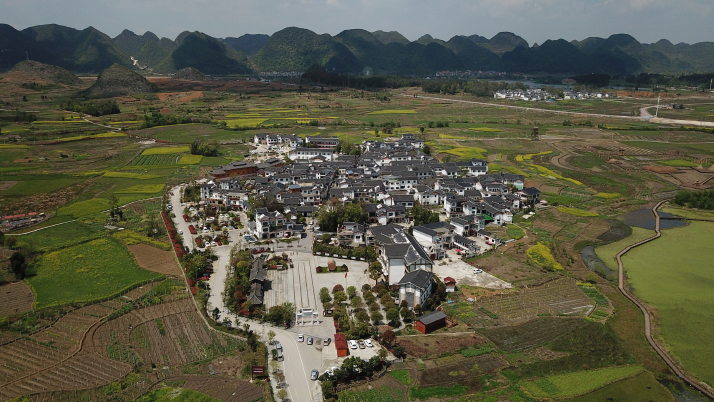 A birds' view of the Pingzhai Village (COURTESY PHOTO OF MCC GROUP)
Luo Qian, a 33-year-old woman of the Bouyei ethnic group who now runs an "agri-tainment" business in Pingzhai Village, has never regretted her decision to resign from her city job and return to her hometown to start a business. The village is located in Machang Town in the Guian New Area, a 1,795-square-km economic zone located near Guiyang, the capital city of southwest China's Guizhou Province.
"After graduation, I worked at a Guiyang-based company living on an annual salary of 50,000 yuan ($7,962). Three years ago, I decided to become self-employed and set up a rural homestay, which now earns 100,000 to 200,000 yuan ($15,923 to 31,847) every year," said Luo. She has noticed that since the roads and houses in the village were repaired and refurbished, not only people from surrounding Guizhou, but also tourists from faraway places like Guangzhou, Beijing and Shanghai have begun to spend their holidays there.
"I feel that my life and career are full of hope," said Luo, who now enjoys her busy but gratifying life accompanied by her parents.
Yet Luo's remarkable story of success is not uncommon in Pingzhai Village. More convenient transportation and improved infrastructure have allowed the local Bouyei people to find jobs in nearby factories as well as making it possible for visitors and investors to bring business opportunities to the quaint and picturesque corner of this hidden valley.
The secret to Pingzhai's success can be traced back to the nationwide beautiful village initiative started in 2013. When Chinese President Xi Jinping went on an inspection tour of Dongshan Village in Ezhou, Hubei Province, he suggested that villages be renovated into tidy and beautiful places for the benefit of local farmers and the integration of the city and the countryside.
In response, the China MCC5 Group, a subsidiary of the Chinese giant Metallurgical Corporation of China (MCC), took over the project of renovating Pingzhai's power supply, pipeline network, crumbling architecture, river ways and the surrounding environment.
By meticulously studying local ways of life, production and ecological characteristics before starting the project, the construction team was able to preserve the original folk customs of the Bouyei culture, which is an attraction for tourists from all parts of the country.
The creation of beautiful villages is in line with the country's poverty reduction efforts, one of the three tough battles China now faces, along with economic risk prevention and pollution control.
"In alleviating poverty, the government should make sure pragmatic work is carried out, solid steps are taken and real progress is made. The results should be recognized by the people and withstand the test of time," Xi stressed at a meeting of the Political Bureau of the Communist Party of China Central Committee on March 30.
Paving the way
On January 2, the State Council published policies on implementing the strategy of rural vitalization, which stress the upgrading of rural infrastructure, including roads, water and gas supplies, power networks, environmental protection, logistics and information transmission, in an effort to realize the full interconnection of rural and urban infrastructure.
Guizhou, a major battlefield in the fight against poverty, is known for its vast expanse of mountains and valleys. However, such natural endowments also hinder local economic development due to isolation from other regions.
At present, the Guizhou local government is going all out to push forward the expansion of its transportation network. According to statistics from the Guizhou Provincial Transportation Department, in the past five years, fixed assets investment in highways and waterways totaled 644.8 billion yuan ($102.7 billion), an average annual increase of 21.9 percent. During that period, a total of 3,198 km of expressways were built with the province's total distance of operational expressways reaching 5,833 km.
Of the 8,000 km of expressways under construction in Guizhou, the Suiyang-Zheng'an expressway is the toughest at 46.9 km in length. Constructed by the MCC Communication Construction Group, total investment in the project has reached 6.13 billion yuan ($976.2 million).
Due to the region's complicated geography, over 50 percent of the Suiyang-Zheng'an expressway is made up of bridges and tunnels. When construction work is carried out, consideration is also given to the preservation of the surrounding natural environment. Along the route, biological concrete has been applied to side slopes, which stabilizes the roadbed as well as creating living walls of plants where many types of flower thrive.
"When the Suiyang-Zheng'an expressway is open to traffic, the cost and efficiency of transportation will be greatly improved. Then people will not have to detour when driving from the four counties of Suiyang, Daozhen, Wuchuan and Zheng'an to Zunyi, with the distance shortened by 64 km and travel time cut by one hour," said Yang Yuanhua, deputy commander of the Suiyang section of the Suiyang-Zheng'an expressway.
In the past, local villagers had to walk up to 2 km on mountain roads while carrying coal and fertilizers back to their homes. Electricity shortages severely restrained agricultural production and affected people's lives, and most young people migrated to other places and rarely returned, said Chen Yuxin, Party Secretary of Muyang Village in Suiyang County.
"Now power infrastructure has been significantly improved to solve electricity shortages, and the transportation of agricultural production materials has also been made easier," said Chen.
Due to its convenient transportation links, some enterprises have already set their sights on the well-preserved ecological environment in Muyang, signing deals with local farmers to grow white tea. In addition, traditional Chinese medicinal materials grown in the local mountains are increasingly being transported for sale in urban areas.
Rural services bolstered
As the State Council policies suggest, efforts should be made to explore new opportunities in leisure agriculture and rural tourism by building a number of multifunctional recreational and sightseeing areas with complete infrastructure in place.
The Cherry Blossom Garden built by the MCC5 Group in the Guian New Area is one such project targeted at developing rural tourism to reduce poverty. Covering an area of 13,000 mu (866.67 hectares), the garden is home to more 700,000 cherry blossom trees.
Upon completion, the garden will cover an area of 22,000 mu (1,466.67 hectares) where tourists from home and abroad will be able to admire cherry blossoms in spring, pick grapes in summer, enjoy maple leaves in autumn and appreciate the landscape of falling snowflakes against a backdrop of plum blossoms in winter, said Tian Shun, Vice General Manager of the MCC5 Group.
During the 20 days on either side of the Cherry Blossom Festival in 2017, more than 1.5 million tourists visited the garden, up 35 percent from the previous year. During the 2018 festival, the garden received over 90,000 tourists per day on average.
"The garden now employs 120 women from poor families to serve as sanitation workers and has built over 260 stalls for these families to operate their own small businesses," said Zhou Yuejing, Deputy Party Secretary of MCC5 Group.
The Beidouwan Virtual Reality Town and the Bouyei-style Pingzhai Village have also become templates for targeted poverty reduction projects and attract crowds of tourists during the holidays every year.
"It is hard to balance increases in income with ecological preservation, but I nevertheless hold high hopes for the beautiful village initiative," said Luo.
Copyedited by Laurence Coulton
Comments to dengyaqing@bjreview.com