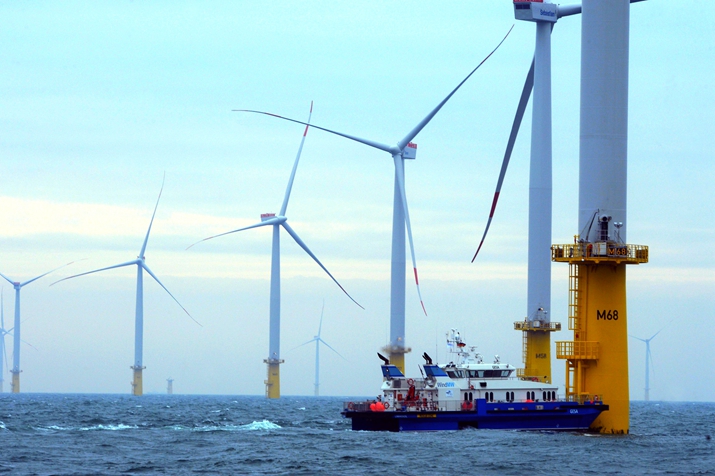 Meerwind Offshore Wind Power Project in Germany (COURTESY OF CTG)
At the Paris Climate Change Conference in 2015, China reiterated its commitment to peak carbon dioxide emissions by around 2030 and to increase the share of non-fossil fuels in its primary energy consumption to around 20 percent by the same year. The European Union also announced plans to cut emissions by 40-44 percent of 1990 levels by 2030, and 80-95 percent by 2050.
These ambitious goals form a global shift away from fossil fuel such as coal, oil and natural gas to renewable energy, said Jens Assheuer, CEO of WindMW, a German offshore wind power operator, who believes that wind power will be a major component of global energy production in the future.
Industry leaders
According to statistics from the Global Wind Energy Council, the capacity of global offshore wind power increased 2,219 megawatts in 2016, maintaining a rapid rate of expansion that started in 2010. The UK ranks first in market size, with its installed capacity currently accounting for 36 percent of the world's total, followed by the 29 percent and 11 percent registered by Germany and China.
Germany's offshore wind power capacity expanded by more than 800 megawatts and 630 megawatts in 2016 and the first half of 2017 respectively, and by the end of June roughly 4.6 gigawatts of offshore wind power capacity was in operation. In the UK, this same figure exceeded 5 gigawatts.
Close on the heels of the UK and Germany, China is on track to become another major offshore wind power manufacturer, according to Assheuer.
In July 2016, the world's biggest hydropower supplier China Three Gorges Corp. (CTG) acquired an 80 percent stake in a 288-megawatt offshore wind power project operated by WindMW, becoming the controlling shareholder of the German company and marking the first step taken by a Chinese company into the global offshore wind power market.
Though deemed a traditional developer of hydropower, CTG has aimed to diversify its business in offshore wind power at home and abroad due to an increasing global trend toward green energy and the exhaustion of new hydropower opportunities in China.
"In recent years, CTG has been keen to build new energy exploration into its second major business and harbors plans to lead the global offshore wind power market," said Wang Feng, Vice President of CTG Europe.
So far, CTG has expanded exploration and construction of offshore wind power into Fujian, Jiangsu, Liaoning, Hebei and Guangdong provinces. The company's Jiangsu Xiangshui offshore wind farm is China's first wind power project to transmit power via an offshore transformer substation. Constructed in the outer waters of Xiangshui County, it has been in operation since 2016.
However, the fledging Chinese offshore wind power industry still lags far behind its counterparts in Europe. "The superior wind resources of the North Sea, advanced technologies and sophisticated management experience of WindMW is what this acquisition brings to CTG," said Wang, who believes that entering the high-end market is important for Chinese companies seeking to establish their own brands and become frontrunners in the trade.
While Germany boasts a leading market position, high-quality wind resources and sophisticated equipment manufacturing, WindMW has accumulated rich experience in the design, construction and operation of wind turbines, which will help CTG to formulate a complete set of offshore wind power standards for the domestic market, said Lu Chun, Board Chairman of CTG.
Reducing costs
According to a survey carried out by the State Grid Energy Research Institute, the average cost of offshore wind projects--$2,400 per kilowatt in 2015--is as much as 2.8 times that of onshore ones.
In spite of this, the explosive growth of offshore wind power capacity in the past few years has substantially reduced the cost of developing equipment, manufacturing, transportation and installment.
To sustain this constant reduction in cost, the power output and quantity of wind turbines must be continuously increased, which requires wind farm operators to make improvements in construction, operation and maintenance, said Assheuer.
If a company is to recover the money it invests in a wind farm, the power output per turbine must reach 13-15 megawatts. Essentially, the capacity of existing wind turbines needs to be doubled in the next few years.
The site of power production is not necessarily close to the location of consumers. In some countries, industrial parks and power facilities are still far from coastlines.
"The power transmission network between coastlines and inland areas needs to be upgraded. Aside from grid construction, creative solutions should be worked out to realize energy storage, because offshore wind farms can't produce power according to demand," Assheuer said.
Copyedited by Laurence Coulton
Comments to dengyaqing@bjreview.com