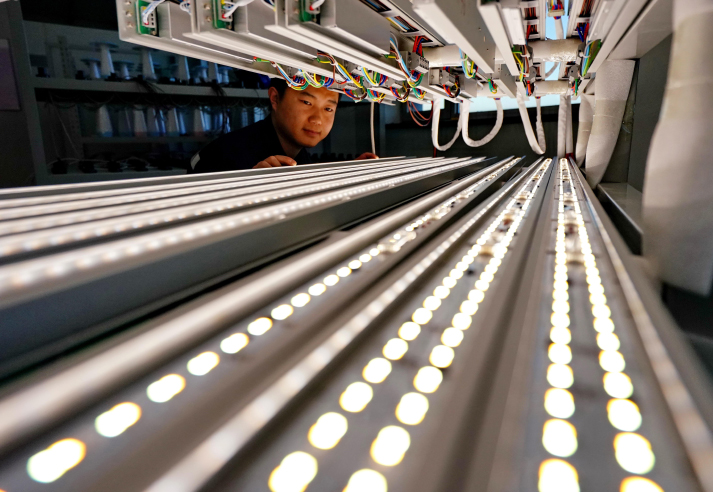 An employee works on an ights assembly line of LED lights in Qinhuangdao, north China's Hebei Province on January 30 (XINHUA)
Official data showed on January 31 that although China's factory activity expanded at a slower pace in January, it still stood well above the boom-bust line, bolstering evidence of a stable broader economy.
The manufacturing purchasing managers' index (PMI) came in at 51.3 for January compared with 51.6 in December last year, according to the National Bureau of Statistics (NBS). A reading above 50 indicates expansion, while a reading below shows contraction.
Despite the slowdown, the index, which was the same one year ago, suggests that factory activity remains steady, according to NBS senior statistician Zhao Qinghe.
Echoing Zhao's comments, Bloomberg economist Tom Orlik said that although the market may focus on the decline, "small movements in the PMI are not particularly meaningful, and the basic picture of growth at a steady, if unspectacular, pace remains unchanged."
The manufacturing PMI has been positive for 18 straight months.
Sub-indices for production and new orders also dropped slightly to 53.5 and 52.6, which Zhao partly attributes to the fact that some industries entering the slack season weighed down growth in supply and demand.
"But manufacturers of consumer products saw more increases due to the upcoming Spring Festival holiday [from February 15 to 21]," he said. Sectors including farm produce processing, food and beverages, textiles and garments, and medicine saw robust growth.
"Consumption has demonstrated its role in driving the economy," Zhao added.
The Chinese economy is shifting to a consumption-led growth model, weaning itself off a reliance on exports and investment. Consumption accounted for 58.8 percent of economic growth last year.
Meanwhile, sub-indices for raw material inventories, employment and supplier delivery times were still lower than 50. "Businesses saw easing pressure from operating costs," Zhao said.
The NBS data also showed that the non-manufacturing sector has picked up the pace, with its PMI in January standing at 55.3, up from 55 in December and 54.6 for the same month last year. The index has been on a gaining streak for three months.
The service sector, another economic driver accounting for more than half of the country's GDP, reported stronger expansion with its sub-index rising to 54.4 from 53.4 in December. Retail, aviation, telecoms, information technology, banking and other commercial services are also looking robust.
"The earliest data for 2018 suggest China's growth momentum is steady, though with some warning signs as export orders fall and the industrial reflation cycle turns down," Orlik said, adding that optimism on growth prospects remains high.
Beijing-based investment bank CICC predicted a "good start" for the economy this year in a research note, citing continued industrial strength and a pick-up in demand.
The combined profits of China's major industrial firms surged 21 percent last year, the fastest since 2012. "Profitability may improve further in mid-to-downstream industries with the rising inflationary impulse in consumer goods," said the CICC report.
China's economy expanded by a forecast-beating 6.9 percent in 2017, speeding up for the first time in seven years and well above the government's annual target of around 6.5 percent.
Given this resilience, many financial institutions at home and abroad have announced plans to raise their growth forecast for this year.
Nonetheless, concerns are on the rise as January's PMI data showed softened export growth as overseas demand started to retreat after the Christmas and New Year holidays. The revival in exports is considered a significant factor for China to sustain its economic growth.
Orlik warned of impacts from trade frictions with the United States, which just raised tariffs on washing machines and solar panels, major products from China and South Korea.
The holiday factor led to seasonal volatility in economic indicators, including trade data, which is normal and is not indicative of a wider trend in 2018, the Bank of Communications said in a report. "The manufacturing PMI will rise after March and remain in expansion territory," it said.
This is an edited excerpt of an article originally published by Xinhua News Agency
Copyedited by Laurence Coulton
Comments to yushujun@bjreview.com