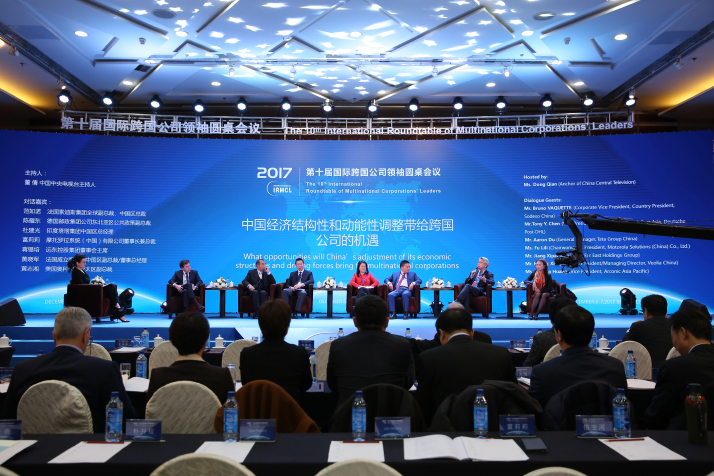 Participants share their views on the opportunities and challenges multinational corporations encounter in China at the 10th International Roundtable of Multinational Corporations' Leaders, held in Beijing on December 6 (COURTESY PHOTO)
Sodexo, a French food services and facilities management company, is one of the foreign enterprises that have witnessed the changes in China over the past two decades. In 1995, it entered the Chinese mainland market and now operates in 50 cities nationwide with 11,000 full-time employees.
"Recently, we have seen big improvement in our industry because the service sector has started to become [an] important driver for the GDP growth of China," said Bruno Vaquette, Country President of Sodexo China, as he shared the company's experience in China at the 10th International Roundtable of Multinational Corporations' Leaders, held in Beijing from December 6-7.
Vaquette believes China is a huge market full of potential as its economy develops. Consumers are expecting more and more in terms of better quality goods and services such as healthy food, comfortable offices, fitness facilities and a healthy environment. "Twenty two years ago, people were satisfied with eating a set meal, while now they have more diversified requirements. In response, we upgrade our services by offering them a rich variety of food," he said.
The service sector expanded 7.8 percent year on year in the first three quarters, outpacing the 3.7-percent increase in primary industry and 6.3 percent in secondary industry, according to data from the National Bureau of Statistics released in October.
"It is estimated that in the coming five years, China will import over $8 trillion worth of goods and bring in $600 billion [worth of] foreign investment," said Zhou Xiaofei, Deputy Secretary General of the National Development and Reform Commission at the conference. "China's consumption upgrading is offering huge opportunities for enterprises worldwide."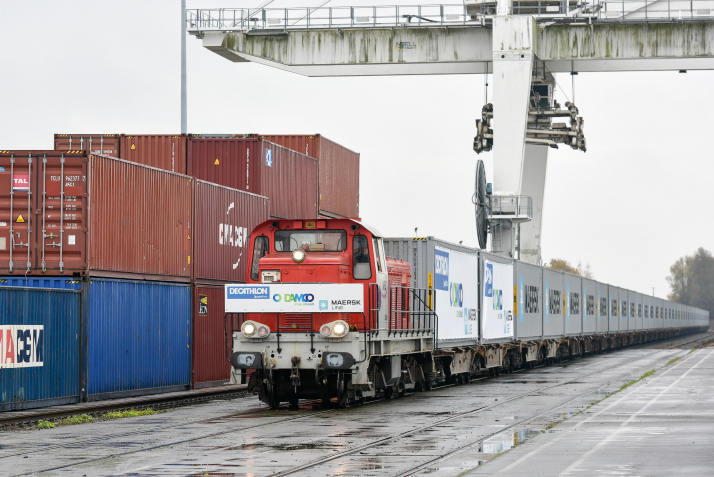 A freight train for French sporting goods retailer Décathlon, which set off from China's central city of Wuhan, arrives at the railway station in Dourges, France on November 20 (XINHUA)
Tapping potential
China's fast economic growth provides many possibilities for multinational companies. Take Tata Group, a steel-to-software conglomerate headquartered in India, for an example.
According to the group's China General Manager, Aaron Du, Tata's sales in China amounted to less than $500 million when he first joined in 2007. In 2016, the figure topped $10 billion, and each year the group also purchases around $1 billion worth of various goods made in China.
"I feel strongly the impact of China's consumption upgrading on us. It has helped us boost sales to a great extent," Du said at a roundtable dialogue at the conference. He elaborated with an example. Tata Motors, a member of the Tata Group, acquired Jaguar Land Rover in 2007. At that time, they could only sell several hundred of such premium vehicles in China, but things were changed with China's booming economy. Consumers were increasingly both willing and able to buy them, and the country has over the years grown to be Jaguar Land Rover's largest single market. From January to October this year, the car brand sold 116,988 vehicles and achieved 25-percent growth year on year. The sales volume of many other luxury auto brands also increased around 20 percent. "We are pretty optimistic with the market here," Du said.
Chinese companies are also reaching out to foreign markets and collaborating with local partners.
Far East Holding Group, a private corporation founded in 1985, is making its contribution by promoting smart energy and smart cities globally. Currently, it has established strategic partnerships with a number of foreign giants like General Electric, Siemens and Acciona Energy.
As an extra-high-tension cable provider, the company has worked with some state-owned enterprises, like China National Machinery Import and Export Corp. and China National Electric Engineering Corp., and brought services and products to Bangladesh, Indonesia and Belarus, among others. "China is a huge market itself, and it cannot do without the vast market of the rest of the world," noted Jiang Xipei, Chairman of Far East Holding Group.
The Belt and Road Initiative has also become a driving force for promoting economic cooperation since it was proposed by Chinese President Xi Jinping in 2013.
"We should pursue the Belt and Road Initiative as a priority, giving equal emphasis to 'bringing in' and 'going global'," said Xi, also General Secretary of the Communist Party of China (CPC) Central Committee, in the report he delivered to the 19th CPC National Congress in October.
Based on statistics of the Ministry of Commerce, from 2014 to 2016, China's trade value with countries along the Belt and Road exceeded $3 trillion, and the outbound investment along the Belt and Road routes was more than $50 billion. Chinese enterprises have built 56 overseas trade and economic cooperation zones and generated $1.1 billion in taxes and 180,000 jobs in over 20 countries.
Besides investment and products, Chinese companies can offer more. Feng Xingliang is Executive Chief Representative of the Beijing representative office of NRW.INVEST, a non-profit economic development agency of the German state of North Rhine-Westphalia. He said that Chinese companies investing or doing business in Germany will bring more jobs to local people.
There are concerns over Chinese companies bringing competition to local counterparts. "But I see it as an opportunity because pressure from business rivals can be a driving force for them to upgrade technologies and create more business opportunities," Feng told Beijing Review.
As for the challenges encountered by Chinese companies operating abroad, Feng said that based on his observations, some of them don't have a good understanding of the foreign market they are in, which may lead to problems such as personnel disputes. Some companies pile into "hot" fields of investment, which in some cases creates vicious competition between local and foreign companies. Moreover, the language and culture may also be barriers for them.
Smooth communication
Another barrier also hinders economic cooperation between China and the world. "The flow of information on global projects and investment lags far behind the requirements of economic development, causing a waste of businessmen's time and effort," Zhang Peng, Deputy Director of the General Office of the China International Council for the Promotion of Multinational Corporations, told Beijing Review.
But in this regard, things are about to change. Global Investment website, a platform that collects and publishes global project information, was also launched at the roundtable conference. By searching uploaded project information, companies and other business organizations worldwide can efficiently find partners or investors.
As Deputy Secretary General of the Preparatory Group responsible for creating the portal, Zhang also said that the multilingual website ensures the authenticity of project information by requiring a statement from those who upload it. "We hope that the website can serve as a bridge for international business cooperation," he said.
Copyedited by Chris Surtees
Comments to luyan@bjreview.com