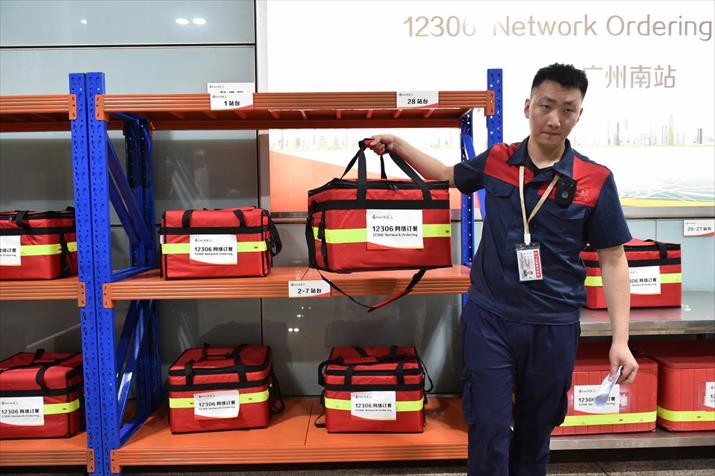 A delivery man ready to go on his round in Guangzhou South Railway Station on July 17(XINHUA)
Lou Mei, a 30-year-old employee with a foreign Internet company in Beijing, has seen her eating habits change recently. "I used to stroll out with my colleagues to have lunch in the shopping malls near my office but as my work schedule has become increasingly tight and almost all the restaurants to my taste have online order and delivery services, I now tend to have my lunch delivered to my office, even supper at times," Lou said. "Many of my colleagues also do the same."
Two takeout apps that Lou has installed on her mobile phone and uses often are Baidu Takeaway, the online food delivery platform started by Baidu, China's leading search engine, and Meituan Takeaway owned by group deal giant Meituan-Dianping. "Since the restaurants listed on these two apps offer discounts or distribute coupons every now and then, sometimes it's cheaper ordering takeout than eating out," she added.
Along with the transformation of the traditional catering industry, a cutthroat battle has been unleashed in China's online food delivery sector. Ele.me, one of the frontrunners in the trade, announced on August 24 that it was acquiring Baidu Takeaway. The deal is valued at $800 million.
According to statistics from iiMedia Research Group, a global mobile Internet market consultancy, Ele.me held 41.7 percent of China's online food delivery market in the first half of this year. Meituan Takeaway ran close behind with 41 percent, while Baidu Takeaway lagged far behind as the third runner with a mere 13.2 percent.
Co-founded by two students and originating from the Shanghai Jiao Tong University campus in 2008, Ele.me was a pioneer exploring the on-demand food delivery industry and college students contributed to consolidating its market presence. Then in 2010, Meituan, which later merged with review website Dianping and became Meituan-Dianping in 2015, set its foot in the industry. Since then, the gap between the two has been narrowing, which may partly explain Ele.me's acquisition of Baidu's food delivery arm.
Compared with the two pioneering players, Baidu Takeaway was born with a silver spoon in its mouth. After entering the online food delivery market in 2014, it realized rapid expansion for some time. At one point, its market share exceeded 30 percent, which may be attributed to the resources provided by its parent company Baidu.
Adding spice
With a clientele different from Ele.me's, Baidu Takeaway's target group used to be the middle- and high-income population, white-collar workers in particular. According to iiMedia Research, the overlap rate of Ele.me and Baidu Takeaway users is a mere 1 percent. The latter used to cover more than 300 cities and had 100 million users. Ele.me, on the other hand, had fixed its eyes on the college student segment, acquiring 260 million users stretching through 2,000 cities.
"The deal will allow Ele.me to have a foothold in the high-end market, which can strengthen its competitiveness in future competition," Cao Lei, Director of China e-Business Research Center, told Time Weekly, noting that Ele.me was thirsting for resources and technologies such as Baidu's artificial intelligence technologies.
"Thanks to its strong user base, Meituan-Dianping has more subscribers and has been experiencing more efficient expansion than Ele.me. Due to that, Ele.me needs to acquire more resources to fight the just-started battle," Cao said.
According to statistics from Meituan-Dianping, its food delivery business covers 1,300 cities with the number of partner restaurants exceeding 1 million.
Where Internet companies are concerned, integrated development can help them find a balance between the brand and market, said Jiang Weihong, executive director of Shanghai Brand Development Research Center, in an interview with People's Daily Online.
"With the acquisition of Baidu Takeaway, which was devoted to high-end consumers, Ele.me should reposition itself and work out a brand strategy," Jiang said.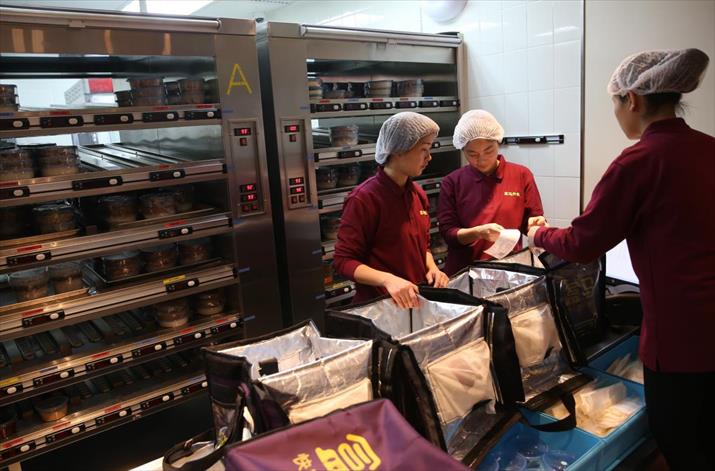 Workers pack takeouts in the central kitchen of Hema Takeaway in Shanghai on March 17, 2016(XINHUA)
A growing pie
The takeout industry is growing exponentially. In the next three years, it will increase by at least 300 percent, and more than 90 percent of restaurants will be accessible online, Wang Puzhong, Vice President of Meituan-Dianping, told Time Weekly.
Kang Jia, Chief Operating Officer of Ele.me, echoed Wang. "As the online food delivery industry keeps expanding, competition among players will spread from market share to efficiency and business model."
As online food delivery becomes increasingly popular, its usage scenario is showing a trend of diversification. "About 25 percent of the orders received by Meituan Takeaway are not placed during lunch or supper," Wang added. "As more people get used to ordering food online, the demand is becoming more diversified, which will add more restaurants onto the platforms."
Copyedited by Sudeshna Sarkar
Comments to dengyaqing@bjreview.com