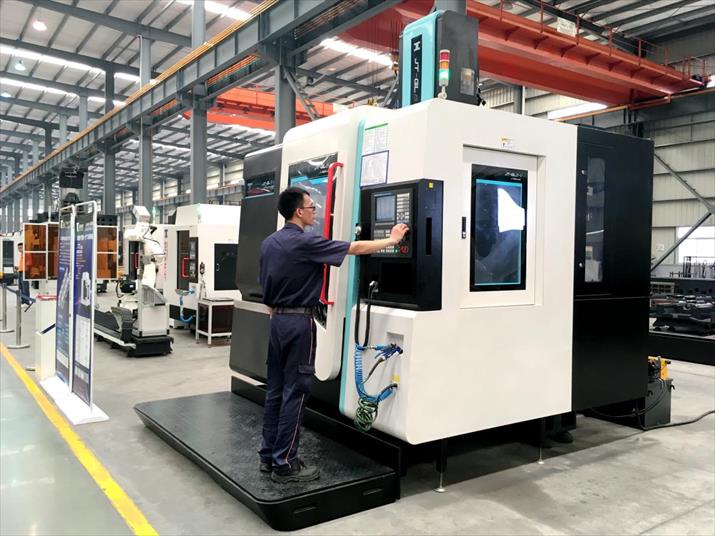 A technician operates a computer numerical control machine at J-TECH CNC's factory in Quanzhou, Fujian Province, on August 7 (LU YAN)
As an entrepreneur, over the past 20 years Su Yashuai has witnessed impressive changes in his hometown, Quanzhou in southeast China's Fujian Province, and in his own company, J-TECH CNC Technology.
From a relatively small factory producing hardware fittings and molds to a large technology enterprise that can lead the domestic industry and compete in the global market, J-TECH has grown beyond recognition since it was founded in 1997.
"I can still remember the time when I assembled our very first product with my own hands," Su told Beijing Review. "We have certainly progressed fast since then."
From traditional to smart
Before starting his own business, Su worked in a state-owned company until 1995, when private enterprises were gradually emerging in many cities. Starting from scratch, his company manufactured machine components and parts, which was a mainly manual process.
Later on, Su learned about computer numerical control (CNC), an area that was already well developed in many countries but unfamiliar to the Chinese market. As a mechanical engineering major, he immediately realized that machines controlled by computers were much more efficient and the entire domestic industry could be revolutionized by them.
In 2000, the company made its first independently developed CNC machine, filling a blank within the entire domestic industry. Since then, more computer-controlled apparatuses were produced, and other companies followed suit. "Our products helped break the monopoly of foreign companies in the Chinese market," Su said.
Now the company has grown into a large enterprise specializing in research and development, production, marketing and servicing of precision machining equipment with automation and intelligence. It covers a gamut of industries, such as aerospace, defense, automobile, shipbuilding, wind power generation and medical equipment. The company now holds more than 100 patents.
"We once had a competition with a Japanese peer. Our products' performance and precision were as good as theirs, though our brand was less famous," Su said, introducing one of his company's latest equipment that manufactures mobile phone shells.
J-TECH is just one example of Quanzhou enterprises that have had a complete makeover. As the city intensifies its reform efforts, more companies are motivated to embrace change.
In 2016, Quanzhou was listed as one of the pilot cities of the Made in China 2025 program, a 10-year plan unveiled by the State Council in 2015 to transform China from a manufacturing giant into a world manufacturing power. It is the country's first action plan designed to achieve that purpose.
In response, Quanzhou has launched the Made in Quanzhou 2025 initiative. Its purpose is to upgrade traditional industries into technology-based ones. The results are obvious to see. More than 40 percent of the large industrial enterprises in the city use CNC machines and smart robots, thereby cutting labor needs by 30 percent and cost by 50 percent. Lots of imported equipment has been replaced by domestic ones, shortening production time by 40 percent.
From a city formerly home to a number of small and medium-sized private companies to one that is today filled with innovation-driven and high technology-oriented industrial clusters, Quanzhou is booming with vitality as one of the three central cities in the province along with capital Fuzhou and harbor city Xiamen where the Ninth BRICS Summit will be hosted in September. It has had the largest GDP of any city in Fujian for 18 consecutive years, according to official statistics.
"There's still plenty of room for development," Chen Jianxing, Deputy Director of the city's Science and Technology Bureau, told Beijing Review. Chen said private enterprises face many common challenges, such as small scale of operations and a lack of research investment and high-caliber personnel.
To overcome the difficulties, the municipal government invites experts from scientific institutions all over the country to study the problems and come up with solutions in accordance with specific local conditions. It also encourages local private companies to cooperate with famous universities so as to bring the most advanced ideas and experience from other parts of the country.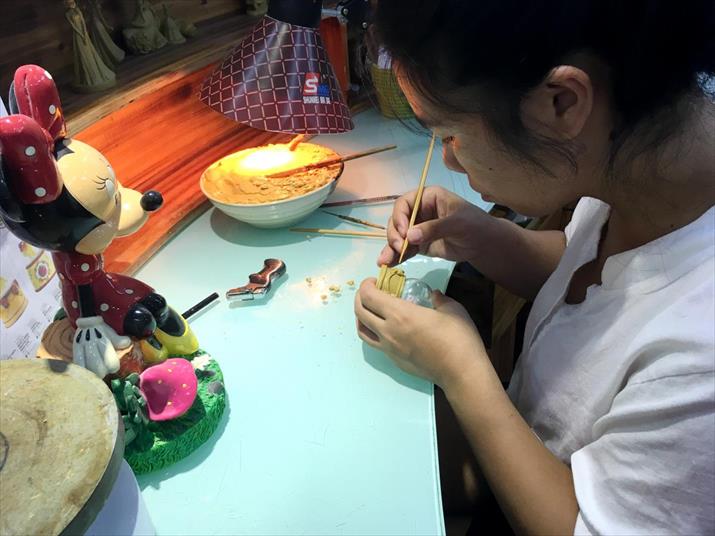 An artisan works on a ceramics handicraft at Shunmei Group Co.'s workshop in Quanzhou, Fujian Province, on August 8 (LU YAN)
Reaching out
Quanzhou was one of the starting points of the ancient maritime Silk Road. Among many exports with unique Chinese features, ceramics were a major product traversing the hub since the Song Dynasty (960-1279).
The Fujian Quanzhou Shunmei Group Co. is located in north Quanzhou's Dehua County, China's largest production and export base for ceramic artwork.
Like J-TECH, Shunmei is also a fast developing company, continuing the historical burgeoning of ceramics export. Established in 1998, it is a manufacturer and exporter of craftwork with more than 3,000 employees. Its ceramics, polyresin and candle-work products are sold to over 80 countries and regions in the world, mainly the United States and European countries. Multinational enterprises such as Coca-Cola, Disney and Wal-Mart have established long-term partnerships with Shunmei.
Quality products and fair prices are the main advantages of the company. In 2016, its output reached 427 million yuan ($64 million), and export earnings exceeded $20 million, enjoying the top place in the industry for seven consecutive years.
However, Zheng Pengfei, General Manager of Shunmei, doesn't want to rest on his laurels. He hopes to take the company further. Taking innovation as one of the top priorities, the company has applied for 37 patents and owns copyrights to over 2,000 works.
It is working on the 3D technology to diversify products. "Right now we are splurging money on it because the technology is at a primary stage," Zheng said. "I'm sure the future is bright."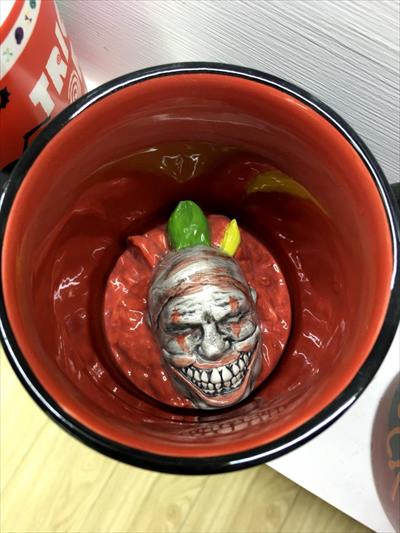 A mug made with 3D technology developed by Shunmei Group Co. (LU YAN)
Besides mass production, Shunmei has also established an entertainment workshop to give customers and tourists a chance to know about the history and culture of ceramic artwork and to have a try at making some themselves.
There are many companies like Shunmei in Quanzhou that are making great endeavors to keep up with the times while simultaneously promoting traditional culture, making the city hum with innovative vibes as well as classic charm.
"Quanzhou people are enthusiastic and optimistic," Mayor Kang Tao said at a press conference on August 8. "It is entrepreneurship that defines who they are and what they will be."
Copyedited by Sudeshna Sarkar
Comments to luyan@bjreview.com