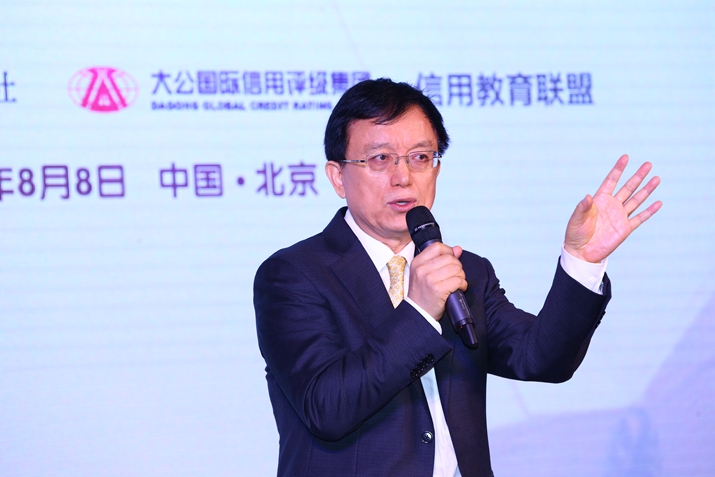 Guan Jianzhong, Chairman of the Board of Dagong Global Credit Rating Group, answers questions during the book release press conference in Beijing on August 8 (COURTESY OF DAGONG)
The book Selected Works on Credit Thoughts, a credit rating theory collection, was released in Beijing on August 8.
Authored by Guan Jianzhong, Chairman of the Board of Dagong Global Credit Rating Group, China's largest credit rating agency, the book is based on his decade of experience since the 2008 financial crisis.
"This book is an important part of my study over the past 10 years, when people started to look back and think about various economic phenomena thanks to the 2008 financial crisis… This is where my thinking comes from," Guan said at the release conference.
The book explores the overarching principle of credit-based economy with the intent of proving there is a rule in credit relationships and credit ratings and demonstrating this rule's effect on economic activity. Guan proposes that credit relations are the basis of modern economy, since the human society has entered a credit economy phase.
"I felt that we have entered an era of credit economy. However, our thinking and perception about credit economy have not caught up," Guan said.
He used a Chinese thinking method featuring the unity of opposites to observe the current credit rating system, which is mainly from the Western world. "I cooperated with Moody's but ended after three years. I found lots of problems."
Guan said that in 2011 he visited 30 foreign ambassadors to China who support his idea of reforming the current international ratings system, which made him confident in his research.
In 2013, three independent credit rating agencies from China, the United States and Russia launched the Universal Credit Rating Group (UCRG) in Hong Kong, as reported by CNTV.cn. The UCRG, consisting of Dagong Global Credit Rating Group, Egan-Jones Ratings Co. and RusRating, aims to set up a non-sovereign global credit rating agency that will reform the current rating system, which is dominated by the three U.S.-based firms Moody's, Fitch, and Standard and Poor's. That means any country can be its investor or shareholder. It doesn't represent any national or corporate interests. The idea of UCRG was first proposed by Dagong in 2008, when the global financial crisis broke out.
"I was moved by some of his thoughts, such as why Chinese people should consider having a rating system from the perspective of China's long-term development interests," said Zafaruddin Mahmood, Special Envoy on the China-Pakistan Economic Corridor, who also spoke at the press conference.
Chinese companies need China's own credit rating system to let them know if outbound investment will be profitable, according to Mahmood. "However, there is not even one Chinese credit rating company active in the global market. That's the main goal of the book," Mahmood said.
Copyedited by Chris Surtees   
Comments to ffli@bjreview.com