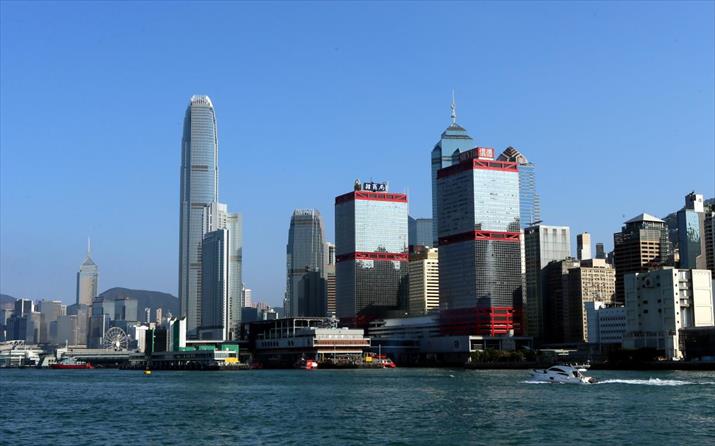 The building of China Merchants Group (the one with a red rim in the middle) stands at Shuang Wan in Hong Kong (XINHUA)
China Merchants Group (CMG), established in 1872 during the Westernization Movement in the late Qing Dynasty (1644-1911), is a pioneer in China's national industrial and commercial sectors. In 1873, it set up its branch in Hong Kong, becoming China's first company outside the mainland and the oldest mainland-invested enterprise in Hong Kong.
In the following 140-odd years, companies from the mainland have gone through a long and winding development path in Hong Kong and witnessed the ups and downs of the city. After Hong Kong's return to China 20 years ago, these companies have developed fast and become stronger. By the end of 2015, the number of such companies was 4,037, with their total assets worth HK$19.83 trillion ($2.54 trillion), employing about 75,000 people in Hong Kong.
Building a bridge
Hong Kong is one of the freest economies in the world as well as an important center of finance, shipping and trade. Located in Hong Kong, these enterprises have combined the advantages of both the mainland and the special administrative region.
Li Jianhong, Chairman of CMG, said that many world-renowned enterprises have set up their Asia-Pacific headquarters in Hong Kong. CMG has been directly involved in global competition on this platform. It has made great progress through making full use of talent, capital and systems in Hong Kong and effectively enhanced economic and cultural exchanges and cooperation between Hong Kong and the mainland.
Now, CMG focuses on three major industries—integrated transportation, integrated finance as well as urban and industrial park development. By the end of 2016, it had total assets of 6.81 trillion yuan ($1 trillion), ranking first among centrally administered state-owned enterprises (SOEs). In 2016, its total profit was 111.2 billion yuan ($16.35 billion), ranking second.
Hong Kong is the birthplace of another key SOE—China Resources Group (CR). CR was founded in 1938 and since then it has witnessed the construction and development process of Hong Kong. Over the past decades it has grown from a small trading agency to one of the top 500 companies in the world.
Advanced financial services in Hong Kong have enhanced CR's financing capacity and promoted the growth of its business. Fu Yuning, Chairman of CR, said that since Hong Kong's return, seven subsidiary companies of CR have been listed in Hong Kong and raised more than HK$140 billion ($17.9 billion) from the capital market.
Mainland-invested companies have become an indispensable driving force behind the economic development of Hong Kong.
For instance, in 2002, the employment situation for college students in Hong Kong was not good due to the economic downturn in the city. CR, besides employing college graduates, sponsored some outstanding students from Hong Kong to go to Peking University and Tsinghua University on the mainland for further studies.
In 2007, CR set up a scholarship at Lingnan University in Hong Kong, sponsoring students from underdeveloped areas on the mainland to study at Lingnan.
Fu said that while developing its business, CR has shouldered its social responsibility for both Hong Kong and the mainland and has gained the respect of Hong Kong people.
The economic situation in Hong Kong has gone through great changes since its return and faced many challenges. Among the four pillar industries—financial services; trading and logistics; tourism; and producer and professional services—that Hong Kong heavily depends on, two have experienced gradual downturns. High housing prices and difficulties in improving livelihoods have further hindered the development of Hong Kong.
Based on this, CR came up with the development strategy of "reshaping Hong Kong business" and increased its investment in Hong Kong, especially in industries concerning people's livelihoods. Its businesses in traditional industries such as retail, food, warehousing and property rental have been consolidated, since these industries have a great impact on people's livelihoods and play an important role in promoting tourism and trade in the city. Meanwhile, it has been seeking more opportunities in developing property business and infrastructure construction. Now CR is building the first St. Regis Hotel in Hong Kong and promoting the reconstruction of the Cheung Sha Wan project.
"We are studying the operation mode of Hong Kong Science and Technology Parks Corp. and plan to cooperate with companies from either the mainland or Hong Kong on the Lok Ma Chau Loop Innovation and Technology Park (a proposed new hi-tech development zone on the border between Hong Kong and Shenzhen in Guangdong Province), setting up an incubation base for new innovative industries and introducing innovative talent and achievements from the mainland in order to make a greater contribution to Hong Kong's reindustrialization," Fu said.
Customers shop at a supermarket owned by China Resources Group in Hong Kong on June 2 (XINHUA)
Belt and Road cooperation
Hong Kong's participation in and support of the Belt and Road Initiative have been included in China's 13th Five-Year Plan, and Hong Kong's role as the "super connector" between the mainland and the rest of the world has been made more prominent. This will attract more enterprises from the mainland to invest in Hong Kong.
"Hong Kong is qualified to be an important participant in the international financing system needed for the Belt and Road construction. Hong Kong, with its unique advantage in providing professional services, can help enterprises from the mainland to go abroad," Li said, adding that some small and medium-sized enterprises in Hong Kong can also expand their markets in cooperation with leading SOEs such as CMG.
Li said that CMG is an important player in the Belt and Road Initiative. It now operates 49 ports in 19 countries and regions, most of which are located in key areas along the Belt and Road routes. In 2016, the construction of the first phase of a China-Belarus industrial park, which was partially funded by CMG, was completed.
"Mainland-invested companies based in Hong Kong should seek connection between what the country needs and what Hong Kong is good at to connect the markets of the mainland and Hong Kong and achieve a win-win situation," Fu said.
Fu said that internationalization is a firm trend among Chinese companies. CR will make full use of markets and resources in both Hong Kong and the mainland, exporting more quality Chinese products and importing more foreign products. With its advantageous location in Hong Kong, it will continue to make its contribution to implementing the Belt and Road Initiative, he said.
The author is a reporter with China.org.cn
Copyedited by Dominic James Madar
Comments to yanwei@bjreview.com