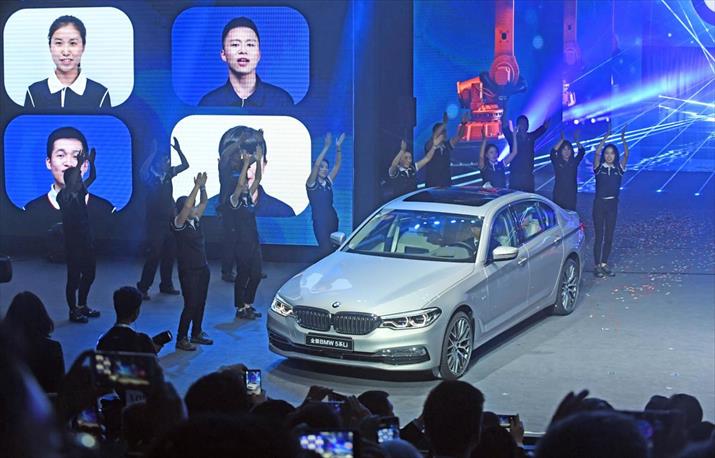 A ceremony is held to celebrate the launch of BMW Brilliance Automotive Ltd.'s new manufacturing plant in Dadong District, Shenyang, on May 19 (XINHUA)
The First Economic Cooperation Forum between Shenyang and Sachsen-Anhalt, a state in east Germany, was held in Magdeburg on May 30.
Dong Feng, Mayor of Tiexi District, Shenyang in northeast China's Liaoning Province, said the event will be held in other cities in Germany in the coming years to expand the influence of the China-Germany Equipment Manufacturing Industrial Park and promote all-round cooperation between China and Germany.
From the late 1940s to the 1970s, Tiexi was one of China's most important heavy industrial bases. However, as market-oriented economic reforms went deeper in the 1980s and 1990s, more than 95 percent of enterprises in the district operated at a loss and more than 130,000 workers were laid off.
Tiexi, where the industrial park is located, started renovating its industry at the beginning of the 21st century. Today, the district's industrial sector has regained its vigor partly because of its readiness to embrace international investment and technology, especially from Germany. The successful transformation of Tiexi has hardened people's hopes of the overall revitalization of northeast China's industry.
On August 8, 2014, the Chinese Government issued a document on supporting northeast China's revitalization, envisioning a China-Germany joint equipment park in Shenyang.
As a pilot platform for collaboration between the Made in China 2025 and German Industry 4.0 initiatives, the park focuses on the five mainstay areas of intelligent manufacturing, high-end equipment, automobile manufacturing, industrial services and strategic emerging industries.
As one of the designers of the park, Li Songlin, Secretary of the Tiexi District Committee of the Communist Party of China, told Beijing Review that the plan was based on local conditions, including Shenyang's industrial history, foundation and culture. "Shenyang is a center of equipment manufacturing in China and has a complete industrial system for it, so we centered on high-end equipment manufacturing and intelligent manufacturing when designing the park," Li said.
Another of the park's pillar industries is automobile production. Since 2003, an automobile manufacturing system has gradually come into being in Shenyang.
In May 2003, German carmaker BMW Group and the Brilliance China Automotive Group established a joint venture—BMW Brilliance Automotive Ltd. In 2013, BMW Brilliance Automotive's manufacturing plant in Tiexi was put into full operation. Today, the company has two whole-vehicle assembly plants in Shenyang, one in Tiexi and the other in Dadong District, with a total annual capacity of 450,000 units. It also operates a car engine plant in the China-Germany Equipment Manufacturing Industrial Park.
Maximilian Hauk, Vice President of Technology Planning at BMW Brilliance Automotive, said that China and Germany are important partners valuing each other's markets and needs.
Jens-Peter Voss, General Consul of the German Consulate in Shenyang, believes cooperation between China and Germany will go deeper in fields such as the modern service industry, high-end equipment manufacturing and research and development (R&D).
A total of 35 enterprises from Germany and other developed countries, such as BMW and Siemens, have set up shop in the industrial park.
"It's our internationalized idea of management that attracts so many large enterprises to the park," Li said. According to him, their management covers all links like signing contracts, setting up plants, business registration and even possible bankruptcy.
The park management committee has set up a bureau in charge of communications with enterprises it houses. "A service system and a regular exchange mechanism, including high-level meetings and daily exchanges, have been formed to help solve problems and realize efficient cooperation," said Li Yong, the bureau's Deputy Director.
"China's manufacturing industry is still weak in terms of research and innovation and its share in the international market remains low," Li said. According to his research in recent years, German enterprises always focus R&D efforts on a certain product line, an approach that can bring high added value to their products.
"We will do our best to cultivate champion enterprises like BMW Brilliance Automotive at the China-Germany Equipment Manufacturing Industrial Park," Li said.
The park has positioned itself on high-end competitiveness. "By attracting large foreign enterprises and absorbing their advanced technology and innovative ideas, we will realize the organic integration of foreign technology into Chinese manufacturing," Li said.
Securing talent is a key factor to realizing the integration. The park needs more professionals specializing in technology, manufacturing and services, Li said. "I believe the number of such people employed at the park will be increased by tens of thousands in three to five years," Li added. (Reporting from Shenyang, Liaoning Province)
Copyedited by Bryan Michael Galvan
Comments to yanwei@bjreview.com