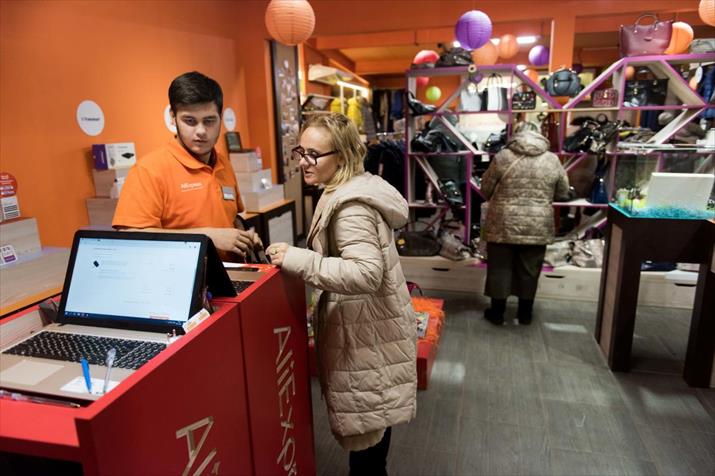 A staff worker helps a woman place an online shopping order at an AliExpress experience store in Moscow, Russia, on November 10, 2016 (XINHUA)
The ancient Silk Road was explored by traders and merchants seeking to connect China to the world. Thanks to the Internet and mobile phone technology, today's Silk Road can be found in your pocket.
The Internet is bringing new opportunities to the China-proposed Silk Road Economic Belt and 21st-Century Maritime Silk Road, collectively known as the Belt and Road Initiative, that can break barriers in time and space, languages, cultures and traditions. A number of e-commerce firms have jumped at the opportunity to expand their business. Cross-border e-commerce platforms such as the Alibaba Group's AliExpress online shopping service benefit from the Belt and Road Initiative and serve to expand the scope of the modern Silk Road.
Growing popularity
"AliExpress is almost on everybody's lips in Israel," said Shen Difan, the online platform's general manager. Shen recalled a business trip to Israel in 2015 where, though the company did not have a single employee there at the time, he frequently met with users of its services.
Besides Israel, AliExpress has also become one of the most well-known e-commerce platforms in other countries, despite not being well known in China.
Established in April 2010, AliExpress targets global consumers whereas its counterpart, Taobao.com, mostly serves a domestic market. AliExpress now reaches consumers from 220 countries and regions around the world. It is also China's only business-to-consumer platform that covers all countries and regions along the Belt and Road routes.
On April 10 Alibaba revealed that AliExpress' number of overseas buyers had reached 100 million and that in the past 12 months, the number of active buyers had hit 60 million.
"It is a milestone for us to have 100 million buyers, because it indicates that this business is becoming mature, but it is only a small target," Shen told China Economic Weekly. "The future decade will witness the overall globalization of China and Alibaba. By 2025 Alibaba aims to serve 2 billion consumers worldwide, and at least 1 billion will come from overseas markets."
Shen said AliExpress has worked to improve its users' shopping experiences by developing its logistics and payment services. He also claimed that the service made important contributions to increasing the recognition of Made-in-China products among foreign consumers.
"We have found during the development of our business that many of our major clients are in countries along the Belt and Road routes," Hu Yanhui, Vendor Operations Director of AliExpress, told China Economic Weekly. According to Hu, light and consumer goods industries are not well developed in these countries, so quality Chinese products that are reasonably priced are in demand.
"Figures from leading market research firms show that Made-in-China products have overtaken U.S.-made ones to become the most purchased category on the Internet, followed by commodities made in the United Kingdom, Germany and Japan," Hu said.
Shen said governments in many countries where AliExpress is present have formulated preferential policies to facilitate investment and e-commerce-related logistics.
Through the online Silk Road, cross-border flows of capital, people, information and materials have become easier. According to figures from China's Ministry of Commerce, the trade volume of the country's cross-border e-commerce sector totaled 6.5 trillion yuan ($943.4 billion) in 2016. In the next few years e-commerce is estimated to contribute 20 percent of China's total trade volume, with an annual growth rate of more than 30 percent.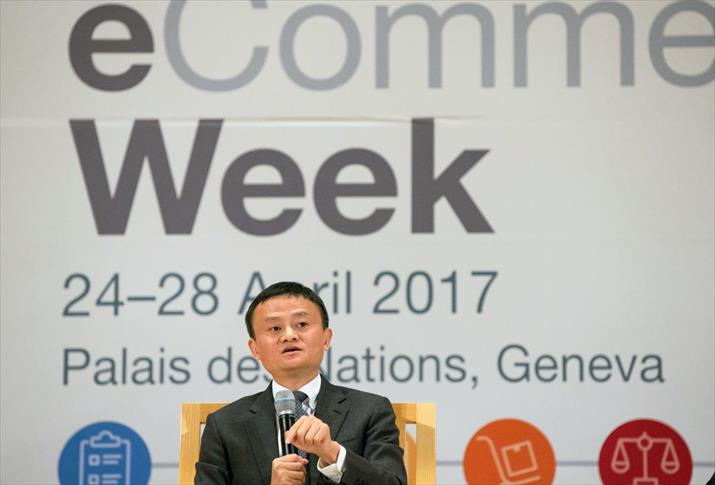 Jack Ma, Chairman of Alibaba Group and special advisor of the UN Conference on Trade and Development (UNCTAD) on youth entrepreneurship and small business, attends a high level e-commerce dialogue in Geneva, Switzerland, on April 25 (XINHUA)
A change maker
In many countries along the Belt and Road routes, business infrastructure is outdated, logistics costs are high, and credit rating and payment systems are not well established. Therefore existing e-commerce formats developed in Europe and the United States are hard to emulate in these countries.
This was the situation China was in many years ago. But in the past decade, the rapid growth of e-commerce has stimulated the transformation of logistics and payment services.
"In 2004 when China's e-commerce and online shopping scene had just begun, I bought a box of Pu'er tea produced in Yunnan Province on Taobao, but received the parcel after a month," Shen recalled. "If that happened today, I definitely would have complained about it, but at that time I was quite excited because I could actually receive something I had bought online. Before e-commerce platforms were set up in China, I had never bought anything from a retailer located more than 10 km from my home."
In Shen's opinion, Alibaba's successful practices in China can also work in other markets.
In Russia, for example, it usually takes about 60 days for a parcel to be delivered to customers.
But now AliExpress and Alibaba's logistics arm Cainiao Network have reached an agreement of cooperation with the Russian Post and other local mail companies. AliExpress has also launched a new route for direct flights from Hong Kong to Moscow. These efforts have reduced delivery time to a minimum of four days.
AliExpress accounts for 50 percent of Russia's total number of logistics orders. In Moscow and St. Petersburg, some parcels can be sent out via local warehouses of Cainiao and delivered to customers the next day.
Fang Chao, the international business chief of Cainiao, said during Alibaba's annual November 11 shopping extravaganza, Cainiao plans to deliver parcels via chartered flights, as it did in 2016.
More services
Now online shopping has become routine for most Chinese Internet users. Taobao and its sister shopping site Tmall.com together have contributed 15 percent to China's total retail sales of consumer goods. Encouragingly, the growth in the number of buyers using AliExpress is faster than that of Taobao's a decade ago. "I know our past, so I can forecast our future," Shen said.
Growth of the number of orders on AliExpress has also stimulated improvement in postal and banking services in some countries where it has a presence, and Alibaba's cloud computing and big data services also help improve their efficiency.
In addition, Cainiao has built warehouses in many countries and is able to make timely forecasts on possible purchasing demand to satisfy the demand of a growing user base. For example, as a result of Cainiao's use of warehouses in Spain, a customer in Madrid can receive a phone sold by a retailer in China within five hours.
As for post-sales services, Shen admitted that returning goods acquired from such cross-border e-commerce platforms is still a difficulty. Now AliExpress provides easy service for returning goods, which enables buyers to do so through their local post offices or logistics firms.
Copyedited by Bryan Michael Galvan
Comments to yaobin@bjreview.com