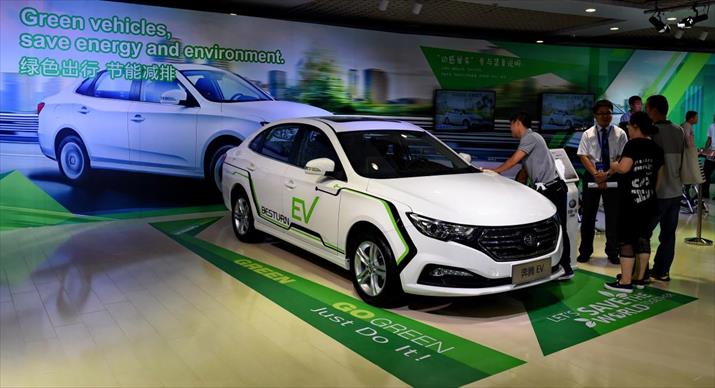 People stand next to an electric vehicle at an auto fair in Changchun, capital of northeast China's Jilin Province, on July 18, 2016 (XINHUA)
The Chinese economy grew by 6.9 percent in the first quarter of 2017, a result widely attributed to industrial expansion, booming consumption and soaring exports.
"China's economy continued to undergo stable growth in the first quarter, with major indicators scoring much better than expected. This bodes well for future developments for the rest of the year," said Mao Shengyong, spokesman of the National Bureau of Statistics (NBS), at a press conference held on April 17.
More specifically, the added value of major industrial enterprises rose 6.8 percent in the first quarter, one percentage point greater than the figure recorded in the same period last year. Moreover, price levels were generally stable, with the consumer price index (CPI) and producer price index (PPI) increasing 1.4 percent and 7.4 percent, respectively, year on year. The employment sector's robust expansion was also a good sign, with 3.34 million people entering the workforce in urban areas—an increase of 160,000 people from the same period last year. Also, according to statistics from the NBS, the international balance of payments has improved, with the surplus in goods trade exceeding 450 billion yuan ($65.35 billion).
"Credit for these improvements should go to structural adjustments in various sectors brought about by the supply-side structural reform," said Wan Zhe, chief economist of the International Cooperation Center of the National Development and Reform Commission, in an interview with China News Service.
Wan added that favorable external circumstances created by the possible appreciation of the U.S. dollar, stable European economic growth, reduced threat of a China-U.S. trade war and a stable renminbi exchange rate also contributed to China's growth.
Besides that, hi-tech and equipment manufacturing industries saw their added value rise 13.4 percent and 12 percent, respectively, and online retail sales hit 1.4 trillion yuan ($203.3 billion), up 32.1 percent year on year.
"Furthermore, a tentative global economic recovery has shored up global demand, and thus fueled the rapid growth of China's exports. The close contact and pragmatic cooperation between China and the U.S. as well as China's efforts in pushing forward collaboration with countries along the Silk Road Economic Belt and 21st-Century Maritime Silk Road are also positive factors," said Liu Dewei, a research fellow with the research institute of China Minsheng Bank, in an interview with China News Service.
In China, total electricity consumption grew 6.9 percent in the first quarter, with the manufacturing industry accounting for 75 percent of that growth, implying that industrial production was accelerating and that the real economy was rallying. The volume of railway freight also climbed 15.3 percent, a record high since April 2010, indicating that microeconomic activities were vigorous. To top that off, the purchasing management index (PMI) hit 51.8 percent, marking an increase for two straight months, with the index for new orders reaching 53.3 percent, suggesting a constant growth in market demand, Liu analyzed.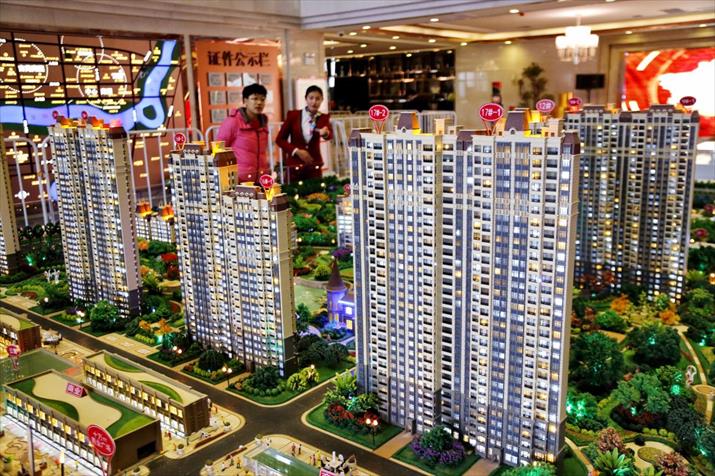 Potential homebuyers visit a residential housing project in Hengshui, north China's Hebei Province, on November 17, 2016 (XINHUA)
Propping up the economy
In the first quarter, the manufacturing industry witnessed a year-on-year increase of 6.4 percent in added value, 0.5 percentage points faster than the same period last year, and contributed 36.1 percent to GDP growth, 1.1 percentage points more than the same period last year, according to statistics from the NBS.
"As solid progress has been made in carrying out the supply-side structural reform since last year, supply-demand relations in the market have been significantly improved, and enterprises' confidence has been strengthened," said Mao.
"When profits grew, enterprises sought to expand production. Industrial manufacturing therefore picked up, which has contributed much to economic growth," said Mao.
In addition to rising profits, Huang Qunhui, Director of the Institute of Industrial Economics at the Chinese Academy of Social Sciences, believes there were a number of factors behind the satisfactory industrial performance. Huang listed the ongoing supply-side structural reform, surging prices of staple commodities and the huge investment in real estate development and infrastructure construction as major contributors.
The growing contribution of consumption in GDP growth is another encouraging sign in the first-quarter figures. Consumption contributed 77.2 percent to economic growth, 2.2 percentage points more than that in the same period last year, according to the NBS. Total retail sales of consumer goods stood at 8.58 trillion yuan ($1.25 trillion) in the first quarter, up 10 percent year on year.
"Consumption has exerted a stronger fundamental influence on the economy," said Mao, who analyzed that the growth was backed by rising residential incomes, escalating consumption levels and expanding markets.
When a country's per capita GDP reaches $5,000 to $10,000, its consumption rate, or the ratio of total consumption against the economic aggregate, would quickly go up and gradually stabilize. China is now at such a stage, Zhao Ping, Director of the International Trade Studies Center under the China Council for the Promotion of International Trade Academy, told China News Service.
"Currently, China's consumption rate has not reached 60 percent—lagging far behind developed countries—therefore the contribution of consumption to economic growth will remain at a high level in the future," Zhao predicted.
Beyond that, there was a substantial increase in the contribution of exports to economic growth in the first quarter.
"Though goods trade surplus went down 35.5 percent year on year in the first quarter, when taking the service trade into consideration and getting rid of the price factor, the net export of goods and services contributed 4.2 percent to economic growth in the first quarter," said Mao.
What's worth noticing is the achievements made in the supply-side structural reform, said Mao.
The rate of capacity utilization in China's major industrial enterprises was 75.8 percent in the first quarter, two percentage points higher than that in the fourth quarter last year, with their debt-to-asset ratio falling to 56.2 percent at the end of February.
Furthermore, in the first two months, the cost for major industrial enterprises to generate 100 yuan ($14.52) of main business revenue was 84.91 yuan ($12.33), a decline of 0.28 yuan ($0.04) compared with the same period last year.
In the first quarter, investments in ecological protection and environmental governance, public facility management, agriculture and water conservancy management—weak areas of the Chinese economy—increased 48.1 percent, 27.4 percent, 24.6 percent and 18.3 percent respectively, much faster than the total investment growth of 9.2 percent, according to the NBS.
Challenges
"China's economic development is on the way towards more stability," said Mao, noting that stable growth doesn't necessarily mean no fluctuations or quarter-on-quarter growth, otherwise it's not in line with economic rules.
First of all, the service industry has accounted for more than 50 percent of the economy, while consumption contributes over 60 percent to economic growth. Besides that, as the world's largest developing country, China still has huge potential for further development when pushing forward urbanization, industrialization, agricultural modernization and informatization, Mao noted.
Last but not least, the supply-side structural reform will continue to unleash growth momentum, Mao added.
Despite that, risks and challenges cannot be ignored.
"The robust economic growth had something to do with the violent surge of the real estate market last year. As regulators took measures to crack down on the skyrocketing property prices, this growth engine will be weakened to some extent," said Wan, who also predicted that price rises of upstream products caused by
de-capacity efforts would gradually come to a halt.
The prospect of domestic investment growth is uncertain, and private investment is still inactive, said Zhao Xijun, Associate Dean of the School of Finance with Renmin University of China, suggesting that stimulating economic vigor would be a major challenge for the rest of the year. Aside from that, the prospect of global economic growth is still uncertain, especially since U.S. monetary policy will have an impact on emerging markets like China, Zhao warned.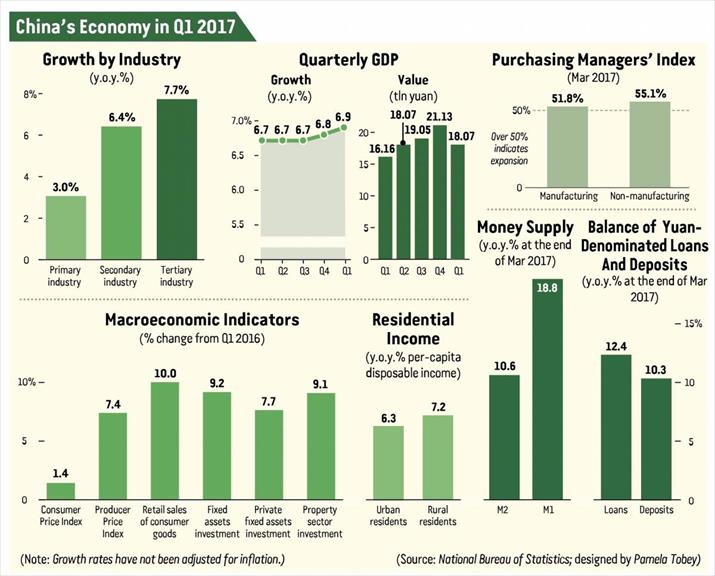 Copyedited by Bryan Michael Galvan
Comments to dengyaqing@bjreview.com