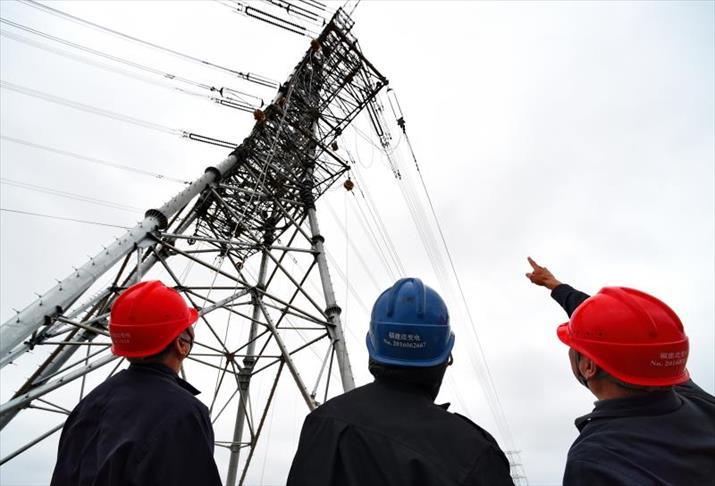 A power transmission project is under construction by the Putian Electric Power Supply Co., a subsidiary of the State Grid, in Putian, southeast China's Fujian Province, on February 23 (XINHUA)
A major project for the Chinese Government this year, mixed ownership reform of state-owned enterprises (SOEs) faces considerable practical difficulties.
The Central Economic Work Conference held last December, which set the tone for 2017, drew particular attention to the need to deepen reform of SOEs by achieving breakthroughs with mixed ownership between state-owned and private enterprises. Premier Li Keqiang stressed the same points in the Report on the Work of the Government delivered at the Fifth Session of the 12th National People's Congress on March 5.
An arduous task
Mixed ownership reform of SOEs is not something put forward only recently. Since 2002, it has been mentioned time and again, and the Central Government has issued several proposals. No substantive progress, however, has been made so far, which has led many people to ask: What is so difficult about it?
To figure out the answer to the question, we must first clarify the need to reform SOEs.
In the 1980s, the Chinese Government implemented SOE reform mainly aimed at altering the system of planned economy and instituting a modern corporate system. Quite a few reforms involving SOEs have been rolled out by the Chinese Government since then, but all can be taken as supplements to the major reform back in the 1980s.
Now, China's economy has deeply integrated into the world economy. The Chinese Government has continued to stress its determination to deepen reform and opening up on multiple fronts. SOEs are facing increasing competition both in Chinese and overseas markets. At the same time, SOEs are entitled to less and less privileges in resource, labor and policies.
Senior government officials and economists hold the view that mixed ownership is the best way for SOEs' "complete" marketization, which will help them establish effective corporate governance structures and flexible, market-oriented operational mechanisms, transforming them into independent market entities responsible for their own profits and losses.
Relevant government agencies have a clear understanding of why no major progress has been made in mixed ownership reform in years. Huang Shuhe, a member of the National Committee of the Chinese People's Political Consultative Conference (CPPCC) and former Vice Chairman of the State-owned Assets Supervision and Administration Commission of the State Council, talked about the reasons for the slow progress at the Fifth Session of the 12th CPPCC National Committee.
"Private enterprises are worried that they wouldn't have a say in the mixed ownership company, while SOEs are afraid to shoulder responsibilities for state asset losses in case of investment failure. Besides, both parties have concerns about equity security and return on investment," Huang said.
Renowned Chinese economist Li Yining also said the major barrier hindering cooperation between SOEs and private companies is the latter's reluctance to invest for fear of losing the right to have a say in a mixed ownership company.
According to Luo Zhefu, a member of CPPCC National Committee and former General Manager of Everbright Group, mixed ownership reform was previously carried out at SOEs' subsidiaries or even lower-level companies, while most parent companies remained wholly state-owned.
While this model suited the economic development stage of the time and played its role in invigorating SOEs, it now faces new challenges—when parent companies are dominated by state assets and subsidiaries are partly state-owned and partly private-owned, business operating costs and the complexity of management will increase.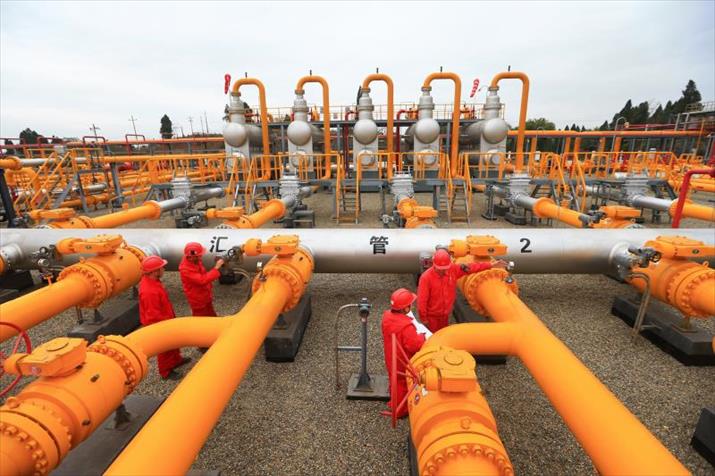 Workers examine the facilities of a natural gas purification plant belonging to the state-owned China National Petroleum Corp. in Suining, southwest China's Sichuan Province, on January 7 (XINHUA)
Solutions
Now, both SOEs and their investors have reached the consensus that mixed ownership reform must be carried forward amid difficulties. Various parties, however, have proposed different advice on how to put it into practice. For example, Luo suggested the emphasis should be on mixed ownership reform of the parent companies.
Each corporation should make an individual plan based on its own development strategy and internal business restructuring. Plans to float the parent company and various other measures should be taken into consideration to press ahead with mixed ownership reform, he said.
Li, on the other hand, suggested SOEs and private enterprises set up independent subsidiaries through which they can cooperate. Or they can co-found a subsidiary which they can jointly control.
The priority for SOE mixed ownership reform is to resolve two issues: identifying which fields concern national security and how to properly allocate interests between private firms and the state.
At present, SOEs are involved in a wide range of industries and fields. SOEs should diminish their activities in, or even withdraw entirely from, sectors irrelevant to national security, and through mixed ownership reform, private enterprises should become controlling shareholders in such firms. For SOEs in fields concerning national security but facing intense international competition, as long as they remain the controlling shareholders, various types of investors should be introduced, and flexible and effective operational mechanisms and scientific management practices should be established to improve their international competitiveness.
As the Report on the Work of the Government states, the Chinese Government has pledged to take substantial steps in mixed ownership reform of SOEs in the fields of electricity, oil, natural gas, railways, civil aviation, telecommunications and military procurement, which are precisely the fields with the strongest monopoly on the ground of national security. If mixed ownership reform is facilitated in these seven sectors, it will signal a major breakthrough in comprehensively deepening reforms, which will have a profound influence comparable to that generated by the SOE reform in the 1980s.
Copyedited by Chris Surtees
Comments to lanxinzhen@bjreview.com