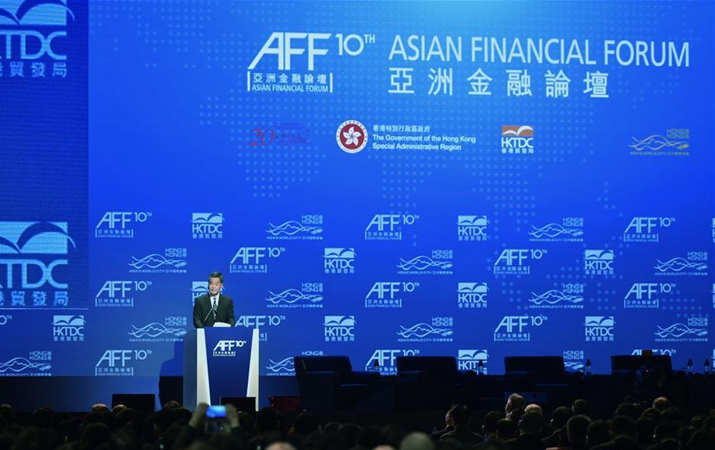 Leung Chun-ying, chief executive of the Hong Kong Special Administrative Region, addresses the 10th Asian Financial Forum in Hong Kong on January 16 2017(XINHUA)
Financial and business leaders, policymakers and economists gathered at a forum in Hong Kong on January 16 to discuss sustainable growth in Asia through boosting innovation and connectivity.
The 10th Asian Financial Forum opened with the theme of "Asia: Driving Change, Innovation and Connectivity."
In his opening remarks, Hong Kong Chief Executive Leung Chun-ying said Hong Kong has given full play to its strengths under the "one country, two systems" over the past two decades, and the arrangement will continue to sharpen Hong Kong's competitive edges in the future.
The advantages brought by the "one country, two systems" principle has made Hong Kong the "super-connector" between the Chinese mainland and the rest of the world, he said, adding that such a role is especially solid in finance, one of Hong Kong's strengths, citing the Shenzhen-Hong Kong Stock Connect launched last month as a perfect example.
Echoing the forum's theme of innovation and connectivity, Leung said innovation and technology is high on the policy agenda of the government.
"We established the Innovation and Technology Bureau some 14 months ago, and injected a massive $2.3 billion to promote innovation and technology," he noted.
Sponsored by the Hong Kong Special Administrative Region Government and the Hong Kong Trade Development Council, the two-day forum has become a signature annual event for financial leaders to discuss developments in Asian markets.
(Xinhua News Agency January 16, 2017)