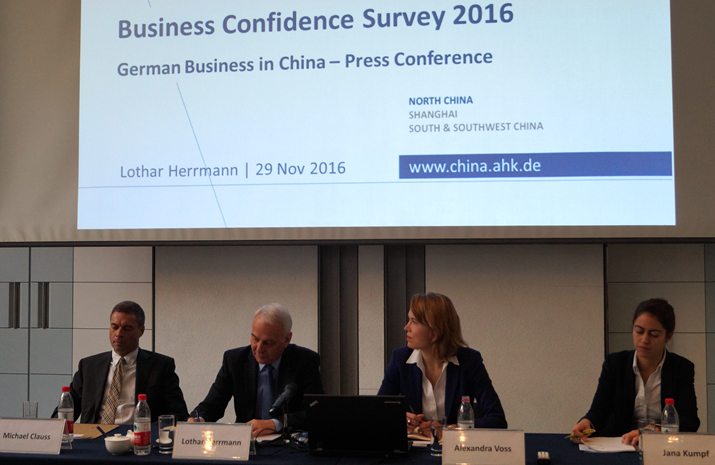 Lothar Herrmann (second left), chairperson of the North and Northeast China Board at the German Chamber of Commerce in China, at the press conference for the release of Business Confidence Survey 2016 (MARC-STEPHAN ARNOLD)
Although German companies in China evaluate current economic circumstances as some of the most difficult in recent years, their overall outlook for the coming year is positive, according to a survey conducted by the German Chamber of Commerce in China (GCCC) released on November 29.
This year's GCCC Business Confidence Survey shows companies expecting more moderate increases in turnover and profit than in previous years, and one in four companies expects profits to decrease in 2016.
German firms feel more optimistic about 2017, however, and expect more positive economic development and stronger revenue and profit growth. German companies overwhelmingly have no plans to leave China.
German businesses also evaluate positively the "Made in China 2025" strategy. Over half of those with production facilities in China regard its impact as positive for their company's operations over the next five years.
China's economic growth and reforms continue to be perceived as positive factors, though the enthusiasm observed in the past has waned to some degree.
When questioned about the status and potential of Industry 4.0 for their local operations in China, 83 percent of German companies with production facilities in China take for granted the suitability of implementing Industry 4.0 within their manufacturing processes. The automotive industry is furthest ahead along the Industry 4.0 development road.
Over 400 German companies in China participated in this year's GCCC Business Confidence Survey, which was conducted between September 1 and 28.
Copyedited by Bryan Michael Galvan
Comments to zhouxiaoyan@bjreview.com