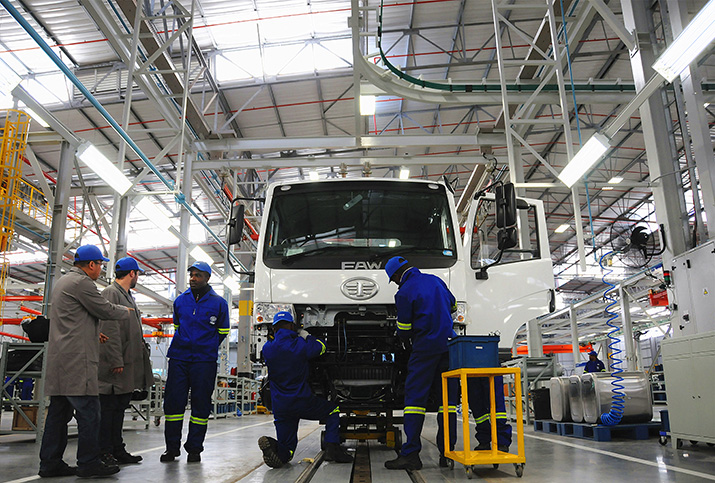 Chinese technicians and South African employees work at a production line of FAW South Africa in Port Elizabeth on July 10, 2014 (XINHUA)
In its spacious showroom in Isando, a small town northeast of Johannesburg, Chinese automaker FAW Group displays its most popular vehicle models assembled in its plant in Port Elizabeth, one of South Africa's largest cities, located east of Cape Town.
"It's called the J5," Ngoni Chaitwa said, pointing at a large white truck. "It can pull a trailer with a load of up to 34 tons. We call it 'Beautiful Africa' because it is doing very well in Africa."
Chaitwa, a salesman with the company for three years, said FAW vehicles are doing well in the market because they are reasonably priced and most importantly, made in South Africa. This makes having access to spare parts and maintenance much easier.
Pioneer footprints
With the deepening of China-Africa cooperation, Chinese automakers have begun setting up factories in Africa, turning the dream of "Made in Africa for Africa" into a reality.
As a pioneer Chinese automaker, FAW's journey to Africa began in the 1970s when its vehicles were used in the construction of the Tanzania-Zambia Railway. "The demand has kept rising ever since," said Hao Jianyu, Deputy CEO of FAW South Africa. "We are probably the first Chinese brand to have set foot on the continent."
According to Hao, FAW started selling and shipping trucks to South Africa in 1994 and 10 years later established an assembly plant with an annual producing capacity of 5,000 trucks in the Coega Industrial Development Zone outside Port Elizabeth. The total investment in 2004 stood at $80 million.
"The launch has proved to be a big step forward in FAW's localization," Hao said. "People know that we invest here and are determined to 'take root' in Africa, so they have confidence in us. Our market share has witnessed continuous growth since 2013, rising from the 0.9 percent growth rate then to 4.2 percent in the first three quarters of 2016, despite the weak market demand resulting from the global economic downturn."
In 2015, the Coega plant produced 1,000 vehicles, mainly sold in South Africa. In 2016, the target is between 1,200 and 1,300.
Hao attributed the growth also to the fact that Chinese automakers have become better known and are adapting to local needs.
FAW South Africa has 28 dealers in the country and more than 100 on the continent. It is building sales and after-sales networks to expand business and improve service.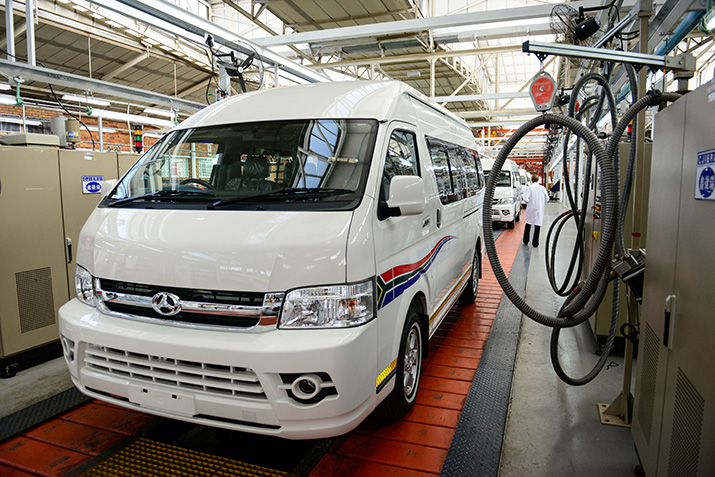 Sasuka minibuses at the BAW South Africa plant in Springs, a small town east of Johannesburg, on April 22 (XINHUA)
Understanding the buyer
If FAW's story shows that localization is a key growth driver, that of another Chinese automaker, Beijing Automotive Works (BAW), indicates that it is crucial to understand local financing systems from the buyers' perspective.
BAW South Africa, located in Springs, a small town east of Johannesburg, is a joint venture between BAW, which is a subsidiary of Beijing Automobile Industry Holding Company (BAIC), a Fortune 500 company, and South Africa's Industrial Development Corp. (IDC).
Established in 2013, BAW South Africa focuses on manufacturing the 16-seater Sasuka minibus, whose name means "We are departing" in the local Zulu language.
Minibus taxis are a vital part of South Africa's public transport system, as more than 16 million South African commuters depend on them daily. The Sasuka comes with a 200,000-km service plan and an insurance plan.
However, the problem is that it is difficult for buyers to get bank loans. "Customers have had some financing problems," said Zhong Jide, former CEO of BAW South Africa. "In China, most people are used to paying in a lump sum. But this is not the case in South Africa, where people are used to taking out loans to buy cars. If our customers cannot secure a loan, they will not be able to buy."
To address this, BAW South Africa has established its own car rental company so that local people who can't buy the vehicles can rent them. The company is also trying to localize more to gain the confidence of local banks.
"An additional 220 million rand ($15.35 million) will be invested into restructuring, which is expected to be completed by next July," BAW CEO Zhang Wei said. In general, an auto plant runs four production processes: stamping, welding, coating and general assembling. After restructuring, BAW South Africa will be able to do the last three processes. Stamping will still have to be done outside since the materials required for it are not available locally at the moment.
"This means an addition of technological processes, extension of industrial chains, and creation of jobs," Zhang said. The restructuring and expansion will create another 100 direct jobs and more than 6,000 indirect employment opportunities.
Hope for unemployed
The rise of the automobile manufacturing industry has helped turn many previously unemployed and unskilled young South Africans into skillful industrial workers, bringing hope to many more.
FAW South Africa has 240 workers, of whom 98 percent are locals. BAW South Africa's workforce is made up of approximately 200 workers, 96 percent of them being South Africans. In the newly established auto plants, young people receive training to become skilled workers.
Errend Magaena used to do maintenance work in a local school before joining BAW South Africa in November 2012 as a member of its maintenance and cleaning staff. He was soon transferred to the production line and is now a supervisor in charge of two teams.
The young man shows a strong desire to grow together with the company. "I would like to be part of the senior management in the next four or five years. I plan to stay with BAW for a long time," he said.
Rose Mothogoane, previously a car cleaner, is now a team leader responsible for the trimming line at BAW South Africa. "My dream is to see the company growing, hiring a lot of people and having the potential of producing more vehicles," she said. She hopes to become a supervisor one day.
Another new China-South Africa joint-venture auto plant broke ground in Port Elizabeth in August. The BAIC-IDC venture materialized after Johannesburg Summit of the Forum on China-Africa Cooperation in December. The new factory will provide more automobile options for the South African and other African markets as well as more job opportunities for local people.
Copyedited by Sudeshna Sarkar
Comments to zhouxiaoyan@bjreview.com