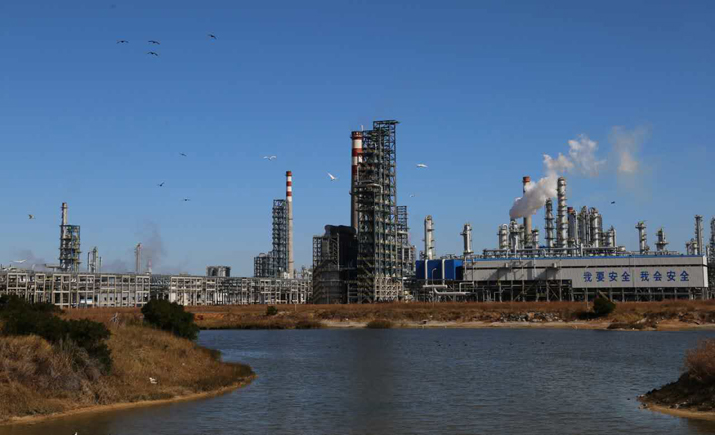 Egrets fly over a lake at the Sinochem Quanzhou refinery in Fujian Province on September 27 (DENG YAQING)
Several little egrets hover over the limpid lake. On the water's surface, a family of wild ducks swim leisurely and look for food. Were it not for a sign with the boldfaced words "Ensuring Safety in Production," visitors might think they were in a nature reserve. In fact, the scene forms the backdrop to an oil refinery in Quanzhou, Fujian Province, belonging to the Sinochem Group. Sinochem is one of China's four state-owned oil conglomerates whose core activities span the energy, agriculture, chemicals, real estate and financial service sectors.
This August, the General Office of the State Council released a set of guidelines on reforming the petrochemical industry and improving its efficiency in order to cut excess oil production capacity and facilitate sound and green development.
Low prices of oil products combined with overcapacity have caused many petroleum companies to scrape a living. By contrast, Sinochem has managed to fend off the challenges. Last year, its turnover volume for the oil business was 140 million tons with sales exceeding 254 billion yuan ($37.36 billion).
"The 12-million-ton petroleum refining project in Quanzhou forms part of Sinochem's efforts to improve product quality and manufacturing efficiency and explore ways of transformation and upgrading," said Wang Yucui, former deputy chief engineer of Sinopec Engineering Inc. He said that the company has invested heavily in protecting the environment as well as in ensuring the quality of its refined oil products.
Environment friendly
Sinochem Quanzhou Petrochemical Co. treats wastewater discharged by its various production facilities with different methods. And 76 percent of its wastewater is reused. According to Zhu Yueping, wastewater treatment chief supervisor, after purification, the quality of the plant's discharged water almost reaches drinking water standards.
In treating and controlling waste gas emissions, the company has taken a series of measures including de-sulfurization, de-nitration and dust extraction. In 2015, its gross de-sulfurization rate surpassed 99.25 percent, its de-nitration rate was above 80 percent, and its gross dust extraction rate stood at 99.94 percent, all of which far exceeded current national standards.
"To reduce waste gas pollution, the company has installed oil vapor recovery facilities at piers, loading stations and railway loading areas," said Assistant General Manager Chen Xiaoguang. Besides that, the company maintains spare de-sulfurization equipment in case of sudden breakdown.
In order to prevent and control marine oil spills, Quanzhou Petrochemical's wharves are equipped with a 500-ton oil recovery ship, oil collection machines, oil fences, oil absorption material, oil dispersant and a surveillance and alarm system. The company has also invested 299 million yuan ($44.46 million) to control seepage.
In many older oil refinery plants, sump oil is usually transported by underground pipelines. Once such pipelines erode with the passing of time, the subsurface water becomes contaminated. "To put an end to this situation, our company has built sump oil transport pipelines above ground, and workers in the refinery carry out frequent inspections," Wang said.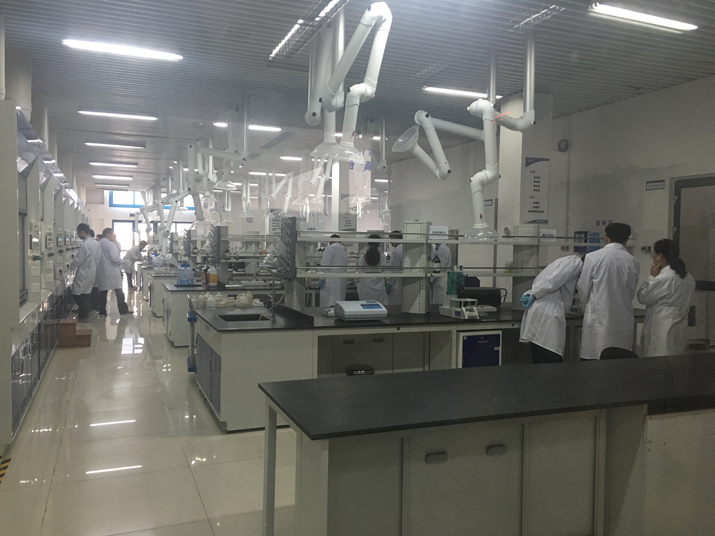 Researchers conduct environmental monitoring tests in a laboratory at the Sinochem Quanzhou refinery on September 27 (DENG YAQING)
Oil upgrading
General manager Zhang Qiang said that the Quanzhou refinery's monthly output of automotive gasoline and diesel fuel of the National V emission standard has surpassed 400,000 tons. The Chinese standard, which will be effective nationwide from January 1, 2017, is similar to the Euro V standard and requires sulfur content in fuel to be no more than 10 parts per million and olefin content no more than 24 percent.
"While most refineries find it difficult to reduce olefin content to below 18 percent, we have succeeded in bringing it down to less than 8 percent," said Zhang, who explained that olefin may affect the atmosphere and complicate emissions.
The company integrates domestic and foreign technologies and adheres to the most advanced processing scheme. To ensure quick and accurate data analysis, its quality control center has adopted roughly 400 standards.
In September 2015, Quanzhou Petrochemical obtained official permission to process imported oil and export refined products. "It took only one year for us to gain permission from the National Development and Reform Commission, while some refineries have waited four years," said Zhang, crediting it to the refinery's quality products and China's policy of encouraging exports of refined oil products.
From its refinery coming into production in June 2014 to the end of August, the company had imported over 7 million tons of crude oil, and exported two thirds of its refined oil output. Quanzhou lies at one end of the ancient maritime Silk Road, and over 70 percent of the company's oil exports go to countries located along the routes of the China-proposed Silk Road Economic Belt and 21st-Century Maritime Silk Road such as Australia, Singapore, Malaysia, Thailand and the Netherlands.
Self-reliance
"Since some foreign multinationals monopolize the high-end petrochemical equipment market, domestic petroleum manufacturers have long suffered extraordinarily high prices and long time of delivery. As continued progress is made in the research and development of high-end equipment, domestic companies are trying to break the barrier," Wang said.
Over 90 percent of the manufacturing equipment utilized by Quanzhou Petrochemical comes from domestic suppliers. "The refining and chemical industries usually grow with the improvement of available equipment. If made-in-China equipment can't grow strong, the development of China's petrochemical industry will remain slow," Zhang said.
For instance, one year ago, all domestic refineries had to import 150 reciprocating compressors because no manufacturer in China was able to produce them. "We teamed up with leading domestic equipment manufacturer Shenyang Blower Works and eventually installed the first domestically made 4M super-huge reciprocating compressor in our factory," Zhang said.
Last September, the China Machinery Industry Federation said that the compressor had filled a domestic gap in the field.
Equipment domestication helps lower the service costs that petroleum companies have to bear and facilitates their transformation and upgrading, according to Zhang.
Copyedited by Chris Surtees
Comments to dengyaqing@bjreview.com