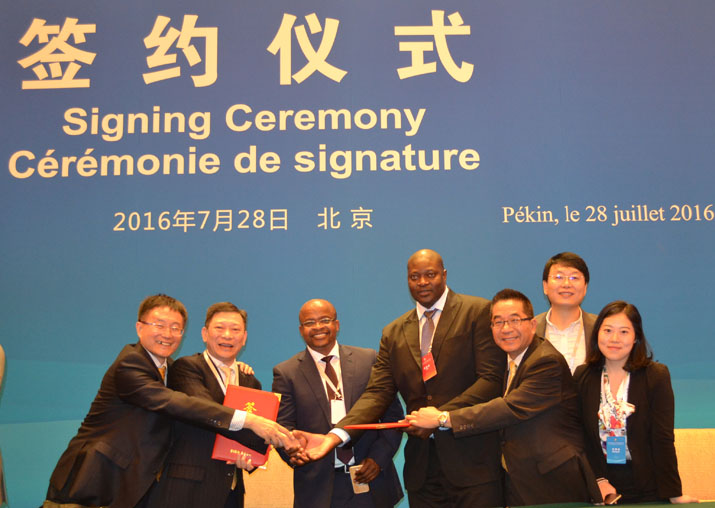 Representatives of the Shenzhen Hoi Mor Resources Holdings Ltd. and the Musina Special Economic Zone of South Africa sign an investment agreement on July 28 in Beijing (LIU JIAN)
Limpopo Province in the far north of South Africa takes its name from the mighty Limpopo River, which forms the natural border with Zimbabwe. It's a region teeming with wildlife, bountiful historical and cultural treasures and spectacular scenery.
Now the province, and its northernmost town, Musina, are on the verge of bigger things.
The Shenzhen Hoi Mor Resources Holdings Ltd. (SHMRH), a Chinese company specializing in mineral benefication, will invest over $3.8 billion to establish an energy and metallurgical industrial cluster in the Musina Special Economic Zone (SEZ).
Richard Zitha, a project executive of the Musina SEZ under Limpopo Economic Development Agency, is pleased with the positive outcome of his recent trip to China, where he signed an agreement with SHMRH at the Seminar on China-Africa Business Cooperation on July 28 in Beijing.
"This cluster provides a golden opportunity for our skills upgrading and technology transfer, and has demonstration effects," he told ChinAfrica, a monthly publication of Beijing Review. "These dynamic effects have the potential to contribute further to regional development, especially in the long term."
"The cluster consists of around 10 projects including a power plant, a coking plant, a ferrochrome plant, a steel plant and a stainless steel plant," said Ning Yihai, Chairman of SHMRH, adding that a joint venture will be set up to develop and manage the cluster.
"The implementation of various projects over the next five years is expected to create over 21,000 jobs," he said. "Capacity building and skills development are the key areas we will focus on in our cooperation, and we will also increase value-added production."
"The development of this SEZ is intended to accelerate economic growth, attract foreign and domestic direct investment, expand the manufacturing sector and mineral benefication, as well as create employment in the region," said South African Trade and Industry Minister Rob Davies.
Ning told ChinAfrica that when they obtain the license, they will apply for funding from the China-Africa Development Fund (CADFund) or the China-Africa Fund for Industrial Cooperation, which were established by the Chinese Government in 2006 and 2015 respectively, to support more Chinese company investment in the continent.
China and South Africa complement each other well in industrial capacity cooperation, said Wang Fuqiang, Vice President of SHMRH. "The Musina SEZ has the advantage of rich natural resources and enjoys the South African Government's preferential policies in tax and foreign investment, while our company has the leading metallurgical technology and equipment, abundant funds and huge market demand," he explained.
His sentiments were echoed by Jiang Zengwei, Chairman of the China Council for the Promotion of International Trade, who said the development strategies of China and Africa are complementary and the two partners have respective advantages in cooperation.
Industrial momentum
But it's not only South Africa that China is now deeply involved with, but the continent as a whole. Africa's industrialization and agricultural modernization have a focus on financing and investment cooperation, said Chinese Foreign Minister Wang Yi. He made the comments while delivering a work report at the Coordinators' Meeting of the Implementation of the Follow-up Actions of the Johannesburg Summit of the Forum on China-Africa Cooperation (FOCAC) on July 29 in Beijing.
"Investment cooperation has become a new way of boosting China-Africa cooperation, and it's a mutually beneficial cooperation model," said Wang. "It speeds up Africa's industrialization and improves its independent development capacity, while it brings Chinese equipment, technologies and products to African countries via industrial capacity cooperation, which fuels China's economic growth."
Egypt's Assistant Foreign Minister for African Affairs Mohamed Edrees told ChinAfrica that the industrial capacity cooperation mentioned by Wang is something most African economies are looking to. He said there is now a realization in Africa that to achieve significant development in many fields, there must be industrial development and not just dependence on agriculture, as is the case across the continent.
The multiplier effect
Last December, at the Johannesburg Summit of FOCAC, Chinese President Xi Jinping announced 10 major China-Africa cooperation plans for the 2016-18 period, backed by grants, funds, zero-interest loans and loans on favorable terms valued at $60 billion.
Eight months later, more than 100 Chinese and African ministerial officials attended the coordinators' meeting to evaluate, facilitate and review the process of the implementation of agreements reached at the Johannesburg Summit.
Since the summit, China and Africa have signed 243 agreements of various types worth $50.725 billion, said Chinese Vice Foreign Minister Zhang Ming at a press briefing after the meeting.
Among the agreements, Chinese companies' direct investment and commercial loans to Africa amount to $46 billion, accounting for 91 percent of the total volume, and covering the areas of industrial cooperation, special economic zones, power plants and agricultural projects.
Zhang believes the achievement of the FOCAC Johannesburg Summit has revitalized the market to boost China-Africa cooperation, calling this the "multiplier effect."
"Like a catalyst, China's $60-billion Africa support funding speeds up the rate of the chemical reaction of China-Africa cooperation in a market environment, which has successfully brought a large amount of funding from the market, and attracted more investment to Africa," said Zhang.
He said FOCAC has yielded abundant fruits in the 16 years since its establishment in 2000, and over the years, China-Africa cooperation has been upgraded and transformed.
"Our cooperation has shifted from commodity trade to processing trade and industrial capacity cooperation, from contracting projects to investment and management, from labor cooperation to technical cooperation and technology transfer, from government assistance to companies' investment and financial cooperation," he said.
Addressing bottlenecks
"China's 10 cooperation plans include a China-Africa industrialization plan, an agricultural modernization plan and an infrastructure plan, which will address the bottlenecks holding back Africa's development such as inadequate infrastructure and lack of skilled talent," said He Wenping, a senior researcher with the Institute of West Asian and African Studies at the Chinese Academy of Social Sciences.
Under the China-Africa industrialization plan, China has signed documents with countries on building trade and economic cooperation zones, said Chinese Commerce Minister Gao Hucheng, while delivering a report on the progress China has made in implementing the 10 cooperation plans at the coordinators' meeting. "The expansion project of the China-Egypt Suez Economic and Trade Cooperation Zone has started, and Ethiopia has launched the Hawassa Industrial Park," he added.
China's financial support has helped address Africa's funding shortages and laid the foundation for development in all sectors. According to Gao, $5 billion of additional capital has been injected into the Special Loan for the Development of African Small and Medium-Sized Enterprises since the Johannesburg Summit. The CADFund has invested another $100 million in seven projects of six African countries.
And at the top of the agenda in the thrust of China-Africa industrial cooperation are skills development and capacity building. Since the summit last year, China has trained more than 30,000 African technical personnel on site and hosted more than 6,000 officials and technical staff in 150 multilateral and bilateral training programs in China, reported Gao. "China will also help Africa set up 24 regional vocational education centers and schools for capacity building," he said.
In an effort to see China's progress first hand, a group of more than 90 participants, including African ministers and ambassadors to China, visited the China-Singapore Suzhou Industrial Park in Suzhou City, east China's Jiangsu Province, on July 30.
"We are impressed by how Suzhou has developed its industrial parks in a short period of time, and how this generates modernization, industrialization and job creation, and this is what Africa is trying to emulate," said Anil Sooklal, South Africa's coordinator on implementing agreements at the Johannesburg Summit and Deputy Director General of the country's Department of International Relations and Cooperation.
"What better partner [can] we have than a country that has experienced it and [is] now willing to share the experience with us? That's why the partnership is so intense," he added.
Copyedited by Francisco Little
Comments to liuyunyun@bjreview.com