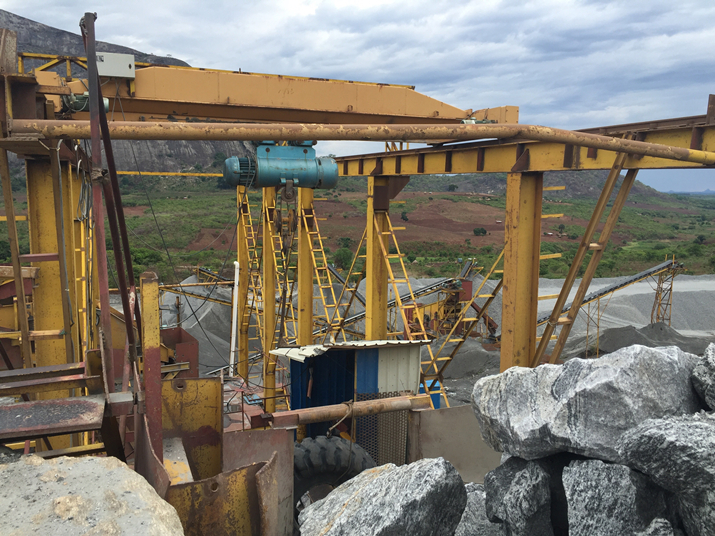 A crane operates in a quarry in Manica, a province in central Mozambique (FILE)
When the foreign investment bug bit him, Simon Shen went about choosing his destination abroad with the methodicalness of a scientist undertaking a new experiment that though risky could yield gold.
It was in the 1990s and the consumer goods trader from Xiamen, a major port city in southeast China, was worried by his falling exports. He was selling shoes and clothing manufactured in China to Eastern Europe, but the market there plummeted.
"The market stopped developing and the currencies were falling," the 50-year-old said, the golden tan of his recent African sojourn marred by frowns of recollection. "I realized it was better to look at other places."
Unlike Europe, Africa, following the end of colonization, was looking up as an investment destination in urgent need of infrastructure. So in 1995, Shen went on a reconnaissance binge, visiting four African countries he had shortlisted: Nigeria, Egypt, Kenya and South Africa.
Turning to Africa
The trip convinced him that South Africa was where his future lay. "There was a big change in South Africa," he explained. "Apartheid had ended, international economic sanctions had been lifted and an election had been held. To get the economy off the ground after being isolated for two to three decades, the new government was encouraging foreign businesses and investments."
At the same time, South Africa also had the infrastructure and business culture foreign investors looked for, compared to some of its peers which were either facing civil war or administrative chaos. So the die was cast for Shen and in 1998, Union Color Co., the company he registered in Johannesburg with a local partner, began operations.
This time, the focus was on building materials as Africa was on a construction drive. Gradually, he added interior decoration items and then, after becoming familiar with the granite mines in South Africa, included that in his list as well. In 2012, he got a contract to supply granite for a project but could not find enough supplies in South Africa. A business acquaintance told him about the granite mines in Mozambique and that is how he branched in that southeast African country, finding a local partner to go into business with.
Today, Union Color Co. has over 200 employees, most of whom are locals. Shen is emphatic that it is an African company. "Xiamen in China is my hometown and my roots are there but my business is based in Africa," he said.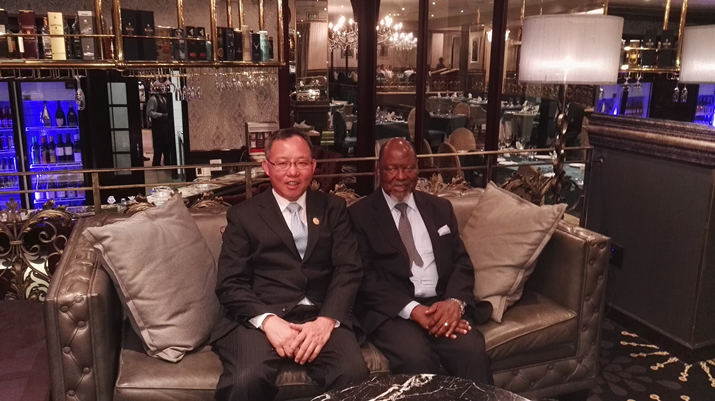 Simon Shen (left) with Joaquim Alberto Chissano, former President of Mozambique (COURTESY OF SIMON SHEN)
Planning the future
What makes Shen's story different from that of many Chinese companies successfully doing business in Africa is his strategy for the future. He is not interested in expanding to more African countries. "I have already overcome many difficulties," he said with a smile. "At the age of 50, you know your destiny."
He sees his destiny now as a mentor, sharing his knowledge of the African market with Chinese companies interested in foraying into the continent. He is also ready to provide China knowhow to African companies seeking to do business in or with China.
He thinks Chinese President Xi Jinping's announcement of the Silk Road Economic Belt and the 21st Century Maritime Silk Road Initiative - a global network of infrastructure, transport and markets for a more vibrant economy in Asia, Europe and Africa - has energized Chinese companies. "The thought of the industrial, infrastructural and agricultural networks in the three continents coming together has encouraged Chinese companies," he said. "From governments to individuals, people are paying more attention to Africa. Lots of people are coming to me to ask for advice. It made me think maybe I should not run my own business now but advise people, help them to develop in African market."
It's a task for which he's well qualified. Shen is also on the Xiamen Committee of the China Council for the Promotion of International Trade and an official of the Xiamen Chamber of International Commerce's South Africa Liaison Office.
Xiamen, one of the first Chinese cities to open up to the outside world, has a vibrant exhibition economy and hosts a series of international expos every year. The China International Fair for Investment and Trade, into its 20th edition this year, has been attracting delegations from a growing number of African countries.
"We need to think how to make this fair more attractive for African countries," Shen said. "Because of the distance and the differences in culture and time, it is difficult for Chinese companies to do business in Africa and vice versa. We need constant follow-up for that."
That's how the idea of establishing an Africa Center came into his mind. He pitched the concept last year at a round-table conference organized by the Xiamen Council for the Promotion of International Trade themed "Go to Africa" where it met with enthusiasm. The center is expected to come up by this year, possibly in the Xiamen Free Trade Zone.
"At the trade fair, African delegations come for four days. But the center will be open 365 days a year," Shen said.
Comments to chenran@bjreview.com