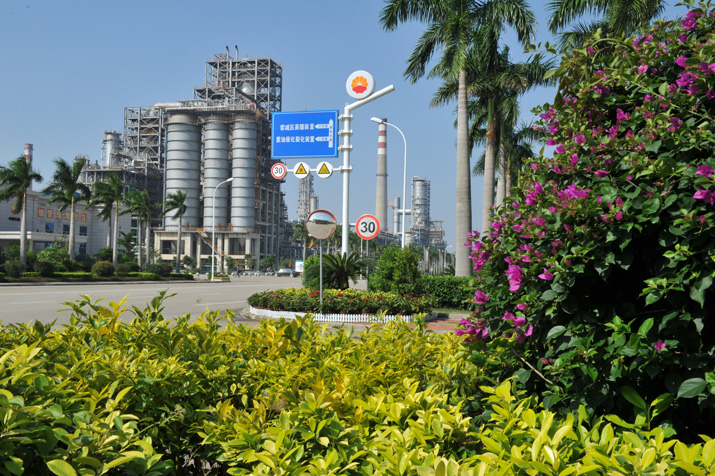 The CNPC's refining plant in Qinzhou, Guangxi Zhuang Autonomous Region
As international oil prices languish at low levels, most oil companies have had to confront plunging profits. China's largest crude oil and natural gas producer, China National Petroleum Corp. (CNPC), is no exception.
In 2015, CNPC's net profits stood at 35.52 billion yuan ($5.43 billion), a record low for the company. Worse still, in the first quarter of this year, its net losses reached 13.79 billion yuan ($2.11 billion). On the other hand, its refining and chemical business gained 4.88 billion yuan ($746.8 million) in profits last year, the first time that the sector made profits in the past five years, according to CNPC's financial report.
CNPC was originally positioned to specialize in petroleum exploration and development, while Sinopec—another centrally administered oil company—focused on petroleum refining. But, given as international oil prices keep sliding, it has become increasingly difficult to make money from exploration and development, leading to the CNPC's shrinking profits.
To foster new areas of growth, CNPC has set about developing its refining business, which seems to have generated some positive results. The establishment of its branch in Guangxi Zhuang Autonomous Region is one of the results of this endeavor, a move designed to gain both economic and environmental benefits.
Local growth engine
"Since the CNPC Guangxi branch was established in the city of Qinzhou, the local oil shortage has been completely solved," said Lin Fei, manager of a local gas station.
Qinzhou is an important port city in south China, connecting the country to Southeast Asian nations. With a refining capacity of 10 million tons, oil produced by the company not only fulfills local demands, but also flows into a number of neighboring provinces including Guizhou, Yunnan and Guangdong.
"While all the crude oil that is processed by the CNPC Guangxi branch is imported from the Middle East, 70 percent of its petroleum products are sold domestically, and 30 percent are sold overseas to Southeast Asia, South America and Australia," said Fang Dongliang, Party Secretary of the CNPC Guangxi branch.
With all of its oil products reaching the national IV emission standard, the company also has the capacity to process crude oil with high-sulfur content. Its oil products have met the developing world's oil standards, and have even gained recognition from some developed countries.
The company's wharf, which can support up to 100,000 tons, also creates a marine export channel for the company. "A convenient exit passageway and its adjacency to the collecting and distributing center for refined oil products adds to the competitiveness of the Guangxi branch," said Fang.
Beyond that, it is also a backbone for the local economy. By March 2016, the company had realized operation revenues of 244.9 billion yuan ($37.4 billion) and paid a total of 44.9 billion yuan ($6.8 billion) in taxes.
"What local people care about the most is whether the refining project would cut output, because the company is a pillar for Qinzhou, a city with an annual GDP totaling roughly 100 billion yuan ($15.3 billion)," said Fang.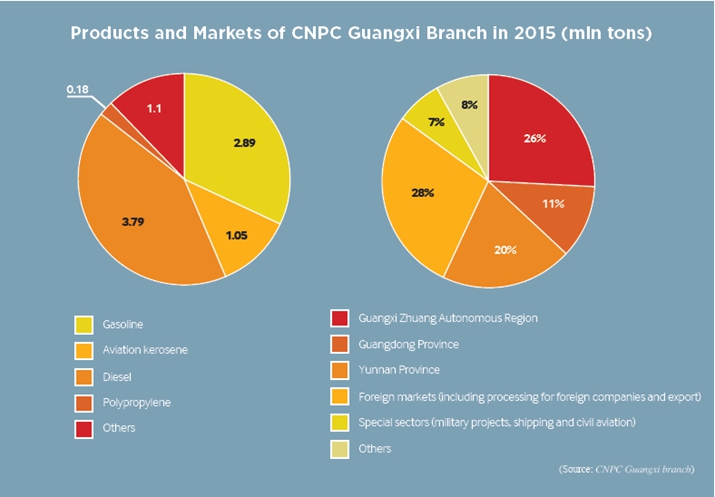 Clean production
Automobile exhaust gases, including carbon monoxide, nitrogen oxide, hydrocarbons and solid suspended particles severely undermine the health of human beings and the environment.
On April 28, 2015, Chinese policymakers required the acceleration of the production and supply of clean oil by practicing the national V emission standard for gasoline and diesel in 11 provinces in east China for the first time. The government plans to bring forward the nationwide implementation of the V standard from January 1, 2018 to January 1, 2017.
"The CNPC Guangxi branch has the capability to produce V-standard oil," said Fang, noting that environmental protection efforts account for 8 percent of total investment made by the company.
The company's residue hydro-desulfurization unit can also eliminate impurities such as sulfur, nitrogen and metal from oil. With a production capacity of 4 million tons per year, the unit is among the largest and most advanced in the world, and allows the CNPC to take the lead in processing low-quality crude oil.
Looking back, there is no lack of public protest against the operations of oil refineries in the communities that they are set up. In the eyes of many residents, they are smoky and cause air and water pollution. The Qinzhou-based CNPC oil refinery has attempted to tackle such concerns.
"Waste gas emissions are subject to a 24-hour online monitoring system by the local environmental protection department. If there is a problem, the processing equipment would stop operation immediately," said Han Lansheng, chief engineer of its Qinzhou-based oil refining plant.
Due to advanced designs and technology, the company's water consumption stands at 0.5 tons per ton of oil, and the pollution discharge per ton of oil is less than 0.2 tons.
"It scores much better in water consumption and pollution discharges than the steelmaking and papermaking enterprises," said Xiao Ding, Deputy Director of the Environmental Protection Bureau of Kunming, Yunnan Province. In most cases, water consumption per ton of paper ranges from 200 to 300 tons, while that of steel is about 10 tons.
Waste water discharged during the oil refining procedure will be processed by a sewage treatment unit, and when it flows out of the plant, the water can reach national wastewater discharge standards. "Given that, there is no sewage discharged from the plant into the sea," said Fang.
The company neighbors Viet Nam, and is located in an environmentally sensitive area. "From the very beginning of the construction, top priority was given to ensure environmental health," said Wu Enlai, former general manager of the CNPC Guangxi branch.
According to statistics from a Peking University research center in Qinzhou, the number of local Chinese white dolphins, a rare species of animal that can only live in a clean aquatic environment, grew from about 96 in 2004 to about 200 in 2014.
Copyedited by Bryan Michael Galvan
Comments to dengyaqing@bjreview.com