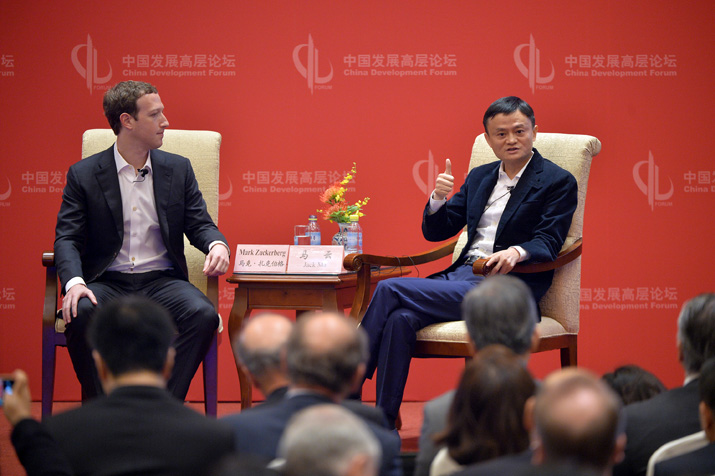 Jack Ma and Mark Zuckerberg at the China Development Forum 2016 in Beijing on March 19 (XINHUA)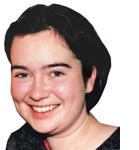 Jack Ma's e-commerce giant Alibaba Group recently announced that it had overtaken Walmart to become the world's largest retail platform by the end of the 2015 fiscal year. This achievement not only displays the strength of China's consumer market, but also marks the moment when the largest retail marketplace moved to the online world.
To put things into perspective, if Alibaba's online platforms were a province it would be the sixth largest provincial economy in China, said Alibaba Executive Vice Chairman Joe Tsai in a blog post. Annual revenues surpassed 3 trillion yuan ($476 billion) and the company's online trading volume accounted for approximately 10 percent of China's total retail sales. In just 13 years, Alibaba has changed everything--creating 15 million jobs and generating billions of dollars without a single brick-and-mortar store.
Alipay, the company's e-payment tool, accounts for one third of the $2.5-trillion global online payments market alone. Alibaba's dizzying rise is a key component of China's ascension as a global economic power.
The company is uniquely positioned to take advantage of the phenomenal surge of online retail in China. Though less than half of China's 1.36 billion people are using the Internet, the country is still the world's largest e-commerce market. As of January 2016, the number of mobile Internet users totaled 980 million, according to China's Ministry of Industry and Information Technology.
The gargantuan demand from Chinese shoppers has attracted the world's largest retailers. Notably, British luxury supermarket chain Waitrose announced it would begin selling its signature Duchy Organic Shortbread and Earl Grey Tea via Alibaba's Tmall Global.
"The potential for Waitrose in China is huge and although it's a relatively modest start, it's our ambition to see it become our biggest international business in the next three to five years," said Waitrose Commercial Director Mark Williamson in a press release.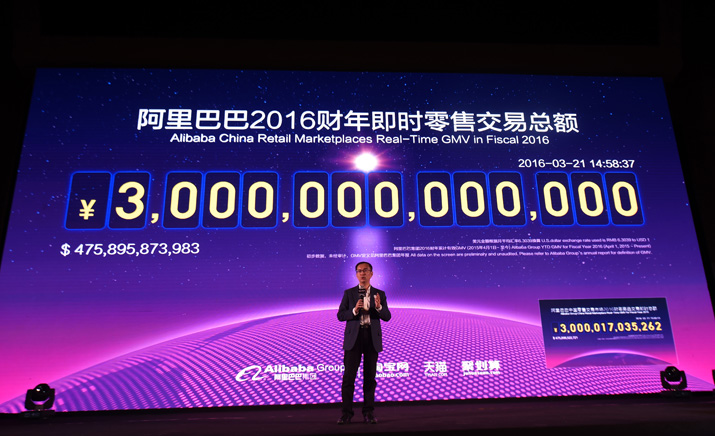 Zhang Yong, CEO of Alibaba, speaks after the group saw its retail platforms' gross merchandize value for the 2016 fiscal year exceed 3 trillion yuan ($476 billion) on March 21 at Alibaba's headquarters in Hangzhou, capital of east China's Zhejiang Province (XINHUA)
The house that Jack built
When Alibaba debuted on the New York Stock Exchange in 2014, founder Jack Ma was invited to ring the market opening bell and spoke of his "dream" for the company he began in a tiny Hangzhou apartment.
"We hope in the next 15 years the world changes because of us. We hope in 15 years people say this is a company like Microsoft, IBM and Walmart. They changed and shaped the world…We want to be bigger than Walmart," Ma said. He has completed the deed in just two years.
The company's initial valuation was $231 billion--bigger than Facebook, Amazon and eBay combined. Alibaba raised $21.8 billion through its U.S. initial public offering, the largest listing in U.S. history.
Amazon sells to consumers, eBay links buyers and sellers, and Paypal orchestrates online payments, but Alibaba does all three.
"People keep on asking me what the difference between Amazon, eBay and Alibaba is. I would say Amazon and eBay are e-commerce companies and Alibaba is not," Ma said during a global roadshow to raise capital ahead of the company's debut. "Alibaba helps others to do e-commerce. We do not sell things. We call ourselves a company designing a platform, a company that is running an ecosystem."
Much of its success can be attributed to the vision and efforts of its founder. Ma is routinely compared to industrial titans like John D. Rockefeller. Martin Sorrell, CEO of Wire and Plastic Products, said Ma is "part Bill Gates, part Steve Jobs, part Larry Page, part Sergey Brin and part Mark Zuckerberg, all rolled into one."
In a new biography Alibaba: The House That Jack Ma Built, author Duncan Clark describes the CEO as a mediocre student, only notable for his talent in learning English, which he would practice by speaking to tourists. During his first visit to the United States in the mid-1990s, a friend in Seattle logged Ma onto the Internet, and it occurred to him that listing Chinese companies online might be a good idea.
Launching an online retailer at a time when most of China had no Internet service seemed like a crazy plan. Ma said he was "treated like a con man for three years," recalling the early days of searching for investors to cover startup costs.
His larger-than-life personality has come to represent the new market-driven economy and rising middle class of China, Clark told The New York Times.
"If anything, [Ma] has positioned Alibaba as a useful ally as the government attempts to put Chinese consumers in the driving seat," Clark said. "Spend more, save less is the new mantra. This won't happen overnight. Shedding the old economic model centered on manufacturing, construction and exports will take time and require complex and painful reforms. Alibaba, and the power of the Internet, are shiny objects that the government can point to."
Ma is "not a tech guy," Clark said. He once supplemented his income as an English teacher and buying and selling plastic carpets on the streets. Unlike Zuckerberg and other tech industry giants, Ma is more of "an entrepreneur's entrepreneur," Clark added.
Planning the future
Ma isn't done with his industry-changing ventures. In April Alibaba released a new music-streaming app called Planet. Unlike the big five streaming services--Spotify, Apple Music, Pandora, YouTube and Tidal--in addition to streaming music and video, Planet also enables artists to sell merchandise, stream live concerts and connect directly with other artists. For example, a producer could sell a beat to a rapper through Planet. Instead of fighting streaming sites over fractions of a penny per song play, artists could sell directly to hundreds of thousands of fans via Planet. It would be another game changer for Alibaba.
In the healthcare industry, Alibaba Health Information Technology Ltd. and Alibaba (China) Technology Co. Ltd. have announced a joint venture focused on online health insurance operations in China. The mission is "to build an online community to connect participants in China's healthcare market."
Alibaba has also rocked the media world with its purchase of 113-year-old English language newspaper, South China Morning Post. While pledging the paper would retain full editorial control, Ma tore down the online paywall: an unorthodox way to grow its global readership. He said he drew on his experience of running Taobao, the world's biggest e-commerce platform.
"Many people think things on the Internet should be free, but this isn't always a simple option," Ma explained. "Taobao was free in the beginning, but that wasn't how Taobao cornered the market…Our winning formula is to provide better services. Free services do not mean cheap services. Rather, offering free but quality services is the way we succeed with sustainable growth."
After a successful Hollywood foray investing in Tom Cruise's blockbuster, Mission: Impossible--Rogue Nation, Ma said he wants "Alibaba to become the world's biggest entertainment company." The Chinese film market is set to surpass the North American box office next year, and self-described "film buff" Ma is aiming for a piece of the pie. Unlike other tech CEOs, Ma has created his own movie production arm. Alibaba Pictures recently set up a 22,000-square-foot office in an art-deco style building in Pasadena, California; he installed Harvard graduate and former talk show host Zhang Wei as his Hollywood liaison and president.
"People want muscle in China," said Schuyler Moore, a partner at Stroock, Stroock & Lavan, who worked on a $500-million deal between China's Perfect World Pictures and Universal to fund a slate of films at Fast Company. "Alibaba certainly provides it."
The New York City-based author is a contributing writer to Beijing Review
Copyedited by Dominic James Madar
Comments to yushujun@bjreview.com