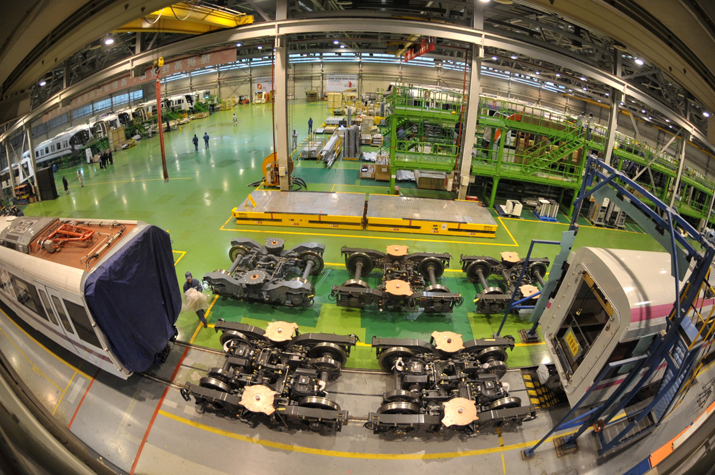 An urban rail vehicles assembly line of CRRC Zhuzhou Locomotive Co. Ltd. in Zhuzhou, central China's Hunan Province (XINHUA)
High-speed train maker CRRC Corp. Ltd. is building a stronghold in the U.S. market and is looking forward to more orders from local operators.
On April 15, CRRC signed a contract supplying the Chicago Transit Authority (CTA) with 846 new railcars. The order, worth $1.31 billion, is the largest subway car order in the CTA's history.
The CTA is purchasing a base order of 400 subway cars with the option of purchasing the remainder of the cars in the coming years. Prototypes of the car models are expected to be completed in 2019, and the cars will be put into service in 2020 after testing.
In a statement on March 11 when CRRC clinched the deal, the Chinese train maker said that the order represents its second major breakthrough in the North American market. It is also China's largest ever export order of subway trains from a developed country.
CSR Sifang America, a CRRC subsidiary, will build the 846 railcars for CTA. As part of its winning bid, CRRC plans to build its second subway car assembly facility in the United States in Chicago, following the first manufacturing base in Massachusetts that began construction in September 2015 for the Boston project.
In 2014, the Massachusetts Bay Transportation Authority awarded CNR Changchun, which is now part of CRRC, a $656-million contract to supply 284 subway cars to Boston.
"The two facilities in Massachusetts and Chicago will provide about 300 direct jobs and more indirect ones throughout the supply chain," Vice President Yu Weiping told Bloomberg in an interview on April 11.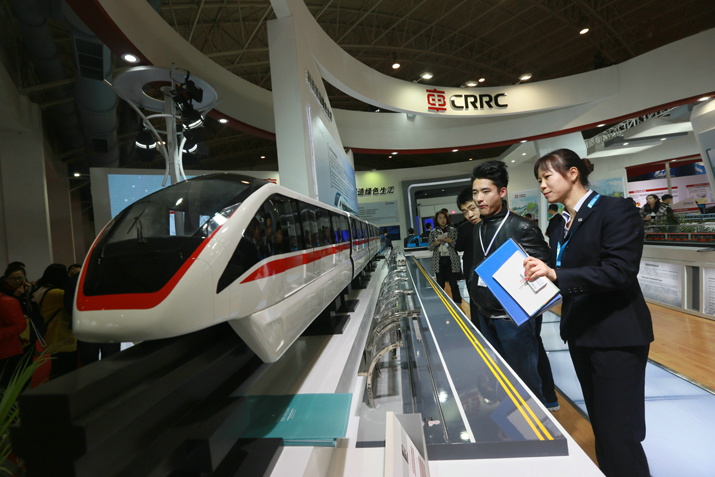 Visitors at the CRRC booth in the Metro China 2015 exhibition in Beijing in November 2015 (XINHUA)
U.S. market expansion
CRRC is bidding for a subway project in Los Angeles and a double-deck train contract in Philadelphia, Yu told Bloomberg. The company is also very likely to obtain contracts in New York City, he said.
New York City is the most coveted market for CRRC in the United States as it has the country's largest subway system, with many railcars and equipment in need of being replaced.
"New York City is a promising market for us in terms of rail transport and equipment," Yu said, adding that he has visited the city six times over the past year for talks with concerned parties.
CRRC is also working toward winning high-speed railway projects in the United States. Last September, a group of Chinese firms and their U.S. partner XpressWest agreed on a deal to build a high-speed railway linking Los Angeles and Las Vegas. About $10 billion is needed to build the railway. China Railway Corp., China Railway Group Ltd. and CRRC have set up a joint venture for the project.
Additional high-speed rails are expected to be built in the United States. A high-speed rail linking Boston and Washington, D.C. via New York City would be profitable, Yu told Bloomberg.
International sales
CRRC has been eyeing overseas markets as its domestic sales growth moderates. The company's investments abroad have grown in recent years and it hopes to continue that expansion.
CRRC posted 237.7 billion yuan ($36.63 billion) in revenue in the 2015 fiscal year, with 89 percent of it coming from the domestic market, a year-on-year increase of 4.51 percent, according to the company's annual financial report.
As China's economic growth slows, demand for freight trains, locomotives and passenger trains is declining, the report said. It also stated that excessive freight train production capacity has become more prominent and CRRC is likely to make structural adjustments.
In contrast, CRRC earned 26.57 billion yuan ($4.09 billion) in overseas markets in 2015, a year-on-year increase of 66.9 percent. Although international sales currently account for just 11 percent of the company's total revenue, Yu said that his company expects to increase the figure to $15 billion by 2020.
"CRRC now has a presence in 101 countries and regions," he said.
CRRC has also secured several large contracts outside the United States. In March 2015, one of its subsidiaries won a bid to supply 85 light-rail vehicles to Izmir, Turkey. Last July, three CRRC-manufactured diesel multiple units were exported to Argentina and the company's first overseas railway equipment base was put into production in Malaysia.
The company has succeeded over its competitors in part because of competitive prices. Its $1.31-billion bid for the Chicago project was the lowest and was $226 million lower than Canadian Bombardier's, according to a CRRC press release. As for the Boston project, CRRC's bid was roughly half of those from Bombardier, Japan's Kawasaki Heavy Industries Ltd. and other bidders.
About CRRC
CRRC was born out of a merger of China's two major train manufacturers--CNR Corp. Ltd. and CSR Corp. Ltd.--in December 2014. Its shares began trading on the Shanghai Stock Exchange and Hong Kong Stock Exchange on June 8, 2015.
Headquartered in Beijing, the CRRC has 46 wholly owned and majority-owned subsidiaries and more than 170,000 employees.
CRRC now ranks first in the world in terms of railway equipment manufacturing and rail transport equipment manufacturing, holding 30 percent of the global market share.
(Compiled by Beijing Review)
Copyedited by Jordyn Dahl
Comments to wangjun@bjreview.com