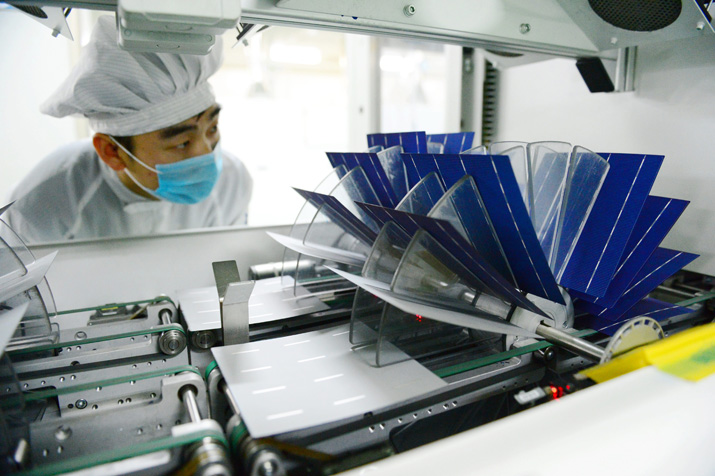 A production line worker operates at a Yingli Solar workshop, part of the world's largest solar panel manufacturers, in Baoding, Hebei Province, on February 27 (XINHUA)
A slew of positive economic indicator results in March suggested China's economic stimulus may be having its desired impact. The manufacturing activity rebounded in March for the first time in nine months, industrial companies' profits grew at their fastest rate in more than 18 months, and the service sector also saw healthy growth.
The central bank--the People's Bank of China (PBOC)--cut commercial banks' reserve requirement ratio (RRR) by 50 basis points on March 1 to boost lending. The ratio dictates how much money banks must hold on to. The move will help push forward the country's supply-side structural reform, according to a PBOC press release.
It was the latest in a series of moves to cushion the country's economic growth slowdown. China recorded an annual growth rate of 6.9 percent last year, its slowest in 25 years. But the most recent indicator releases are an optimistic sign.
The manufacturing purchasing managers' index (PMI) rose to 50.2 in March, up from 49 in February, according to data released by the National Bureau of Statistics. A reading higher than 50 indicates growth, while anything below represents a contraction. The PMI is one of the leading indicators economists look at to gauge if an economy is going into a recession or is expanding. The non-manufacturing PMI, which illustrates broader economic conditions, also reported a month-on-month growth of 1.1 points to 53.8.
The manufacturing PMI's growth was unexpected, as many economists predicted a continued slowdown. A Bloomberg News survey of economists predicted a reading of 49.4. Seasonal volatility could also have contributed to the rebound in manufacturing activity with China's Lunar New Year holiday falling in the middle of February. Factories began operating again shortly after the end of the holiday.
A separate private survey from Beijing-based Caixin Media and London-based Markit Economics, which focused on smaller, private companies, showed a manufacturing PMI reading of 49.7, below the 50-point threshold for growth. "All categories of the index showed improvement over the previous month. The stimulus policies the government has implemented have begun to take hold," said Caixin chief economist He Fan. "Considering that current conditions remain uncertain, the government needs to continue with moderate stimulus measures to reinforce market confidence."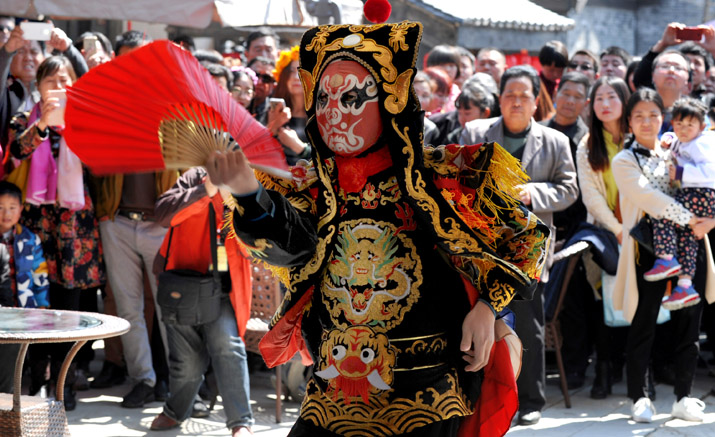 Tourists watch a local opera performance in Hanzhong, Shaanxi Province, on March 26 (XINHUA)
Positive signs
The indicators came on the heels of a challenging year in 2015 that saw two stock market drops and capital outflows. Domestic and global markets reacted negatively to news coming out of China. Economists and China watchers say that the turmoil has largely stabilized.
"If you fast-forward to the period following the Chinese Lunar New Year, I think we've emerged in a period of relative calm, and I think a lot of that calm has been driven by a turnaround in China's communications," Tom Orlik, Bloomberg's Chief Asia Economist, said at a March 24 panel discussion at the Bookworm bookstore in Beijing on the future of the Chinese economy.
Markets waited for a sign from the Chinese Government on its next policy moves following the June and August stock market turbulence last year. The government, however, remained largely silent, and markets fell into disarray once more when the renminbi was suddenly devalued on August 11. The currency fell 1.9 percent that day.
PBOC Governor Zhou Xiaochuan recently acknowledged the need for China to be more forthcoming with its policy reasoning and analysis, saying in a February interview with Caixin. "The central bank has a clear and strong desire to improve its communication with the public and market. At the same time, it's not easy to do a good job in communication."
The world's second largest economy is facing several headwinds as it moves toward its goal of maintaining economic growth. Heavy, capital-intensive industries, including steel and coal, are suffering from severe overcapacity and are dominated by state-owned enterprises (SOEs). The real estate market is also afflicted with an excess of housing inventories.
But China analysts say the Chinese Government has enough tools at its disposal to reform the economy and maintain its current growth trajectory, at least in the short term. "If you look around the world at the United States, the EU and Japan, you see governments that are maxed out on debt, and central banks that have already taken interest rates down to zero," Orlik said, drawing parallels with the lack of options that other economies have compared to China.
The European Central Bank (ECB) cut the Eurozone's main interest rate to zero on March 10 as part of a package to boost its economy. The ECB also expanded its quantitative easing program and announced a new plan to allow banks to borrow from the bank at negative interest rates.
After months of speculation, the United States Federal Reserve (Fed) raised its interest rate last December for the first time since 2006 by a quarter of a percentage point. "With the economy performing well and expected to continue to do so, the committee judges that a modest increase in the federal funds rate is appropriate. The economic recovery has clearly come a long way," Fed Chair Janet Yellen said at a press conference following the December decision. Despite an improving domestic economy, the Fed has so far held off on raising rates again due to volatility in the oil market and the economic growth slowdown in China.
The PBOC, in contrast, has plenty of room to use monetary policies to induce further domestic investment. Apart from lowering the RRR, the bank also lowered its benchmark interest rate six times in 2015. The last of the cuts came in October when the one-year lending rate was lowered to 4.35 percent from 4.6 percent. The one-year deposit rate was also slashed to 1.5 percent from 1.75 percent. "China has adopted a targeted monetary policy and encouraged different financial structures, which can better serve the reform policies to address the issues of overcapacity reduction, deleveraging and inventory destocking," PBOC Governor Zhou said at a March press conference.
Looking to the future
Moving forward, the biggest challenge for China will be reforming its economy away from manufacturing and investment-heavy sectors toward innovation and capital-light industries. The government hopes to accomplish a large part of this during the 13th Five Year Plan period, from 2016-20, through its supply-side reform.
The reform will be implemented in five ways: reducing overcapacity, destocking real estate inventories, deleveraging, reducing costs and shoring up weak growth areas. Two of the first industries to be hit by the reforms are the steel and coal sectors. About 1.8 million workers from these areas are expected to be laid off as part of the country's efforts to reduce overcapacity. A 100-billion-yuan ($15.4 billion) fund has been set up to help resettle those workers. An estimated 10 million additional people are likely to be laid off during these reforms.
Economists will be watching China closely in the coming weeks as more economic data is released, including the GDP for the first quarter, which comes out on April 15. The government set a target for the growth in GDP this year to be between 6.5 and 7 percent. The first quarter's results will reveal whether or not the country is on track to hit the mark.
Copyedited by Bryan Michael Galvan
Comments to yushujun@bjreview.com