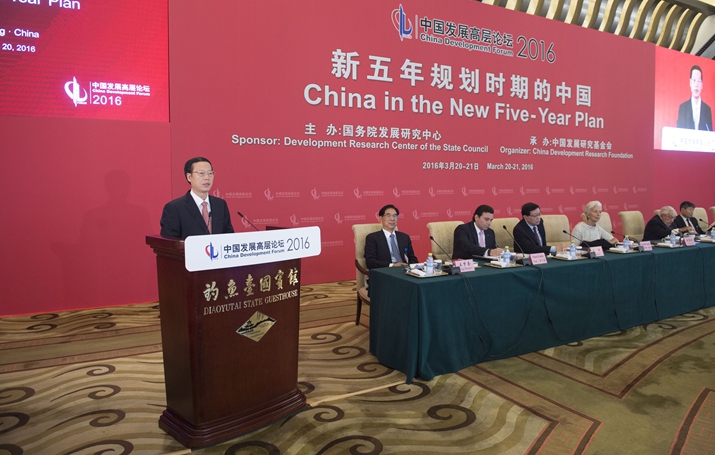 Vice Premier Zhang Gaoli delivers a speech at the opening ceremony of the China Development Forum 2016 in Beijing on March 20 (XINHUA)
Last year, the Chinese economy recorded its slowest annual growth rate in a quarter of century at 6.9 percent. Although official statistics have not yet been released, the market, however, is optimistic about the economic status of the world's second largest economy in the first quarter of 2016.
The view is shared by top officials. Major economic indicators were showing signs of improvement until early March, said Vice Premier Zhang Gaoli at the opening of the China Development Forum 2016 held in Beijing on March 20. "If we can overcome this year's challenges, we may have better prospects for next year," he added.
Pan Jiancheng, deputy head of the China Economic Monitoring and Analysis Center under the National Bureau of Statistics (NBS), interpreted "better prospects" as healthier growth and improved structures, instead of simply fast quantitative expansion.
Growth prospects
As of early March, major economic indicators were turning for the better, including electricity consumption, employment, fixed assets investment, fiscal revenue, disposable income of urban and rural residents as well as money supply, Zhang said. The Chinese economy will therefore have a good start in the first quarter, he claimed.
According to figures from the NBS, in the first two months this year, investment in fixed assets--excluding rural households--reached 3.8 trillion yuan ($586.42 billion), up 10.2 percent year on year in nominal terms, slightly higher than the average growth in 2015. That was the first time that the indicator had gone up in the past 20 months.
Also in January and February, floor space in commercial buildings and their sales volume soared 28.2 percent and 29.7 percent year on year, respectively, against a 3-percent increase in real estate investment. This is also marked resumption in real estate investment growth for the first time since 2014.
At the same event, Zhang also responded to pessimism regarding the Chinese economy with some numbers: In 1978 when China initiated its reform and opening-up policies, China's GDP stood at a mere 365 billion yuan ($56.33 billion), with a per-capita GDP of $254.
Between 1978 and 2010, China's GDP grew at an annual rate of 9.9 percent on average, and during the 12th Five-Year Plan (2011-15) period, the average annual growth rate of GDP was 7.8 percent. Last year, China's GDP reached 67.7 trillion yuan ($10.86 trillion), while the United States' was $17.9 trillion.
However, Zhang stressed that China has been facing new challenges ever since the country entered a new stage of slower but more resilient growth. "We have never evaded the fact that the Chinese economy is facing downward economic pressure," he said.
When answering questions from the media at a news conference on March 16, Premier Li Keqiang said that the weak global recovery had taken its toll on the Chinese economy, which is deeply intertwined with the world's economy. As China's economic transition develops, its deep-rooted problems are emerging. Due to that, downward pressure is indeed increasing, according to Li.
But Li nonetheless expressed his confidence in the Chinese economy's prospects. "The other day I read a foreign media report saying that one visit to a heavy industry corporation left the impression of depression, while the next stop to a technology park left the impression that the economy is growing at a double-digit rate. This is in line with the conclusion I reached in my own trip last year--that hope and challenges coexist," Li said at the news conference. "If we look at what is 'fundamental' as well as the 'big trend,' hope outweighs the challenges that China faces."
Xu Shaoshi, Minister of the National Development and Reform Commission, China's top economic planner, said at the recent China Development Forum that the transition in the engines driving the country's growth is advancing smoothly and rapidly. Factors that have shored up China's economy include the impetus provided from expanding domestic demand, including investment and consumption. Also, new industries, new business models and formats, as well as growth stimulated by the deepening reform are playing their part, too.
In the eyes of Mao Shoulong, Executive Dean of the Academy of Public Policy at Beijing-based Renmin University of China, a new economy includes not only cloud computing and other Internet-related technologies, but also some fledging sectors that develop on the integration of traditional industries and new business models.
Zhang admitted that although the real economy is growing well, China still lags behind developed countries in terms of innovation and technology. He asked, "How can we build China into an innovation-based power and maintain sustainable growth if the country doesn't innovate?"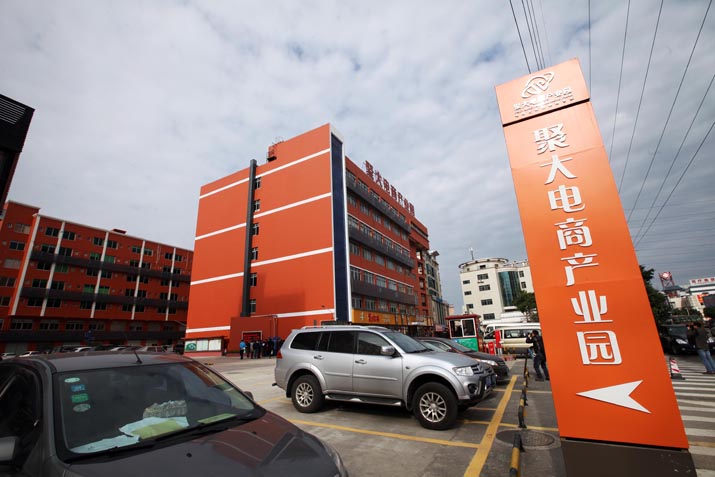 Dormitories which once housed workers from Microsoft's Nokia mobile phone factory become an e-commerce industrial park in Dongguan, Guangdong Province (XINHUA)
Tax reduction
Pan said that while fostering new growth engines, the government must also strive to cut overcapacity and excess inventory, deleverage, reduce business costs and strengthen points of weakness in the market in order to withstand the downward economic pressure. By lowering the costs that businesses are bound to, the government will provide a better environment for growth, Pan claimed.
The State Council has already started on lowering business costs. An Executive Meeting of the State Council held on March 18 decided to extend the pilot reform that replaces business tax with value-added tax (VAT) to four additional sectors--construction, real estate, finance and consumer services--as of May 1. This pilot has been launched to reduce corporate tax strain in addition to supporting the development of the modern service industry and transformation of the manufacturing industry.
The new pilot program also allows companies to include the prices of new real estate purchases into their costs of production for tax exemption purposes. This will give businesses more incentive to make greater investment. In the previous pilot program, for example, VAT for purchases of machinery was exempted.
According to a report on the State Council's website (Gov.cn), from 2012 to the end of 2015, 5.92 million tax payers had been included to the pilot VAT reform, saving them a total of 641.2 billion yuan ($98.95 billion). It is estimated that after the reform is extended, 500 billion yuan ($77.16 billion) will be saved from taxes throughout 2016.
Pan believes that the extension of the reform will not only reduce the corporate tax burden, but also boost industrial transformation initiatives. "With more taxes exempted, companies can invest more in production. Particularly, firms providing producer services will be able to increase their profits and capabilities, thereby giving further impulse to the transformation of the manufacturing industry," he said in an interview with Shanghai-based National Business Daily.
The VAT reform is not merely a step toward tax reduction, but a very important part of boosting the supply-side structural reform, according to Pan. Taxation reforms usually produce their desired effects quickly, he claimed.
"The extension of the reform is significant to unifying the country's taxation system, reducing the burden posed by corporate taxes and helping us withstand the downward economic pressure," said Premier Li at the Executive Meeting of the State Council on March 18. The premier went on to say that a large number of companies will benefit from the reduction, which will lead to further growth.
Copyedited by Bryan Michael Galvan
Comments to wangjun@bjreview.com