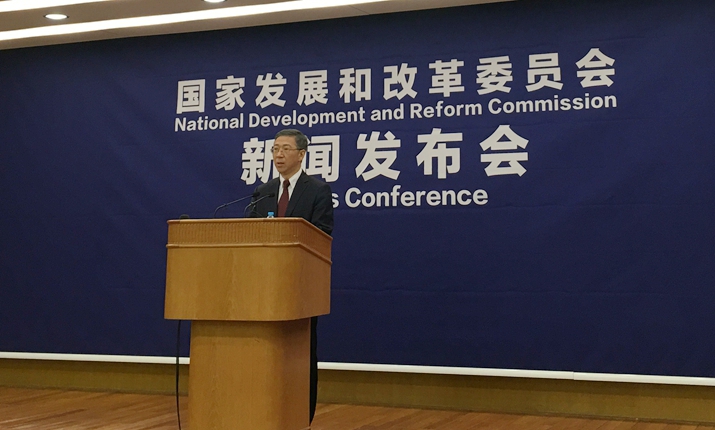 Zhao Chenxin, spokesman of the National Development and Reform Commission, answers questions on a press conference in Beijing on March 11. (DENG YAQING)
The National Development and Reform Commission (NDRC), China's top economic planner, announced efforts to ensure the effective implementation of the 13th Five-Year Plan (2016-20) at a press conference held on March 14.
Zhao Chenxin, spokesman of the NDRC, said that the government needs to further improve its functions through four main aspects.
To begin with, the government should do a good job in coordinating and converging different plans. State Council departments will formulate a series of state-level specialized plans and try to accomplish the main targets and tasks of the 13th Five-Year Plan. On the other hand, local planning should also comply with the 13th Five-Year Plan in order to ensure consistency.
The next aspect outlines that responsibilities should be clearly defined, and all those responsible should be held accountable. Those in charge of achieving the targets and responsible for the major projects, policies and reform tasks laid out in the 13th Five-Year Plan will also be delineated, as will the schedule for the implementation's launch, in order to ensure that the targets and tasks can be accomplished on time. As for the 13th Five-Year Plan's major projects, its examination and approval procedures will be simplified, and priority will be given to them in terms of site selection, land supply and financing.
Another factor that the government should improve on includes measures being taken to guarantee financial support for the plan. The government should prepare a financial budget for its implementation of the plan and strengthen support from financial departments throughout all levels leading up to the project's completion. Mid-year and annual fiscal planning and budgeting should also take into consideration the targets and tasks set in the 13th Five-Year Plan and the financial resources at hand, so that the structure and size of expenditures can be properly determined.
The final aspect is in regard to supervision and assessment, which should be strengthened. Authorities should carry out dynamic monitoring and evaluation on the implementation of the 13th Five-Year Plan, take their results as an important reference to improve government work and assess overall performance. They should also report the progress of the implementation to the Standing Committee of the National People's Congress and receive its supervision.
Last but not least, the NDRC is to stimulate enthusiasm throughout China' social strata in order to unleash its potential for cooperation.
The completion of the anticipated targets and tasks set by the 13th Five-Year Plan should rely on the collaboration of major market players, said Zhao.
"We should give full play to the enthusiasm, initiative and creativity of all sectors of the society," he said.
Copyedited by Bryan Michael Galvan
Comments to yushujun@bjreview.com