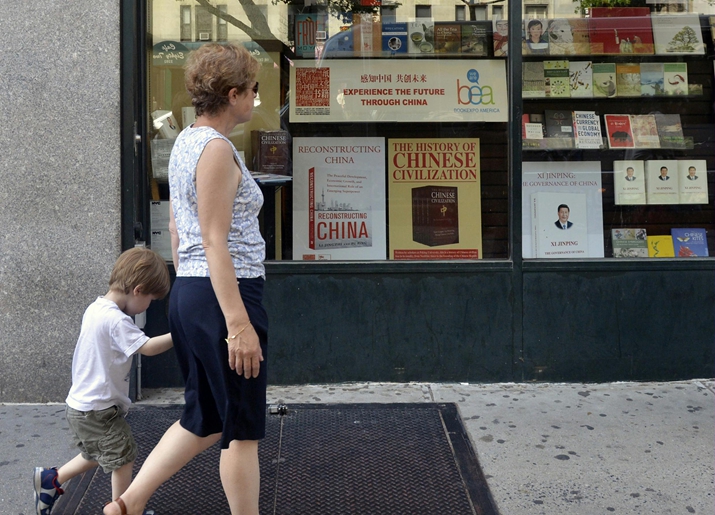 People pass by a Barnes & Noble bookstore window displaying Chinese books at Manhattan's Upper West Side in New York City on May 26, 2015 (XINHUA)
As China's cultural influence flourishes, Chinese books are becoming increasingly popular among foreign readers and appear at various international book fairs. English versions of a variety of Chinese books can be bought in bookstores worldwide and even through online stores like Amazon.com. Beijing Review conducted an interview with Zhu Xiaojie, Deputy General Manager of China International Book Trading Corp., right before the New Delhi World Book Fair 2016 (January 9-17), at which China was invited as the Guest of Honor Country. Zhu is also head of China Books, a third-party seller on Amazon.com. He explained the establishment and performance of the online bookstore, as well as bestselling Chinese books, and gave insights regarding the challenges facing Chinese booksellers and publishers overseas. Here are edited excerpts from the interview:
Beijing Review : What is China Books' background?
Zhu Xiaojie:
As China's national strength improves, the international community is becoming increasingly interested in the Chinese society. However, without accurate and efficient information, the "China threat" rhetoric and other misunderstandings are likely to be spread throughout foreign media.
China Books, launched by the China International Book Trading Corp. in September 2011, is not just tasked with selling Chinese books, but also to set up a platform spreading Chinese culture, display contemporary China and give more overseas readers a realistic and vivid picture of China.
By collaborating with Amazon.com and making use of well-established international sales networks, we're hoping to provide a broader international platform for Chinese publications and foreign readers.
China Books is Amazon.com's first special bookstore named after a country. Making use of the website's advantages to provide overseas readers a convenient way to learn about China is the goal we are devoted to.
Is China Books performing well?
The bookstore strives to promote recommended books in an accurate and timely manner. We've also designed a new list of recommendations, providing introductions to the books in both Chinese and English.
As a result of our efforts during the past four years, China Books has become one of the top seven special bookstores on the main page of Amazon.com's book section. Since its launch, China Books' number of searches and clicks has been growing exponentially. Even if some users don't purchase books from our store, they can still peer into Chinese publications and culture through our channel. Our bookstore has become an important window into China, selling and displaying Chinese publications to the world.
In the meantime, to meet the standards of the largest global e-commerce platform and build an expressway for Chinese publications sold in the United States, our company has set up a center for international e-marketing. This e-marketing project is run by a professional team responsible for the daily operation of China Books.
The bookstore is completely connected to Amazon.com's suppliers and logistics service providers, ensuring efficiency. The delivery service can be provided by Amazon.com or directly from China.
China Books has also joined Amazon.com's global selling program, a delivery service being provided to 185 countries and regions in the world. This allows us to realize our goal of serving more overseas readers.
During the Book Expo America 2015, China Books launched a special online promotion for Chinese publications, collecting hundreds of books from the 104 Chinese publishers taking part in the expo. This was not only an opportunity for print media, but also offered a chance for U.S. readers to browse excellent books from China through the Internet. This endorsement has helped spread China Books' name recognition, as well as enhanced our influence among publishers.
We have also organized online readers' forums, allowing us to communicate with our readers and clients in North America. We are constantly looking to create opportunities to further expand the bookstore's reach throughout the world. We plan to bring more Chinese books to the world, promote Chinese-foreign cultural exchanges and meet the demands of our overseas readers.
Are the books selling well? What kinds of books are most favorable among foreign readers?
By now China Books has sold 420,000 varieties of books from 592 Chinese presses covering history, culture and contemporary China.
Most of our readers are students from schools with Chinese language courses and business people conducting trade with China. We also have a number of customers who are overseas Chinese or readers interested in Chinese culture as well as those planning to travel to China.
Reviews from overseas readers within the past four years have shown that our customers prefer reading topics regarding our economy, culture and entertainment in order to understand China. Novels, children's books, calligraphy copybooks and language textbooks are best-sellers.
Classic works such as The Analects of Confucius and The Art of War are favored by readers. Our sales data also show that more and more novels of contemporary Chinese writers, such as Red Sorghum by Nobel laureate Mo Yan, To Live by Yu Hua, and The Three-Body Problem , a science fiction by Liu Cixin, have been accepted by the overseas market. This indicates that China's philosophy is gradually being accepted. Also, Chinese culture is rapidly becoming a top interest among other worldwide cultures.
What sort of challenges does the bookstore face?
The publishing industry worldwide is undergoing transformation, with the variety, structure, carrier and sales channel of publications experiencing significant changes. Overseas distribution of Chinese books has also been confronted with challenges brought by those changes, and many traditional bookstores are facing business difficulties. It is a real challenge for us to lend a hand to the bookstores that had helped us distribute books overseas.
Against the backdrop of globalizing Chinese culture, many local Chinese presses are developing business abroad. However, many of them haven't realized that Chinese publications are still a niche product in overseas markets, with a large demand for variety, but conversely small sales volumes.
Chinese books used to be sold at small-scale book fairs or were freely distributed. This squeezed an already limited market. The disorderly market competition also damaged the price structure, further worsening the business ecology for Chinese book consumption in foreign markets.
Unlike radio and television, the government evaluates publications through sales data. Figures are an important indicator of distribution results, but they cannot fully reflect the effort expended in building sales channels and expanding cultural influence. Hence a data-based evaluation method may encourage Chinese publishers to push for profits but neglect social impact. As a result, Chinese culture might be negatively influenced. Most of the other countries around the world don't valuate foreign cultural exchange through figures, but through the impact of its soft power.
What has your company done to address these challenges?
Our company has done a lot to solve those difficulties, including improving and expanding the capability of overseas distribution channels for Chinese publications, and increasing investment in overseas markets. In addition, a large effort has been expended to improve the business capacity of our overseas branches, promote the sales of digital products and services, as well as focusing on accelerating the transformation of our business pattern.
Our new business plan includes building an integrated platform for traditional bookstores in foreign markets to help them reduce business costs, not to mention the development of new business models and new industrial chains.
However, we are keenly aware that without the support of government policies and without the cooperation of Chinese presses, we cannot create significant progress in the overseas distribution of Chinese books.
In recent years the government has enhanced foreign cultural exchanges, and more publishers have focused on global development. This is good news to us. We believe that if China is encouraged by new ideas, new technologies and new business patterns, then Chinese culture and publications will continue to enter a new global era.
Copyedited by Bryan Michael Galvan
Comments to yushujun@bjreview.com