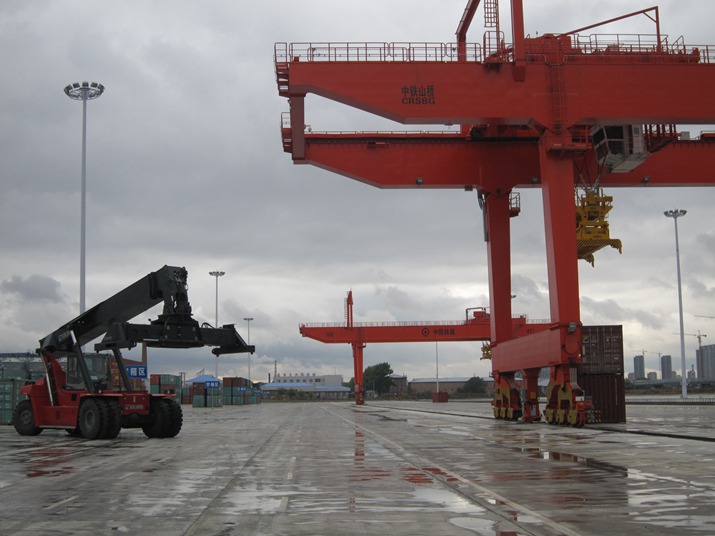 Workers load containers at the Harbin railway container distribution center in Harbin, capital of northeast China's Heilongjiang Province (YU LINTAO)
The 500-km train ride from Harbin, the capital city of northeast China's Heilongjiang Province, to Suifenhe, the province's main trade port with Russia, currently takes about 12 hours. But soon, that will no longer be the case. The travel time will be cut in half thanks to the upgrading and reconstruction of the Mudanjiang-Suifenhe section, part of the Harbin-Suifenhe line, that is scheduled to be complete by the end of this year.
The rail line from Mudanjiang to Suifenhe is a project under the construction plan of the Heilongjiang Land and Maritime Silk Road Economic Belt within the China-Mongolia-Russia Economic Corridor. It is part of the country's Belt and Road Initiative and aims to strengthen ties between the province and its neighboring countries--Mongolia and Russia. The Heilongjiang economic belt will involve a large number of railway and port construction and development of the logistics industry--particularly cross-border railway services.
Heilongjiang borders Russia to the north and east for a stretch of 2,981 km. The upgraded Mudanjiang-Suifenhe railway is expected to consolidate Heilongjiang's status as the cornerstone of China's trade with its northeastern neighbor and a key hub for the country's opening up to northeast Asia.
China was Russia's largest trading partner for a fifth consecutive year in 2014, while Russia was China's ninth largest trading partner. Bilateral trade rose 6.8 percent in 2014 from the previous year, recording a high of $95.28 billion, according to statistics from China Customs. Data from Heilongjiang authorities also show that the province's trade with Russia in 2014 accounted for 24.4 percent of total trade volume between China and Russia and its investment in Russia accounted for more than 30 percent of China's investment there.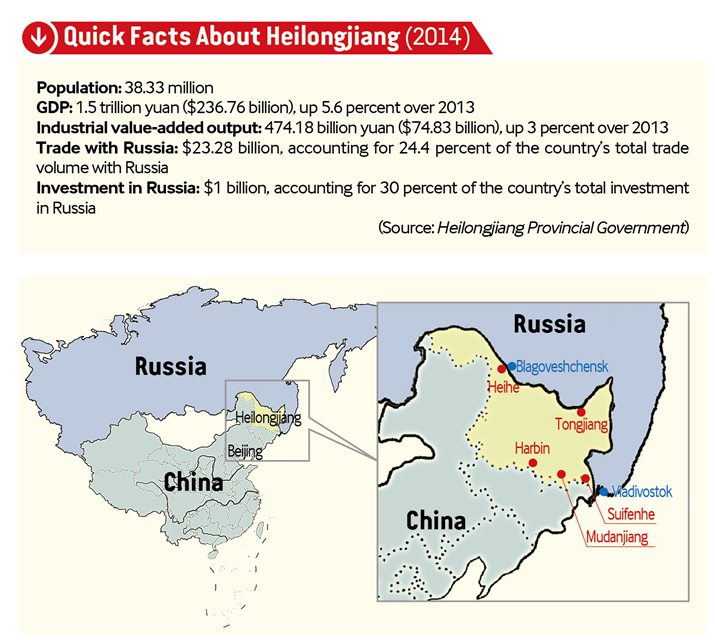 Enhancing land connectivity
The economic belt will rely on railways, including a route from Harbin to Heihe, a border city in Heilongjiang, and the Trans-Siberian Railway in Russia, as well as highways, waterways and air routes for cargo transportation. The province also plans to build the Heihe Highway Bridge, which will connect the border city with Blagoveshchensk, the third biggest city in Russia's Far East.
Building the Heilongjiang economic belt is an opportunity to speed up infrastructure construction to strengthen connectivity with Russian cities bordering Heilongjiang, said Zhao Wanshan, Deputy Secretary General of Heilongjiang Provincial Government.
High-speed railway service reduces transport costs by around 75 percent compared with air transportation, according to official estimates. The province will construct and upgrade its railway lines and high-speed railways linking its capital city Harbin with several bordering cities to Russian and Mongolian cities, according to an implementation plan made by the Heilongjiang Provincial Government in April. By the end of the year when the upgrading project of the Mudanjiang-Suifenhe railway is completed, it will increase its annual freightage capacity from 12 million to 33 million tons.
The Ha'ou Route, a freight train service between Harbin and Europe, launched in June, opens a new trade route between China and Europe. The trains pass through Russia on the way to Germany and Poland with containers full of electronics, mechanical processing tools, auto parts and chemical products. According to Ha'ou International Logistics, the route's operator, the route is the most economical one traveling from China to the rest of Asia and Europe in terms of cost, distance and time. The train runs once a week with each trip taking 15 days. The train is expected to make 26 trips by the end of this year.
A major supporting facility--the Harbin railway container distribution center--came into service shortly after the route launched. It is one of China's 18 key railway container hubs and the largest of its kind in northeast China, serving as an international logistics platform to provide inspection, quarantine and customs services.
For its part, Russia is planning to create 14 leading development areas in its far eastern region, reconstruct its Siberian Railway and build a free port in Vladivostok to promote economic cooperation with China, according to Sha Yuchao, an official with the Heilongjiang Provincial Government's Information Office.
Russia also anticipates building a high-speed railway that will link Moscow and Beijing via Heilongjiang. Many Japanese and South Korean enterprises have also shown an interest in expanding trade with Russia and other European countries through the northern passage across Eurasia.
Reviving the old base
As one of China's old industrial bases, Heilongjiang reached a plateau over the last two years because of its heavy reliance on the traditional energy industries, such as oil production and coal mining. The energy industry currently accounts for 70 percent of the province's industrial value-added output. Seven of the 13 prefecture-level cities under Heilongjiang's jurisdiction are resource-oriented and rely on coal mining and oil and timber production. The large fluctuations in international energy prices during the past two years have directly impacted Heilongjiang's economic growth. Last year, the province's GDP growth was a mere 5.6 percent, ranking last nationwide.
"The implementation of the initiative will effectively expand the development space of Heilongjiang, making full use of both international and domestic markets and resources, which will pave the road for the province's industrial transformation and sustainable development," said Zhao, the deputy secretary general.
Several industry districts focusing on organic food, new energy, the modern service industry, and free trade zones for northeast Asian countries and Russia will also be built.
A small town--China South City--is currently under construction on the east side of Harbin. The developer, China South City Holdings, said the project will create a large-scale integrated logistics and trade center for organic food and Russian products in Harbin.
Zhao also stressed that Heilongjiang is advancing its own economic transformation and upgrading its industries. The province will also commit to developing its IT industry and eco-tourism, along with organic foods, he said. In 2014, the city was recognized by the Central Government as the sixth pilot city for developing cloud-computing service. A large cloud-computer center is being built in Harbin.
Although Heilongjiang's growth rate in the industrial sector has slowed down in the past two years, the agricultural and service sectors are experiencing rapid growth higher than the nation's average, said Zhang Xiaolian, head of the Publicity Department of the CPC Heilongjiang Provincial Committee, during a media conference.
The new initiative is expected to revive the old industrial base by reducing raw material and transportation costs and expanding the market, said Zhang.
Copyedited by Jordyn Dahl
Comments to yulintao@bjreview.com