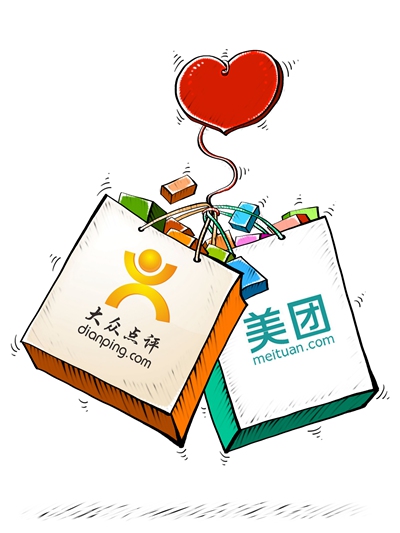 (CFP)
Two of China's biggest online-to-offline (O2O) service providers have decided to take measures to avoid a price war, opting to join forces in order to become a more formidable presence in the rapidly growing sector.
O2O service providers connect online users with brick-and-mortar offline services--including group-buying deals and restaurant booking--via the Internet and, more frequently, through smartphone applications. Meituan.com, a group-buying site backed by China's e-commerce king Alibaba Group Holding Ltd., and consumer review service Dianping.com, which is funded by Tencent Holdings Ltd., China's leading online games and social-networking company, announced on October 8 that they have decided to carry out a strategic merger.
Their decision to join forces will create the biggest O2O company in China with a valuation of more than $15 billion. The logic behind such a decision is easy to comprehend--O2O is one of China's most prominent business trends.
In addition, the CEOs of the two companies both contended that pulling together is better than fighting.
"Cooperation is the big trend. We will leverage our own resources to help 10 million restaurants better serve 1 billion consumers," said Zhang Tao, CEO of Dianping.
Wang Xing, CEO of Meituan, said the tie-up matches the expectations of its team and investors and will afford the company more time and energy to explore new businesses and make better, more innovative products.
According to the announcement, the new company will run on a co-CEO basis and keep the original structure of their respective human resources. Meituan and Dianping will retain their respective brands and stay as separate services, but they will work together to boost business and shares cross-company.
Meituan, Dianping and their competitors have of late been locked in a price war to attract consumers by subsidizing discounts, and some venture capitalists had claimed that this business model wouldn't be sustainable over the long run. Coming together is expected to lower costs for the two companies and boost profits. But it remains to be seen whether or not the move to consolidate will be successful as efficient resource integration is required within the newly formed company.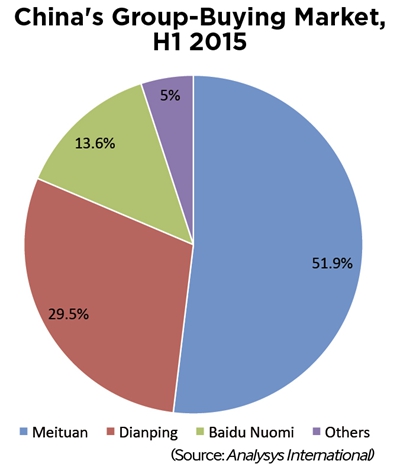 Hopping on the bandwagon
Mergers between rival companies have become a trend in China--there have been three so far in 2015 alone. There is a prevalent view that mergers in the O2O sector will end price wars between firms and, therefore, investors have been pushing for key rivals to amalgamate owing to the spiraling costs of marketing campaigns.
In February, taxi-hailing firms Didi and Kuaidi came together. In April, 58.com, a Craigslist-style classified service, merged with its archrival Ganji.com. In May, Ctrip.com, China's largest online trip-booking service provider, invested in its rival Elong.com.
The O2O market is still in its early stages in China, but it has vast potential given that the country is the world's largest smartphone market.
According to a report from Beijing-based Internet consultancy Analysys International, the transaction value of China's consumer service-related O2O platforms reached 89.58 billion yuan ($14 billion) in the first half of 2015, a figure which is expected to reach 250 billion yuan ($40 billion) by the end of 2015.
As the most prominent type of business among O2O services, group-buying blossomed in China in 2011, to the point that thousands of sites existed just a few years ago. Winter inevitably came, however, and Meituan and Dianping were the strongest left standing.
The transaction value of China's group-buying market totaled 77 billion yuan ($12 billion) in the first six months of this year, a jump of 167.7 percent year on year. Meituan possesses 51.9 percent of the market, followed by Dianping's 29.5 percent and Baidu Nuomi's 13.6 percent, according to Analysys International.
Like Didi Dache and Kuaidi Dache, Meituan and Dianping were at war, offering price cuts, favorable retail rates and everything and anything to grab the attention of consumers.
The two companies face fierce competition from Baidu Nuomi and food delivery startup Ele.me. Chinese search engine giant Baidu Inc. has promised to invest $3.2 billion over the next three years in its own brand of O2O services--Nuomi.com.
A report from BOC International (China) Ltd. summarizes the reasons for the merger as follows--international investors' enthusiasm for China's O2O market has been cooling over the past few months; competition between Meituan, Dianping and Baidu Nuomi is eating away at their respective potential for profit; and Baidu has invested heavily in Nuomi, resulting in a rapidly rising market share and transaction value for Nuomi.
According to Guo Fanli, Director of Research at the Shenzhen-based industry research company CIConsulting, the valuation of the new company could be as high as $15 billion, given that Meituan's valuation stood at $7 billion and Dianping's at $4 billion.
"The merger is to a great extent the result of increasingly fierce market competition. The O2O sector is a cash-burning industry. In order to secure as much of a stake in the booming market as possible, a large amount of capital is needed for promotions, discounts and subsidies to lure users," Guo said.
"The combination between the two largest players is aimed at reducing expenses and realizing profitability as soon as possible," Guo said.
Liu Xuwei, an analyst with Analysys International, said venture capitalists that funded these two companies are a driving force behind the deal.
Due to economic downturn and sharp stock price fluctuations in China's capital markets, initial public offerings (IPOs) have been suspended in China's A-share market, dampening venture capitalists' confidence in cashing in their stakes in startups.
Dianping and Meituan have yet to get listed, and venture capitalists who have invested heavily in these two startups are losing patience over their endless price wars. Dianping's plan to get listed has been postponed. Meituan reportedly has met with funding difficulties. The two companies' investors perhaps hope they can learn from the combination of Didi and Kuaidi--stop fighting one another and join hands to tackle Baidu Nuomi.
Adjustment period
The report from BOC International (China) Ltd. forecast that Baidu Nuomi's businesses will suffer a slight blow from the merger.
But since the overall penetration ratio of the O2O sector is relatively low in China, the report predicted that the newly formed company and Nuomi will both benefit from substantial growth in the coming three to five years. Due to Baidu's hefty investment in O2O business, Nuomi will climb to second place in the O2O market, trailing only after the newly formed Meituan-Dianping entity, read the report.
Guo, Director of Research at CIConsulting, said the future of the new entity will not be without its challenges.
"After the founding of the new company, many problems may occur, such as competition between two brands' similar businesses, rearrangement of personnel and reallocation of power among top executives," Guo said.
"Meituan and Dianping have many similar and highly competitive businesses. The two companies have vastly different corporate culture. Both are O2O leaders, and neither is willing to lose control in the transition to the new company," Guo elaborated.
Meituan and Dianping need to integrate their resources to improve their overall competitiveness, so that they can better compete with Baidu's Nuomi and Ele. The two should avoid internal competition and stop the expensive price wars, Guo said.
"To avoid internal competition, the two should develop their own strengths and explore new business models in a bid to improve the quality of their services and reduce client losses," Guo suggested.
Liu, the analyst with Analysys International, said the key to the success of the new company lies in the different business focuses of Meituan and Dianping.
"Meituan's main business is group buying, including hotel rooms, movie tickets and take-out. Dianping used to be a restaurant-review website and was not a group-buying site at first. Advertisement revenue is its main business," Liu said.
"If the two are able to develop different focuses, they are likely to be complementary to each other and build a more holistic O2O ecosystem," Liu said.
Meituan
Founded in Beijing in March 2010, Meituan.com is a group-buying website specializing in localized consumer services, much like Groupon. It offers discounts for local restaurants, bars, cinemas, KTV, spas, salons and other businesses. It expanded from group discounts, its original focus, and is now a marketplace for local merchants dealing with hotels, restaurants and entertainment venues. Meituan claimed 47 billion yuan ($7.42 billion) in transaction value in the first half of 2015, a jump of 190 percent year on year. Company reports state that, as of June 2015, it had 130 million yearly active group-buying users in more than 1,100 cities across China. To date, Meituan has raised over $1 billion from investors, valuing the company at $7 billion.
Dianping
Founded in Shanghai in April 2003, Dianping.com primarily focuses on restaurant reviews, much like Yelp. Today, it has developed into China's leading O2O service provider. In addition to merchant information and consumer reviews, it also offers group-buying, online restaurant reservations, take-out services, e-coupon promotions and other services. As of June 2015, the company boasted over 200 million monthly active users, and it has a presence in more than 2,500 cities across China. Dianping raised fresh funds this year, closing an $850 million round in April, valuing the company at $4 billion.
(Compiled by Beijing Review )
Copyedited by Kylee McIntyre
Comments to zhouxiaoyan@bjreview.com