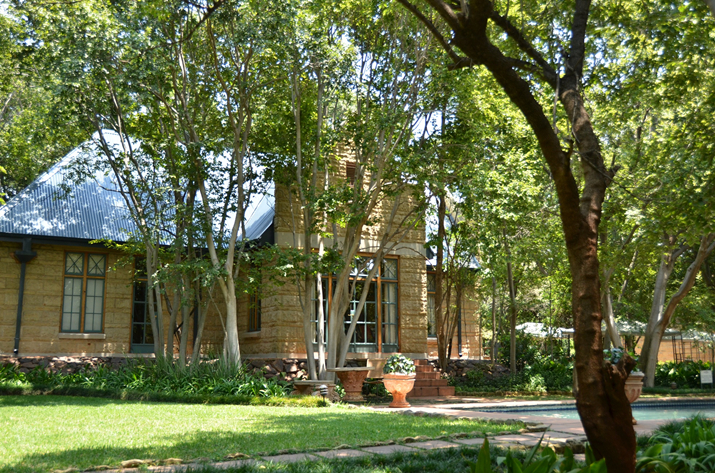 (Photos courtesy of De Hoek Country Hotel)
Imagine an ancient castle on the windswept Scottish Moors, with a bubbling brook to the one side. Now imagine that same castle transported to the valleys and hills of the Magaliesburg Mountains, a mere hour's drive from Johannesburg in South Africa. Yes, a mind shift it may take but it has been done.
De Hoek Country Hotel nestles alongside a river in all its incongruous magnificence and even on an unseasonably blazing hot day in September it conjures tales of princes, kings and queens.
Now, the very first thing about this place that jumps out is the service.
We are met by the friendly Gift and shown to our amazing room (no checking in since that annoying bit is taken care of via email, very smart).
My mom is not exactly a spring chicken and after stairs up and down, Gift says he will arrange a more user—friendly, less taxing room for us. This, without even being asked. Then another lovely man, Gideon, shows us to our new room with only minor steps to negotiate. I call this five-star service. And all the while they are busy with a wedding as well as a conference at the hotel.
The hotel has 16 Classic Superior suites of which four Classic Superior Suites have a gas fireplace in the North, South & West Quarters.
We make ourselves at home with a book each. The most pervasive thing here is the silence and peace. It really does have a murder mystery Mr-Brown-in-the-study-with-a-wrench feel to it, but in a good way. Although I wouldn't volunteer to wonder the grounds on a bright full moon night.
The sun slowly slides down beneath the poplar trees, as tall and slim as Brazilian super-models, gently swaying in the breeze just outside our balcony. A bubbling brook is heard gurgling over rocks just meters away. Wooden French doors open onto the balcony and the bathroom door is a veritable artwork of stained glass. The furniture speaks of forgotten Edwardian times of regal class and elegance with wood and copper finishes and a lovely fire-place with of course the usual five-star amenities such as air conditioner, minibar, delicious home-make biscuits et al. There is also an ample supply of fresh milk for your coffee and tea, a commodity of which there seems to a perplexing and almost pathological shortage of in five-star establishments. Somewhat irksome is the patchy Wi-Fi in the room but then again, most people won't have a need for social media-ing when lulled into an almost soporific state here.
It's plush and lush, this place, as I further discover upon a reconnaissance stroll around the property in the late afternoon. The lounge and dining areas are resplendent, with fine touches and attention to opulent detail. It's also a bookworm's paradise; their library and books scattered about everywhere speak of knowledge and very sophisticated selection.
The buildings remind me of old stone masonry works, very castle-ee.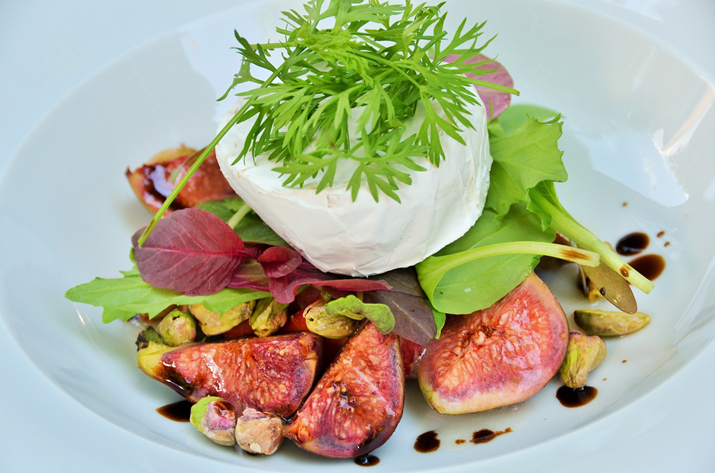 Cultured cuisine
The silence is only disturbed by birdsong and a no-doubt contented cow mooing in a meadow nearby. The only sound is the whisper on the wind saying: "Be still. Breathe. Do nothing...
After a lovely long and luxurious bath, its dinner time. Now the food here is the piece de résistance and everything kind of centers around it. The GM/chef Michael Holenstein collects awards for his superior fare like some people collect Facebook friends. And every one of them warranted. Michael and his brigade of chefs are clearly committed to food excellence and create sublime dining experiences every single day, seven days a week.
Every evening, the team offers a different and varied multi-course dinner, with the sourcing of only the best local and international suppliers and freshest seasonal produce available.
Creative and unusual flavors are combined to create new food trends and this is combined with clever interpretation of classic French and Mediterranean dishes. The food is beautifully plated and presented, with herbal bouquets picked fresh from herb gardens every morning.
De Hoek has been in the top 100 restaurants in South Africa for many years and has won many food accolades including the American Express Fine Dining Award. The ambience is lovely with soft music and crisp white damask over pink toile floor-length tablecloths and quality glassware, crockery and cutlery adorn the tables. Starters tonight are a choice of potato and leek soup, prawn tempura salad with a delicious papaya salsa, lamb and rosemary risotto as well as a vegetarian risotto. The tempura batter is made to perfection.
The main course is a choice between beef fillet with ox marrow crust, kingklip, roast chicken and a grilled vegetable stack.
I choose the kingklip after some weeping and gnashing of teeth since I want it ALL! Unfortunately the fish is somewhat overcooked but the accompanying beurre blanc sauce is excellent. The failed main course is saved in spades by the most delectable of desserts. Orange, chocolate and vanilla crème Brule presented as a trio as well as home-made nutty parfait with vanilla panna cotta and berry coulis. The dessert is an absolute triumph and after extoling the virtues of the pastry chef to the maitre D', he makes her appear! Her name is Angeline and she tells us that she came looking for a job here and Michael asked her what she wanted to do and then trained her himself. That was eleven years ago and her skills are without doubt far superior to many formally trained chefs. De Hoek has no formal wine list, instead they encourage their diners to view the selection on display just outside the main dining area. This is a South African superb collection featuring interesting options such as the Paul Cluver Gewurztraminer; Meerlust Chardonnay; Springfield's Miss Lucy Sauvignon Blanc/Semillon/Pinot Gris; Hermanuspietersfontein Die Bartho; David Nieuwoudt Ghost Corner; Vondeling Erica Shiraz and Vergelegen Merlot.
The cool night air is a welcome reprieve from the heat of the day as we later sit on our balcony with a night cap, just absorbing the nocturnal sounds of nature.
I slumber peacefully and wake up early, rested and refreshed. Breakfast is the usual five-star fare with a lovely couple of extra touches like top quality South African bubbly, fleischkaese, chocolate waffles and a huge selection of the finest cheese. The cooked breakfast options include walnut and fig bread with spinach, mushroom, fried egg and spicy tomato sauce as well as a spicy Mexican breakfast. I have my usual—two scrambled eggs and to my utter delight it is perfectly cooked and creamy.
I go for a walk around the exquisite grounds to the so-called "New" Quarter after breakfast and have a peek at the penthouse, at the behest of one of the smiling housekeepers. The room is humungous and quite breath-taking.
There are 10 New Quarter Superior Suites and two New Quarter penthouses as options for accommodation here. Of the New Quarter Superior suites, two are wheelchair friendly with wider doors and passages, hand rails in bathrooms and level threshold showers entrances. A very nice touch, too seldom found. They have also recently added a new restaurant here, The Bridge Bistro, taking its name from the bridge one has to cross to get onto the property. The new space is quite modern, contrasting with the rest of De Hoek's interior. Large floor to ceiling doors open completely to give an amazing view over the rolling fields. The new restaurant operates separately from The Conservatory, the existing conference venue, and is a good choice of venue for weddings or other celebrations.
In fact, the hotel is abuzz with preparations for the aforementioned wedding that evening but even so, we get wonderful attention from the staff with their adorable smiles during lunch as we tuck into a delicious sirloin steak and marvelous salt and pepper squid.
An afternoon nap is afoot but if you are inclined to the more active side of things, De Hoek offers nature walks for bird-lovers, lawn croquet in front of the main homestead or try your hand at target practice with a bow and arrow—yes, really! There is also a wealth of unusual and exciting things to do in the immediate vicinity.
Evening approaches and it's time once more for—you guessed it—eating.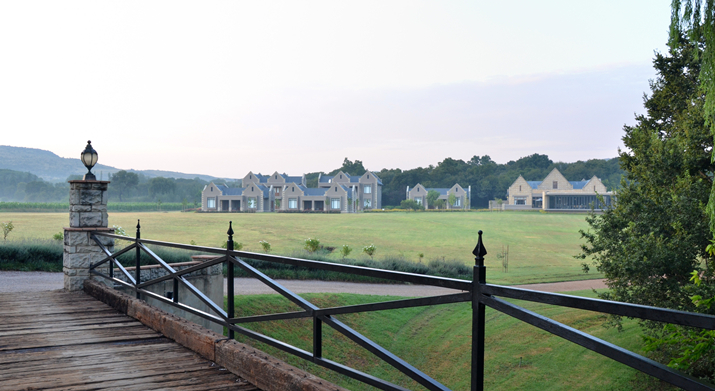 The menu is gathered from the creative imagination of Michael Holenstein and includes yummy morsels of smoked salmon tartar with goat's cheese and marinated beef phyllo baskets as canapés. Scallops follow. Mouth-watering is the result. For the main course I boldly choose the duck and to my delight it is moist and succulent. My mom opts for the roast lamb and pronounces it magnificent. Dessert is a fabulous trio concoction of chocolate marquise, berry compote and banana bread pudding semolina apple cake. Not just superlative but clever. As they say in the classics, the hardest part is getting the simple things right.
After dinner Henry (the Assistant General Manager) approaches us and asks if he can assist my mom to the room. This on a super busy evening. And, dear reader, little generous touches like these speak volumes about the management here and the kind of people employed.
The charming and very funny co-manager Madeleine takes a turn at breakfast the following morning, enquiring about our experience and I tell her it is with a sad heart that I have to leave this little gem of a place in this unexpectedly beautiful corner of the South Africa. As it says on the collar of the gorgeous, cuddly stuffed teddy bear on my bed in the room—"please don't take me home. My home is De Hoek." I share his sentiments.
Things to do:
At De Hoek:
Helicopter Flights
We partner with Helivate to offer you helicopter rides to and from De Hoek. Please contact reservations for details.
Hot Air Ballooning
The Magaliesburg valley is one of the best valleys for hot air ballooning in the world. We offer balloon rides from the property in conjunction with air ventures .Please contact reservations for details and bookings.
SPA Treatments
Enjoy a relaxing pamper session in the Meridian room. Decide between individual or couple treatments. Please contact reservations to make a booking.
Walking Trail
Take a pleasant one-to-two-hour walk through indigenous bush up to the summit of Olienhout ridge where one has beautiful vistas of the Magaliesburg Range to the North. Enjoy the rich bird life, typical trees and flowers of the Southern Magaliesburg and see if you can spot the elusive Grey Duiker (Phute) or one of the many animal species found on the property. Bird list and map available from reception.
Close by:
Elephant Sanctuary
The Elephant Sanctuary has rescued African elephants and offers an interactive and educational elephant experience as well as elephant back riding. Forty minutes' drive from De Hoek.
Open: Monday – Friday.
Experiences at 08:00, 10:00 and 14:00 daily
Harties Cableway
Take a cable car trip on the longest mono-cableway in Africa. The Harties Cableway offers visitors panoramic views of the beautiful Magaliesberg, Hartbeespoort Dam and surrounding areas. Fifty minutes' drive from DeHoek.
Open: Monday – Friday from 9:00 until 16:00
Magalies Canopy Touring
The Magaliesberg Canopy Tour® is a unique eco-adventure that takes you on a journey through the ecology and geology of one of the oldest mountain ranges in the world. Forty-five minutes' drive from DeHoek. Tours depart every 30 minutes.
Open: Monday - Sunday
6:30 - 16:00 in Summer
7:00 - 13:00 in Winter
Maropeng Center - Cradle of Humankind
Visit the birthplace of humanity boasting a world class underground attraction, a hominoid exhibition and see the excavation site that unearthed Mrs. Ples. Twenty minutes' drive from De Hoek.
Open: Tuesday - Sunday from 9:00 until 17:00
Sterkfontein Caves - Cradle of Humankind
Famous for fossil discoveries. Boasts restaurant, hominoid exhibition and a wooden walkway to the area where Mrs. Ples was discovered! The Sterkfontein online exhibition guide complements the displays in the visitor center at the Sterkfontein Caves.
Getting there:
Air China outbound flights to Johannesburg in South Africa operate on Tuesdays, Thursdays and Sundays, with return services from Johannesburg offered on Mondays, Wednesdays and Fridays.
Flights will departs from Beijing at 23:15 Beijing time, and arrive in Johannesburg at 7:35 local time on the following day. The inbound flight departs from Johannesburg at 11:50 local time and arrives in Beijing at 7:30 Beijing time. Hire a car at the airport or De Hoek can arrange transfers at extra cost.
Go to:
http://www.airchina.com.cn/en/
Contact:
dehoek.com