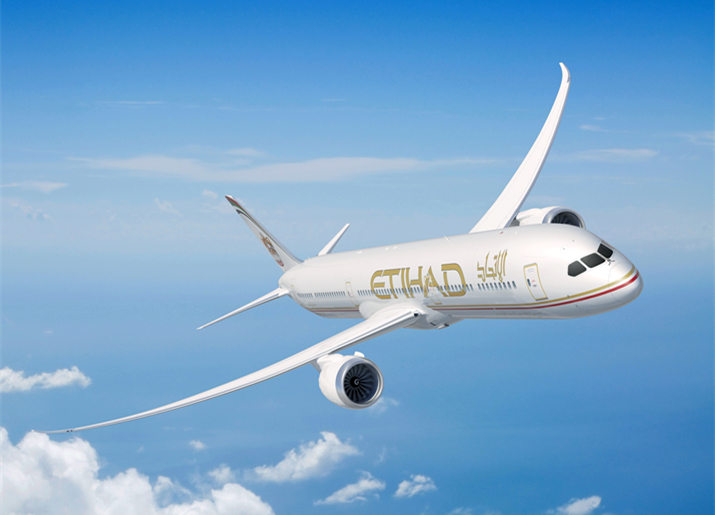 Boeing 787
Etihad Airways, the national airline of the United Arab Emirates, earlier this year launched flights from Abu Dhabi to its second Moroccan destination with scheduled services to Rabat.
The inaugural flight touched down at Rabat-Sale International Airport to a traditional water cannon salute in January this year followed by an arrival ceremony with VIP guests, Morocco's Minister of Tourism Lahcen Haddad and the UAE Ambassador to the Kingdom of Morocco, His Excellency Al Asri Saeed Al Dhaheri.
The twice-weekly service, operated by three-class Airbus A340-500 aircraft, is the only direct commercial air link between the two capital cities. With existing daily services on the Abu Dhabi - Casablanca route, Etihad Airways has boosted its Morocco frequency to nine flights each week.
James Hogan, Etihad Airways President and Chief Executive Officer, said the airline was delighted to launch its second Moroccan route with the new Rabat service.
"This new direct air link demonstrates Etihad Airways' commitment to build sustainable ties in the North African region and to deepening the strong relationship between Morocco and the United Arab Emirates," he said.
"Rabat is a historical city that has grown in appeal for business and leisure travelers. With our new service, we are supporting further growth flying in travelers from across our international network to our newest gateway in Morocco. Likewise, we are facilitating ease of travel from Rabat to Abu Dhabi and beyond to the many cities we serve, giving our guests the opportunity to enjoy the high levels of service that we are renowned for around the world.
Combined with Casablanca, the Rabat route brings to nearly 4,200 the total number of seats each week on Etihad Airways' services between the UAE and Morocco.
Like the UAE, the Moroccan Government has made significant investments in the development of its tourism industry. In 2010, the government launched its Vision 2020 which includes plans to make Morocco one of the top 20 tourist destinations in the world and to double the number of international arrivals to 20 million a year by 2020.
The UAE Ambassador to the Kingdom of Morocco, His Excellency Al Asri Saeed Al Dhaheri, said: "There is no doubt that the new Etihad Airways route between the two Arabian capitals is a result of joint cooperation between the two countries in civil aviation. This is a further step in the development of the relationship between the United Arab Emirates and Morocco. Direct flights will contribute profoundly to the development of trade, investment and tourism. The UAE and Morocco are united by a long history of cooperation and the growth of economic and trade relations between the two countries has developed significantly over recent years.
"I have noted with great satisfaction that UAE companies are increasingly turning their attention to Rabat for opportunities to cooperate, invest and do business. This is a clear sign of the positive future our business community sees for this country. We look forward to witnessing more partnerships and strategic cooperation and no doubt that Etihad Airways is a leading example of this."
The Abu Dhabi - Rabat flight is operated on Wednesdays and Fridays using an Airbus A340-500 with a capacity of 240 seats, offering 12 in First Class, 28 in Business, and 200 in Economy.
The Abu Dhabi-based airline's service to Casablanca has performed strongly since it was launched in June 2006. The Rabat route provides passengers with more choices and two-way connectivity between Morocco and the UAE, and onwards over the airline's hub in Abu Dhabi to key destinations across Etihad Airways' global network in the GCC, the Indian Subcontinent, Southeast Asia and Australia.
Etihad Airways is able to extend its reach across North Africa further through a codeshare agreement with Royal Air Maroc, providing passengers with direct flights from Casablanca to destinations throughout Morocco, including Agadir, Marrakech and Tangier.
Etihad Airways also operates scheduled services to eight other destinations in Africa, including: Johannesburg, Khartoum, Cairo, Lagos, Nairobi, Entebbe, Dar es Salaam and Mahé in the Seychelles.
Flight schedule between Abu Dhabi and Rabat from 15 January 2016:
| | | | | | | |
| --- | --- | --- | --- | --- | --- | --- |
| Flight no. | Origin | Destination | Departs | Arrives | Aircraft | DOW |
| EY 615 | Abu Dhabi | Rabat | 10.00 | 15.15 | A340-500 | Wed / Fri |
| EY 616 | Rabat | Abu Dhabi | 20.00 | 07.25 next day | A340-500 | Wed / Fri |
Note: All departures and arrivals are listed in local time.
About Etihad Airways
Etihad Airways began operations in 2003, and in 2015 carried 17.4 million passengers. From its Abu Dhabi base, Etihad Airways flies to or has announced plans to serve 116 passenger and cargo destinations in the Middle East, Africa, Europe, Asia, Australia and the Americas. The airline has a fleet of around 120 Airbus and Boeing aircraft, with approximately 200 aircraft on firm order, including 66 Boeing 787s, 25 Boeing 777Xs, 62 Airbus A350s and five Airbus A380s.
Go to http://flights.etihad.com/en/ for flights to and from China.