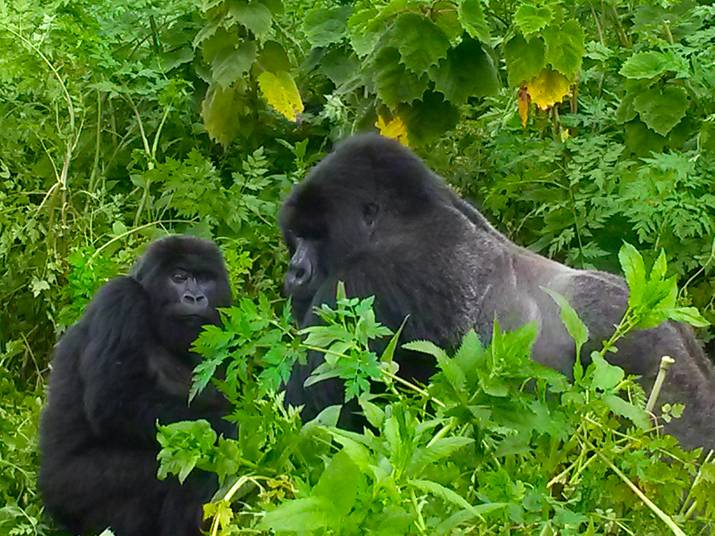 Silverback Mountain gorillas

This peripatetic soul of mine has experienced many wonderful places, met many formidable, strange and inspirational people and found itself in many unusual situations.

But never have I been to a place quite like Rwanda... The midday view from the air reveals the capital Kigali as an emerald green, hilly and wet place, for 'tis the rainy season. Rwandair sets us down perfectly after an easy, smooth and comfortable three-and-a-half hour journey from Johannesburg.

The Serena hotel is located a convenient 15-minute drive from the airport and on the way I gape at my new surrounds. Kigali is beautiful with verdant, tropical hills, well maintained roads and gorgeous art deco buildings. Nowhere is a trace of the chaos, decrepitude and decay, evident in so many African cities. OK perhaps a teeny bit of chaos since the preferred mode of taxi transportation here is motorcycles. Millions of motorcycles... And the city is clean. In fact, Rwanda has the enviable distinction of being the cleanest country in Africa. This is because, as our driver Amos tells us proudly, every last Saturday of the month sees everyone take to the streets and clean up the place. Everyone. Including the President. Innocently one of my colleagues Pieter asks Amos; "Do you like your President?" "Oh my God! Of course," he replies

Somehow taking the Lord's name in vain doesn't seem like such a mortal sin if it is expressed in your second, third or sixth language. It is a favourite term in Africa, used to communicate everything from the weather ("It is hot, oh my God!') or in this case, replying to a question about how enamoured they are with their current ruler.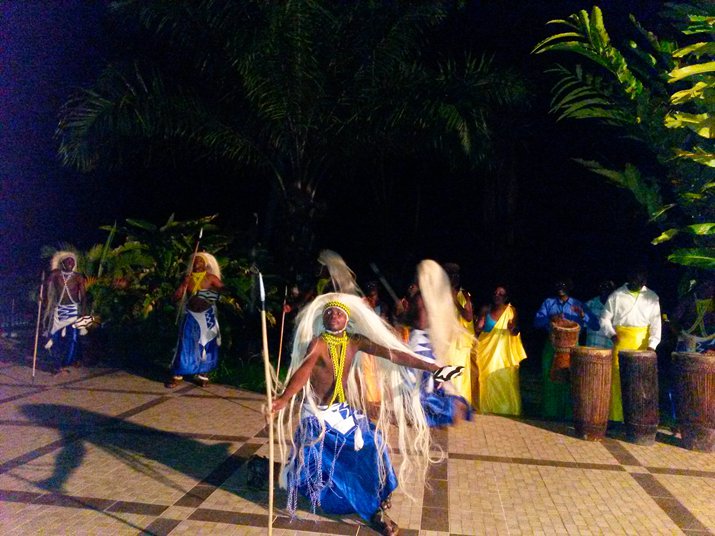 Traditional dancers at Lake Kivu
Serena Kigali
And why not? Paul Kagame, the sixth and current President of Rwanda, has restored pride and prosperity in a country that has experienced the most unspeakable genocide in the history of mankind. But more about that later. In the meantime we play a game called "spot the coke can on the sidewalk." Nobody wins. Said weather is pleasantly balmy and overcast as we walk into the lovely 5-star Kigali Serena hotel. The place is abuzz and packed to the rafters with important looking people in suits from each corner of the earth.
The last time I experienced the tower of Babel in such a small space was at Dubai airport. We were later to learn that an ICT conference summit called Transform Africa was in full swing with representatives from 81 countries--in Kigali!
The Serena Kigali is a simply delightful hotel, indistinguishable in luxury, service and food from any 5-star hotel in the world. It's built around a polished granite atrium, which showcases the very best of Rwandese cultural art. Regarded by many as Kigali's natural business hub, the hotel also boasts its own extensive conference centre, 500-seater auditorium and lavish ballroom--perfect for functions for delegates from 81 countries.
The hotel features the Executive Lounge and Bar, which opens onto a wide sundeck overlooking the newly refurbished swimming pool. Also overlooking the pool, the popular Milima Restaurant offers a wide range of all-day buffet choices, while the relaxed Sokoni Café offers inside and outside poolside seating. A wide selection of rooms and suites are available; all with AC, satellite TV, Wi-Fi, voice-mail, mini-bar and lovely bath products.
After freshening up, we head of for a spot of local craft shopping and the city of Kigali is in full swing on this late Wednesday afternoon. Founded by the Germans in 1907, Kigali, spreads over several high hills, with the city centre on one and the government and administrative quarter on another in an area known as Kacyiru. The city centre is bustling, colourful, efficient and safe. Peaceful, tree-lined streets stretch outwards and generally downwards from the city's heart.
Back at the hotel and early buffet dinner, my lovely bed provides deep, peaceful and innocent sleep to which I am certainly not entitled most of the time.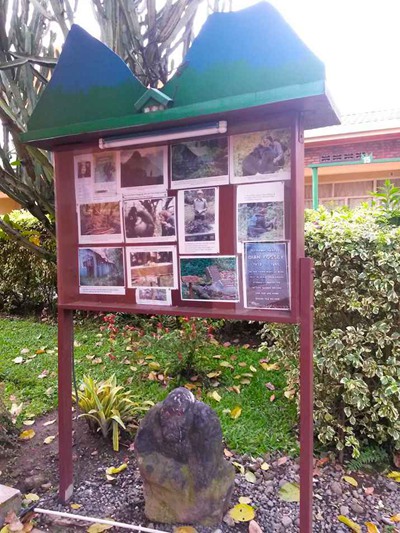 Hotel Muhabura, often used by gorilla conservationist Dian Fossey
Remembering the genocide
The tropical heat slaps us across the jowls the next morning as we hang around outside the Kigali Memorial Center, waiting for media waivers to take photographs inside--a costly little venture which will make you $20 poorer per camera. We are, however assured that all profits go to maintaining the Centre, which contains a permanent exhibition of the Rwandan genocide. The centre is built on a site where over 250,000 people are buried.
My mind still cannot compute the gargantuan atrocities that took place here while the world did nothing. Starting in the early hours of 17 April 1994, about a million people were savagely slaughtered in Rwanda over just a three month period.
The tour begins with a video of survivors and relatives relating their stories. Ordinary people were driven to betray and even kill their very own family and friends, living in constant mortal fear of the infamous Interahamwe militia, who enjoyed the backing of the Hutu-led government leading up to and during the Rwandan Genocide.
"My mom was a nurse. My dad was a teacher. I am the only survivor," says one man, his eyes haunted by the memory. "The neighbour's son told the militia to pick out my mum's children. They were slaughtered with machetes right there and then. I ran away but could hear the screams of my brother and sisters." Another woman tells how the militia killed people hiding at the Gisimba orphanage. "There was just chaos, screaming and crying, blood flowing. People baptised each other in blood. That was the last time I saw any of my family alive." She was a child of ten.
As I walk through the dimly lit museum with its history and shocking photographs of terror and death on the walls, together with human skulls in glass cases I am deeply disturbed and sad. But my overriding thought is that we never seem to learn. Probably because the types who visit museums like these are invariably not the types who will perpetrate the next heinous act of mass murder.
But the conclusion of the story in the museum affects me profoundly. It reads simply: "This is about our past and our future. Our nightmares and dreams, our fear and our hope. Which is why begin where we end... With the country we love."
Regional courts were set up to deal with that specific community's justice needs and also grief centres. In modern Rwanda there is no sign at all of any underlying resentment or anger in the people here. South Africa had one Nelson Mandela. Rwanda has many...
The minibus is quiet on the way back to hotel.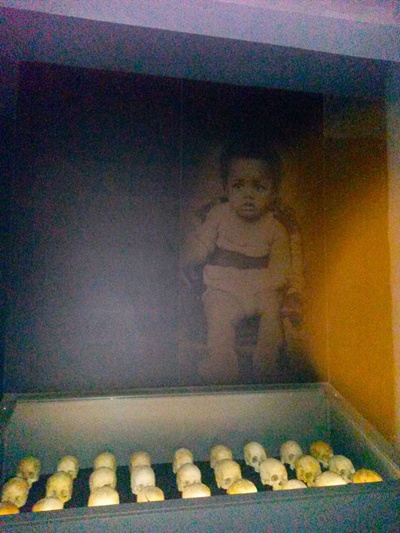 Genocide Museum, Kigali
Government initiatives
But there is a schedule to keep and after a quick tour of the hotel, we meet with the charming and articulate Manzi Kayihura, MD of a Thousand Hills Expeditions (our co-hosts in Rwanda along with Rwandair and Serena Hotels). He says Rwanda is still one of the poorest countries in the world but there is no begging and the government is very serious about maintaining a work ethic and self-respect in its people. Innovative and creative yet simple and logical solutions were the starting points, such as banning thatched roofs since they cause fire and disease. And providing every person in Rwanda with shoes (the cheapest can be bought for about $1), also in an effort to prevent disease. Massive AIDS public awareness campaigns, the banning of plastic bags and proper irrigation methods for rural subsistence farmers are all small, logical steps that have actively been taken to get this country to the peaceful, smiling and happy 11- million strong nation it is today.
Unrivalled biodiversity
Then it's off to our abode for the next two nights--the Serena Lake Kivu Hotel, situated on the border between the Democratic Republic of the Congo and Rwanda and about a two and a half-hour drive from Kigali.
We ask Amos about the weather and seasons and his answer is unambiguous: "In Rwanda you have two weathers--rain and no rain." In fact, there are two annual rainy seasons: the big rains which last from mid-February to the beginning of June, and the small rains from mid-September to mid-December. Rainfall, especially over the mountains, is heavy during these two periods, particularly from March to May.
I marvel at the undulating tropical scenery as we negotiate the country side, up hills and down mountains. Lying at the heart of Africa, Rwanda offers unrivalled biodiversity, some of the oldest and most precious rain forests on earth, five volcanoes, 23 lakes, numerous waterfalls, and three stunning national parks, says Amos. Not in those exact words, I'm paraphrasing.
I only listen with half an ear since the rest of my attention is focussed on clinging on for dear life. Amos overtakes trucks on death-defying hairpin bends with gay abandon and I suddenly understand the frequency of the phrase "Oh my God!" Along with our minivan, visibility plummets as a sudden thunderstorm kicks his driving into an even higher gear of fun. Just as I'm anticipating a rather ignominious shuffle off this mortal coil, the rain stops as quickly as it started. We descend and arrive in the town of Musanze (Ruhengeri) and stop at the historic Hotel Muhabura, where famous gorilla conservationist and activist Dian Fossey spent many nights when she came down from her gorilla camp.
We meander down to Lake Kivu in the approaching dusk, people along the road coming from work, school children, herds of goats and even pigs.
Lake Kivu is the largest of Rwanda's many freshwater lakes, emptying into the Ruzizi River, which flows southwards into Lake Tanganyika. On the border of Rwanda and the DRC, the lake is an integral part of the Great Rift Valley. Due to its position on the rift, it is slowly being pulled apart, which causes considerable volcanic activity, as evidenced by the many hot springs that encircle its shores. Its position in the Rift also makes it exceptionally deep (480m), ranking as the 15th deepest lake in the world.
Sunset on Lake Kivu
Eco friendly
Arriving at the hotel after dark is a tired, drained bunch of journalists, but the friendly smiles and service of the excellent staff perk us up soon enough. Serenely situated on the white sandy shores of this, the sixth largest lake in Africa, and surrounded by extensive tropical gardens, the open-plan Lake Kivu Serena Hotel is a sanctuary. It overlooks its own private beach and offers 66 luxury hotel rooms with views of the lake, executive suites and family accommodation, a panoramic restaurant, indoor and beachside bars, a luxury swimming pool, and the 'Maisha' Health Centre (offering an extensive range of health and beauty regimes, boating, swimming, volley ball, tennis, fishing, hiking and trekking). It is within minutes' drive from the border with the Democratic Republic of Congo and the "city" of Goma. In terms of its own ecological foot print, the hotel abides by a code of responsible practice in relation to energy conservation (inverter systems have recently been installed so as to reduce the hotel's use of diesel-fuelled generators), waste recycling (glass, plastics, 'wet waste' and the distribution of food-waste to local pig-farmers), sewage disposal, air emissions, non-CFC use, pesticide-use, noise reduction and visual pollution. Wherever possible, local produce is featured on the menus.
For dinner we feast on an ala carte menu at the hotel's main restaurant, The Kiyaga Restaurant, with a view over the swimming pool towards the palm trees and white sandy beach of the lake. Kiyaga features Rwandese, African and international cuisine, and showcases a number of colourful theme nights. The hotel is also famous for its monthly beach parties, which feature a lakeside buffet, a beach bonfire and live music. I am starving and my gourmet dinner of pea soup, seafood brochette with lemon butter sauce and warm apple pie is simply sublime.
Nyiragongo Volcano
An early wake up at five am finds me bleary-eyed in the lobby along with my fellow travellers, gearing up for the two-hour drive to catch a glimpse Rwanda's endangered Golden monkeys at the Volcanoes National Park, spanning a 160 sq km area in the northern part of Rwanda and the oldest national park in Africa. There are currently two troops of the monkeys which have been habituated to visits by tourists in the park, both of which number around 80 members. The golden monkeys live in the bamboo vegetation towards the base of the volcanoes and have overcome their initial shyness to accept their daily visit by researchers and tourists. We trek for about an hour and a half before we spot them. They are very sprightly creatures, and leap from tree to tree which is really entertaining, if a little difficult to photograph.
On the way back the Nyiragongo Volcano suddenly comes into spectacular site and what I at first mistake for a cloud atop it, is actually smoke! Wow, my first active volcano spotting. The most recent large eruption of Nyiragongo occurred in 2002, Amos tells us. During this eruption lava flows moved through Goma destroying 13 percent of the city and approximately 13000 homes. "But they rebuilt on top of that," says Amos. "Now they live on the second story."
Finally we see Lake Kivu in all its splendour as we arrive at the hotel for a late lunch.
Lake Kivu
Describing the lake on this clear day is difficult so I shall paraphrase: "Away from the main resorts, the lake offers glimpses into ancient African lifestyles. Here, fishermen ply the water in dugout canoes unchanged in design for centuries, while colourfully dressed ladies smoke traditional wooden pipes and troubadours strum sweetly on stringed 'iningire' or traditional guitars. And the birdlife is fantastic: flotillas of pelicans sail ponderously across the open water, majestic crowned cranes preen their golden crests in the surrounding swamps, while jewel-like malachite kingfishers hawk silently above the shore." Indeed. And my source?
Well, take your pick. The poor person who wrote this prose has been plagiarised on many a website, but he is so spot on, man! The setting sun dances on the wide water as it plays hide and seek with the black storm clouds and we have front row seats--with cocktail in hand--to a spectacle only Africa can offer.
Dinner is again a splendid affair with vibrant and colourful Rwandan traditional dance and song, the sounds of the drums reverberating deep in my African core.
In an event so rare I shall put it up there with a binding Middle East peace agreement, I find myself in the lobby at the unholy, dastardly hour of five am for a second consecutive day. I am gripped by a sense of thrill and expectation though for today we commune with the great Silverback Mountain gorilla...
Silverback Mountain gorillas
Rwanda is one of just three countries where the world's population of mountain gorillas can be observed in the wild and there are only an estimated 800 of these species left in the whole world. In addition to Rwanda's Volcanoes National Park, gorillas also inhabit Uganda's Mgahinga National Park and Democratic Republic of Congo's Virunga National Park. These parks border each other and the area the mountain gorillas call home is known as Virunga Massif.
Locals cultivate the lush green hills where the gorilla treks begin, and there are five volcanoes in the park.
Our trekking guide is the inimitable, never-to-be-repeated character Francois. He worked with Dian Fossey herself in the 70s and 80s and he is a legend. So is his verbiage. "Defecate montoon fo see gorirra." translated apparently means "difficult mountain (to climb) to see (the) gorillas."
Read understatement of the year. The following two hours provide a death, gravity and physics laws defying experience as we arduously mudslide UP this mountain. The incline and altitude is a killer for those who, like myself, don't run marathons each day before breakfast. My trusted porter Anastasia also quickly becomes my new BFF as he helps me up, down, side-ways and holds my hand just in case. What I would have done without that wonderful man I daren't think...We ascend from about 2200 to 9000 feet above sea level. We also battle fire ants, thick tropical brush, rain and stinging nettles until we finally come across these rare beasts. Some people wait a lifetime to see 99 percent of their own DNA in King Kong's beautiful brown eyes. And at $750 per person, is it worth it?
An unequivocal, resounding YES dear reader...
The silverback mountain gorillas of Rwanda must think of people as heaving, sweating and bulged-eyed alien creatures because this is the state they see us in every time.
We spend some precious moments with two females and then the alpha male appears behind a bush, just like in the movies, towering above us.
It is extraordinary--almost surreal - to be so close to these rare, endangered gorillas in such a remote part of the world, high on a volcanic mountain in a tropical rain forest. We are told not to look into their eyes and to stay about seven meters away but they dictate the distance. And the eye contact. It's like Francois says: "who exactly is looking at whom?"
Worth a visit
Rwanda is the best place to live in Africa. Not only according to me but also according to a source with a smidgen more gravitas--a survey conducted by U.S. research firm Gallup, which ranks the country fifteenth globally.
Respondents from the 143 countries surveyed were asked questions about their previous day. Some of these included, 'Did you feel well-rested?' 'Did you feel respected all day?' 'Did you smile or laugh a lot?'
Well-rested? Well not in our case, since running up and down volcanic mountains to grin sheepishly at gorillas leaves hardly any time for a nap. Respected? Check. Smile and laugh? Oh yes. If you take yourself on only one journey in your short time on earth it should be to Rwanda. And now I shall take my leave to allow you to make your travel arrangements..
Contact:
A Thousand Hills:
http://www.thousandhillsexpeditions.com/home/
Serena Hotel Kigali:
http://www.serenahotels.com/serenakigali/default-en.html
Serena Hotel Kivu Lake:
http://www.serenahotels.com/serenalakekivu/default-en.html
Getting there:
There are currently no direct flights from China to Rwanda but catch any international flight from China to Dubai and from there Rwandair will fly you to Kigali.
Go to http://www.rwandair.com/ for more information and reservations.