He Guoqiang will no longer serve as the head of the Organization Department of the Communist Party of China (CPC) Central Committee, according to a CPC Central Committee decision.
He Guoqiang has been elected member of the Standing Committee of the Political Bureau of the CPC Central Committee and secretary of the Central Commission for Discipline Inspection (CCDI), at the first plenary session of the 17th CPC Central Committee early this week.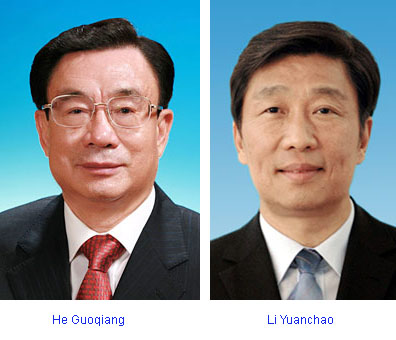 Li Yuanchao takes over as the new head of the Organization Department and no longer serves as the secretary of the Jiangsu Provincial Committee of the CPC.
Li Yuanchao, 56, ethnic Han, a doctorate on Laws, began working in November 1968 and joined the CPC in March 1978.
He was recognized for narrowing the urban-rural gap during his tenure as Party secretary of Nanjing City and Jiangsu Province. He once served as deputy Minister of Culture and vice director of the Information Office of the State Council.
Liang Baohua, now governor of east China's Jiangsu Province, becomes the province's new Party chief.
(Xinhua News Agency October 26, 2007)