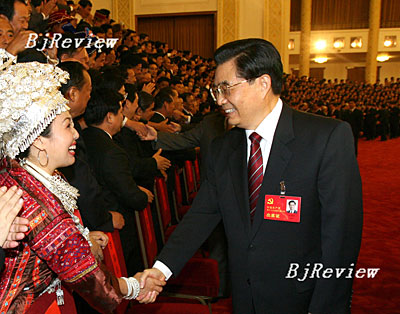 Communist Party of China (CPC) leader Hu Jintao (R,front) shakes hands with a delegate at the Great Hall of the People in Beijing, capital of China on Oct. 22, 2007. Hu Jintao had a meeting with delegates, special delegates and observers to the recently concluded 17th National Congress of the CPC on Monday afternoon. (Xinhua Photo)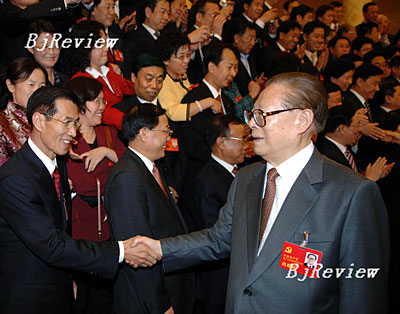 Jiang Zemin (R, front) shakes hands with a delegate at the Great Hall of the People in Beijing, capital of China on Oct. 22, 2007. Jiang Zemin had a meeting with delegates, special delegates and observers to the recently concluded 17th National Congress of the CPC on Monday afternoon. (Xinhua Photo)
Communist Party of China (CPC) leader Hu Jintao and his predecessor Jiang Zemin had a meeting with delegates, special delegates and observers to the recently concluded 17th National Congress of the CPC on Monday afternoon.
On Monday's First Plenary Session of the newly formed 17th Central Committee of the CPC, Hu, who is also Chinese President and Chairman of the Central Military Commission of the country, was re-elected General Secretary of the CPC Central Committee and Chairman of the CPC Central Military Commission (CMC).
Also present at the meeting were Wu Bangguo, Wen Jiabao, Jia Qinglin, Zeng Qinghong, Li Changchun, Xi Jinping, Li Keqiang, He Guoqiang, and Zhou Yongkang.
The meeting took place in the Great Hall of the People, in central Beijing, where Hu and Jiang greeted the delegates and received applause and greetings.
Hu and Jiang had pictures taken with the delegates, special delegates and observers.
Also present were other newly-elected or retired senior Party officials Wang Gang, Wang Lequan, Wang Zhaoguo, Wang Qishan, Hui Liangyu, Liu Qi, Liu Yunshan, Liu Yandong, Li Yuanchao, Wu Yi, Wang Yang, Zhang Gaoli, Zhang Dejiang, Yu Zhengsheng, Xu Caihou, Guo Boxiong, Cao Gangchuan, Zeng Peiyan, Bo Xilai, Li Peng, Zhu Rongji, Li Ruihuan, Wei Jianxing, Li Lanqing, Wu Guanzheng, Luo Gan, He Yong, Ling Jihua, and Wang Huning.
(Xinhua News Agency October 22, 2007)