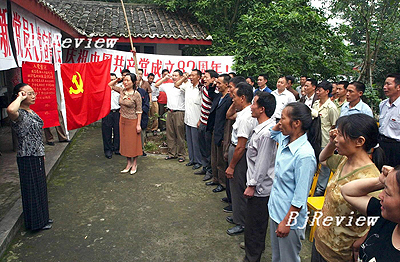 "The company has been developing so rapidly in recent years and we will enlarge the production scale this year. What we need most now is to be supplied with more 'red-collars,'" said Lin Bingbiao, head of a private chemical company in Yiling District, Yichang City in southwestern Hubei Province, at the office of the Yiling District Committee of the Communist Party of China (CPC).
"Red-collars" in Yiling refers to Party members spreading and putting into practice the Party's new theories in private companies. These Party publicity members are in charge of developing new Party members, setting up Party organizations and conducting political education in these companies.
Why 'red-collars' become popular?
According to Xiong Wei, head of the CPC Yiling District Committee, to set up grassroots Party organizations in private companies is in tune with three new trends: firstly, the rapid growth of the private sector in Yiling; second, the rapid expansion of private companies has required operators to update their management knowledge and staff to know the latest social trends; and third, private companies do not have qualified Party members to spread the Party's new theories.
"We send 'red-collar' workers to work in private companies, representing public interests as well as advancing the interests of the private sector," said Xiong.
Yiling has installed a talent database of 580 qualified "red-collar" workers by recruiting in job fairs and training workers sent by companies. Although these "red-collar" workers obey all of the company's staff rules, they receive their payment and benefits from their old work units rather than the private companies.
"Sometimes we really want to give them some subsidy for their work. But they have refused, citing their discipline," said Zeng Xuezhong, head of a private company manufacturing electrical cable.
What do 'red collars' do?
Xiao Gaopei, an official with the CPC Yiling District Committee, said all "red-collar" workers they send out center their work on a company's production and are given concrete tasks. A "red-collar" worker has to visit the families of poor employees and families of Party member employees at least once a year to know the living conditions of the company staff; a "red-collar" worker has to give at least three lectures on the Party's new theories every year; a "red-collar" worker has to coordinate the frictions between labor and management or among workers.
One example is Zhu Daojin, a retired civil servant and the "red-collar" worker of JuneYao Group's Yichang branch. The company had a sales crisis in July 2004 when mismanagement in milk delivery led to rocketing customer complaints and declining subscription cases. Knowing such a situation, Zhu formed a core leadership team with another two Party members in the company. They worked overtime to improve the delivery service for milk subscribers and eventually had a subscriber list 60 times longer than that of the bottom level. The boss of the company was really impressed by this feat.
Liquor company Daohuaxiang Group, which started with three people and 3,000 yuan in a small town, has expanded into a conglomerate of 18 subsidiaries and assets worth 1.35 billion yuan over less than two decades. Because of this rapid expansion some employees and also the company owners started to become obsessed with achievements over progress. In 2004 when "red-collar" workers sensed this sentiment and suggested an education campaign on barriers to the company's development, management immediately accepted the suggestion and the effect was rejuvenating for the firm.
"We have asked the CPC Yiling District Committee many times to send 'red-collar' workers to our company. We really need them. Not only can they help to guide our work, sending 'red-collar' workers to us itself shows the trust of the district committee in us," said Cai Hongzhu, President of Daohuaxiang Group. The company has entrusted the Party committee of the company with employee appraisal and promotion and has written the functions and funding of the Party committee into company regulations.